Farm Aid
Monica Yant Kinney
Apologies for going dark on Blinq for most of the last week. Was out of town mentoring would-be journalists, then back hunting down column material and shopping for galoshes.
So busy this afternoon, I nearly deleted a timely email from my friends in the Alpaca Owners and Breaders Association. Regular Blinq readers know how excited I've been about National Alpaca Farm Days. Whoo, hoo! The wait is over!
Alpaca Owners and Breeders Association (AOBA) invites you to visit their member farms and ranches on National Alpaca Farm Days on September 24th and 25th. This is a unique opportunity for the public to explore the many aspects of the alpaca livestock industry in the United States and Canada.
Monica Yant Kinney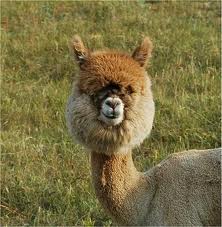 Every once in a while, I receive a press release so delightfully absurd it must be shared. Today is one of those days. Why? Because it is almost National Alpaca Farms Days!
Hello!

Just a reminder that National Alpaca Farm Days will be here before you know it! Please contact me so that we can schedule a special (and timely) interview with some of our members. There are so many unique stories within the alpaca industry, including the birth of rare alpaca twins, a breeder who left working on Broadway to raise alpacas in Colorado, a certified therapy alpaca, and many, many more!



Now, the writer of this email can't possibly think that anyone at the Philadelphia Inquirer is going to write a single word about National Alpaca Farms Days. However, she might be crazy like a fox and hoping that someone like me will provide free publicity by mocking National Alpaca Farms Days on a blog like Blinq.
Karen Heller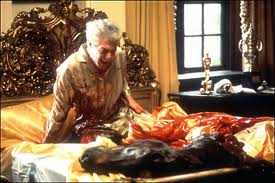 A severed horse head was found in Washington, Pa., 20 miles southwest of Pittsburgh.
This is not exactly what anyone wants to come across in an alley, especially in the sweltering heat.
The head reminds us of one of the most indelible scenes in The Godfather when Hollywood studio head Jack Woltz (John Morley) wakens to discover the severed head of his beloved racehorse Khartoum in his palatial bed, staining his ivory satin sheets. The horse is the ultimate equine payback after Woltz refuses to cast Don Corleone's godson, a popular crooner with teenage girls. "Johnny Fontane will never get that movie" he says, before unloading a string of anti-Italian epithets. Fontane, commonly believed to be based on Frank Sinatra, was portrayed by South Philadelphia's Al Martino, who died two years ago in Springfield, Delaware County.
Daniel Rubin, Inquirer Columnist
We leave you with Neil Young, who played an home-spun, sing-along set, with a band that included his wife and friends, and prompted the guy next to me to yell, "Hey, Neil. Where's your dog?"
Young, one of Farm Aid's founders, wanted to make sure everyone knew why they were there.
He called on college students to think of buying farms - they're going cheap, he said. They should use those smarts they should have by now and figure out how to make it work economically. And parents? Sunday, he said, what could be better than to take your children to one of those organic markets and look at some vegetables as a family?
Daniel Rubin, Inquirer Columnist
Lotta talk about sustainable farming - from about every third person I talk to here.
I have no idea what the word really means, so I ask the food maven, Sonya Dagovitz Kugler, the Chicagoan who organizes the catering and concessions for Farm Aid.
She pauses, before saying:
Daniel Rubin, Inquirer Columnist
Dave Matthews, speaking about farms, big and little:
Real capitalism is a healthy mom-and-pop sort of philosophical way of running a community and I thinks that starts at the farm. And it's a healthy thing. And it's very inspiring to see young people going into farming now.
Because there is a vision and possibility. There is not a broken heart, which think has happened to a lot of farming families - they are voiceless and they had their hearts broken and their pockets broken by a very cruel silence that they are forced into....
Daniel Rubin, Inquirer Columnist
Willie Nelson, facing the press and some legal uncertainty since his pot and mushrooms bust Sept. 18, hasn't lost his sense of humor:
I'm glad to be here. I'm glad to be anywhere at this moment. And Camden, New Jersey looks wonderful to me.
Daniel Rubin, Inquirer Columnist
"Basically, the music," said Greg Dinsmore, 49, a bearish, gray-bearded man, wearing a Blutoesque t-shirt that said, "College," and wolfing down an organic hamburger with his wife, Karen, who was trying the grilled veggie patty. "It's just a fantastic line up. " They were particularly interested in seeing Jerry Lee Lewis play, but they were in tune with the whole idea of the benefit.
"We buy a lot of food from local places in addition to the grocery store," said Greg, a computer operator with McGraw Hill.