Faith
Monica Yant Kinney
This just in: St. Laurentius Catholic School will stay open after all, the the delight of Fishtowners who fought valiantly and against great odds.
As my colleague Martha Woodall reports, Holy Trinity (in Morrisville) and St. Laurentius got the good news today.
In all, at least 21 parish schools and three high schools had appealed the commission's recommendations for closure, Woodall writes. The archdiocese is expected to announce Archbishop Charles J. Chaput's appeal decisions Friday.
Monica Yant Kinney
Having previously blogged about the strange semen fixation of Corbett administration official Robert W. Patterson, I feel duty-bound to report on two exciting developments.
For starters, Mr. Patterson is finally leaving the building. Or, at least, he will next Tuesday, according to an update from my Harrisburg colleague Angela Coloumbis.
Patterson, if recall, made $104,470 to work in the Department of Public Welfare, which administers programs he bashed in a side job as editor of a conservative faith-based journal.
Monica Yant Kinney
Today's column about the million-dollar mad dash to save Monsignor Bonner and Archbishop Predergast High Schools brought out more tales of extreme fundraising in the name of faith and family. I don't have a list, but I'm told nearly half the 49 schools slated for closure are appealing the Archdiocese's decision.
Dave Garrison emailed to share a tale of how Bonner and Prendie, as they are known, "are a big reason why we stayed" in Drexel Hill even after tragedy struck his family.
Garrison's elder son, David, a 2008 Bonner grad who excelled on the footfall field, died of brain injuries after a 2009 car accident. In a touching gesture especially for Brendon Garrison ('11), the student body renamed the scoreboard after their deceased classmate.
Monica Yant Kinney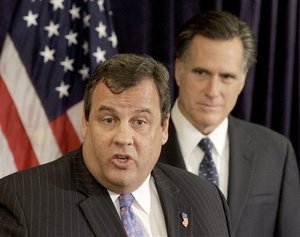 That didn't take long. One week after officially declining entreaties to jump into the Republican presidential race, New Jersey Gov. Chris Christie throws his considerable support to the man everyone presumed he would back: Mitt Romney.
Christie's endorsement was as much of a non-surprise as his decision not to run. But it's still dominating the news cycle this afternoon. And leave it to Christie to fire some Jersey straight talk in the direction of Texas Gov. Rick Perry, whose association with a pastor dubbing Romney's Mormonism "a cult" remains a hot campaign mess.
Religious swipes and spiritual insults, Christie declared, are "beneath the office of the president of the United States."
Monica Yant Kinney
As part of the criminal case against Msgr. William Lynn, of the Archdiocese of Philadelphia, the District Attorney's Office filed with the Court of Common Pleas Cardinal Anthony J. Bevilacqua's previously secret testimony before a grand jury investigating sexual abuse. The Inquirer obtained a copy of the testimony after it was filed with the court. The judge in the case, Lillian Harris Ransom, has subsequently ordered the record sealed.
Bevilacqua testified 10 times over nine months in 2003 and 2004. The grand jury issued a report in 2005 concluding that Bevilacuqa had been "untruthful" and had "excused and enabled" abusive priests. The cardinal was not charged with any crime, as prosecutors were barred by the statute of limitations.
Bevilacqua denied that he protected priests at children's expense. His lawyers called prosecutors "anti-Catholic" for investigating the church and complained that they were disrespectful to the cardinal during his testimony.
Monica Yant Kinney
Today's column, about the Archdiocese of Philadelphia's incoming leader, Archbishop Charles Chaput, drew a predictable slew of calls and email from the faithful and those who fled.
No point sharing the mashnotes from readers in passionate praise of my prose. But critics often deride me for getting the last word in print. Pieces like today's seem like an opportunity to give them their due.
So for your reading pleasure, allow me to play a little game I call, "Fun With Reader Voicemail."
Monica Yant Kinney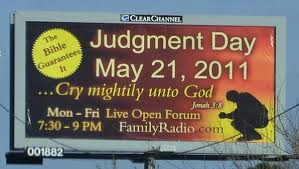 If you are like me, you've been too busy packing lunches and accidentally leaving wet laundry in the washing machine for days to properly prepare for THE RAPTURE. You probably don't even know what THE RAPTURE is, beyond that great Blondie song which you may still have on vinyl somewhere at your parents' house.
According to billboards and bus advertising sponsored by a group called Family Radio, The Rapture is May 21, 2011. It's the beginning of the end of the world as we know it. From what I'm reading, it won't be pleasant for most folks.
On May 21, 2011 two events will occur, the website advises. These events could not be more opposite in nature, the one more wonderful than can be imagined; the other more horrific than can be imagined.