Kevin Riordan
A grassroots campaign to have the heart of Cooper River Park declared a historic district may get a boost from a separate and rather ominous designation.

The private, nonprofit advocacy group Preservation New Jersey announced Thursday that the same portion of the Camden County park -- sometimes called the Cooper Lake -- has been placed on the latest list of the state's "10 most endangered places."

"We're grateful for Preservation NJ's recognition of the threat to the park," said Kevin Cook, who with fellow Cherry Hill resident Robert Shinn wrote Along the Cooper River, a new book about the park's history. "I'm pleased that our effort to create the Cooper River Park Historic District may reach a larger audience."

Shinn said the designation "should be a wake-up call" for Camden County, which has resisted the district proposal at every turn. County officials did not respond to my requests for comment Friday, but have previously said the designation is unnecessary and could complicate ongoing park improvement projects.
Kevin Riordan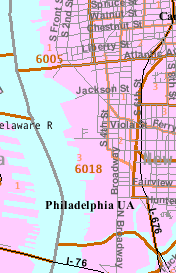 Camden residents will take to the streets Friday to help document connections and disconnections for walkers and cyclists in the Waterfront South neighborhood.
Volunteers will fan out from the CCMUA building on Ferry Avenue around 1 p.m. and begin noting sidewalk conditions; crosswalk, bike lane and walking trail availability, and pedestrian and cycling linkages (or the lack thereof) with neighborhood green spaces like the new Phoenix Park. The nonprofit advocacy group Tri-State Transportation Campaign is conducting the asessment, which will continue into the weekend.
"We'll be mapping areas where improvements can be made, so that local residents and organizations can push for changes," Matthew Norris, the campaign's South Jersey coordinator, tells me. The effort is being paid for under a $10,000 grant from the Shaping New Jersey program of the state health department.
Kevin Riordan
The Salvation Army leadership team that steered the $90 million Camden Kroc Center to completion is leaving for new assignments.
"It has been one of the accomplishments of a lifetime...the star on our resume," said Maj. Paul Cain, who with his wife, Maj. Alma Cain, will report for duty in Cleveland, Ohio at the end of June. Second-in-command captains Luis and Zaida Rivera have been reassigned to Dover, NJ.
The new team will be headed by Maj. Terry L. Wood and his wife, Maj. Susan E. Wood.
Kevin Riordan
Joe Zanghi eases his Lincoln Town Car onto Chapel Avenue, where pillowy clouds of cherry blossoms float along both sides of the busy thoroughfare.
"Morning, you drive west. Evening, you drive east," Zanghi, 79, advises, as we cruise through a particularly lush stretch around Kilmer School. "East gives you the better show iin the evening. The blossoms are orange-pink, because of the [setting] sun's rays."
Welcome to Cherry Hill's annual spring extravaganza, a two-mile parade of double-bloom Kwanzan cherry trees the Pennsylvania Horticultural Society honored as a "Garden of Distinction" in 2014.
Kevin Riordan
Brian O'Neill seems like a fine salesman, and he's certainly passionate about his product.
But when he described a $25,000 crystal chandelier as part of his pitch for an upscale addiction treatment center, a Haddonfield audience went a little South Philly on him.
With boos, catcalls and shout-downs, they let the Conshohocken, Pa. developer know they weren't gonna buy his plan to replace the Bancroft school campus on Kings Highway with a 120-bed rehab.
Kevin Riordan, Inquirer Columnist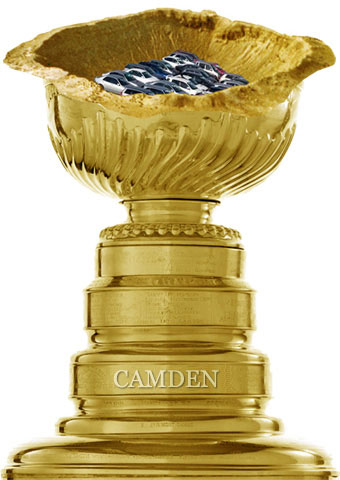 A plague of parking lots has turned much of central Camden into an asphalt sea.
"Tundra" also describes the paved-over nothingness that a half century of redevelopment schemes gone (mostly) wrong has wrought in the tough old town's heart.
Now there's a new term for the void: "Golden Crater."
Kevin Riordan, Inquirer Columnist
Investigators have located several immediate family members of Theresa Rose Greaves, the former Camden County resident who was missing for 32 years until her remains were found two months ago on a Utah hillside.
"I thought, 'oh my God, is this real?'" said her cousin Cathy Greaves Spurgeon, whose father, Joseph Greaves, is Theresa's uncle. "It's still sinking in," Spurgeon, 52, said Thursday from her home in Brooksville, Fla. "I never thought they would find her. Never in a million years."
Greaves graduated from Collingswood High School in 1977 and had been living near Salt Lake City for just two months when she disappeared on August 5. 1983. A man walking a dog along a road in Fruit Heights, Utah on February 5 noticed what turned out to be a human skull lying near a gully; investigators unearthed additional remains nearby later identified as those of Greaves.
Kevin Riordan, Inquirer Columnist
Claiming he and his state are drowning in a smear-nami of liberal media coverage, embattled Indiana Republican Gov. Pence vows to fix the toxic 'religious freedom' law he signed...even as he continues to gamely/lamely insist it's not broken.
"We want to make it clear that Hoosier Hospitality is not a slogan, it's a way of life," Pence told a press conference Tuesday, describing residents of his state as "a loving, kind, generous, decent and kind people."
No doubt many if not most of them are, even toward the LGBT people who purportedly endanger Indiana's religious liberties.