Kevin Riordan

, Inquirer Columnist
An opinionated quintet of bloggers held forth for nearly two hours Wednesday during a Rutgers-Camden panel discussion marked by strong opinions and a refreshingly civil tone -- if I do say so myself.
Stephen Danley, an assistant professor of public policy at Rutgers (read his Local Knowledge blog here); Vida Neil, longtime city resident and grassroots activist (link to her Facebook page here); Jay Lassiter, LGBT activist and progressive Democratic consultant (Twitter: @jay_lass); Matt Rooney, attorney and conservative Republican blogger (SaveJersey.com); and the Inquirer's South Jersey columnist were invited by the Leadership Institute of Rutgers-Camden to share the dais.
And if our (arguably improbable) collegiality spawned a consensus, it was that no special training is required for local citiizen journalists, and that more voices -- on social media and elsewhere online -- can enhance a community's civic and political capital.
Kevin Riordan

, Inquirer Columnist
A proposal to build an addiction treatment center at the Bancroft School site has accomplished the seemingly impossible: Uniting Haddonfield's often-fractious grassroots.
A rally in support of an outright borough purchase of the 19-acre Kings Highway campus is set for 6:45 p.m. Thursday at the Haddonfield municipal building.
"People are pretty consistent in their feeling that a drug rehab doesn't belong next to our high school and near one of our elementary schools," says Lindsay Vest, a spokeswoman for the Haddonfield Citizens Group.
Kevin Riordan

, Inquirer Columnist
Plumber-turned-screenwriter Joseph F. Wilson of Magnolia, NJ is eager to find out how a local audience reacts to his powerful documentary film Civil War Prisons - An American Tragedy.
The South Jersey premiere is set for 6:30 p.m. Monday, Oct.26 in Civic Hall at the Blackwood campus of Camden County College. Admission is free (read my column about the film here).
"The appalling death rate of Civil War prisoners is one of the greatest and least-covered tragedies in American history," Wilson, 63., says. "My documentary exposes the politicians and generals whose warped strategy favored ideology over humanity."
Kevin Riordan

, Inquirer Columnist
Mike Devlin and Valerie Frick, without whom Camden would be less green -- and its waterfront less fun -- were honored Wednesday by the Campbell Soup Foundation.
The couple received the foundation's Lifetime Achievement Award for their decades of work on behalf of the Camden City Garden Club and Camden Children's Garden. Devlin, an attorney and former city councilman, and Frick, an educator, founded the Club in 1985 and the Garden in 1999. They have been married for 35 years.
"Mike and Val's love and passion for community gardening...is at the root of the legacy they have built in Camden," Amanda Bauman, Campbell's senior manager for community affairs, said in a statement. "What started as a hobby nearly 30 years ago has started a revolution. Their work continues to endure and meet the ever growing needs of Camden residents."
Kevin Riordan

, Inquirer Columnist
South Jersey's Emilee Ballinghoff may have broken her back, imjured her brain and lost a leg in a horrific car accident two years ago, but she hasn't lost her spirit. And on Monday, she got a chance to inspire a national audience on Ellen.
"The hugs I got at the beginning of the show were what I've been waiting for," says Ballinghoff, 21, of Mays Landing, whose mother died when she was 11. "It was so intense and beautiful. And I'm so grateful."
Ballinghoff began watching Ellen during her arduous recovery from the July 20, 2013 accident in Monroe Township, Gloucester County. A backseat passenger in a vehicle that struck a pole and overturned, she suffered multiple injuries that required a half-dozen surgeries.
Kevin Riordan

, Inquirer Columnist
Camden's Admiral Wilson Boulevard, site of the world's first drive-in theater, is about to become the home of a drive-in/drive-out corporate headquarters for Subaru of America.
The Tri-State Transportation Campaign and members of the "South Jersey Urbanist" Facebook group say the headquarters proposal -- set for a final city planning board vote Tuesday -- will create a car-centric island more suited to suburbia.
Subaru is moving from Cherry Hill to the Gateway District, a 13-acre office park being developed by the Campbell Soup Company, which has its world headquarters there. The district is well east of downtown and is at a pedestrian un-friendly distance from mass transit.
Kevin Riordan

, Inquirer Columnist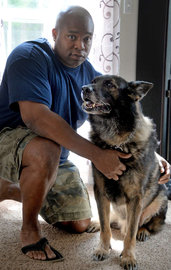 Bento, the beloved Glassboro, NJ police dog I wrote a column about last week, has died.
The 10-year-old German shepherd was diagnosed with terminal cancer in May and retired July 1 after nine years of service to the Gloucester County borough.
Bento was euthanized Wednesday evening at Pitman Animal Hospital with his handler, Glassboro police Sgt. Ryan Knight; Knight's wife, Glassboro police Cpl. Mindy Knight; and other officers at his side.
Kevin Riordan

, Inquirer Columnist
Is anyone genuinely surprised that a Catholic parish in Archbishop Charles Chaput's Philadelphia would renege on providing space for LGBT-related programs during the World Meeting of Families?
As my colleague Julia Terruso reports in Tuesday's Inquirer, four LGBT groups planning to offer workshops and other events in the St. John the Evangelist Church parish center during next month's world meeting in Philadelphia have been told they'll have to make other arrangements.
The unwelcome mat went out after the Archdiocese of Philadelphia provided the parish with guidance, spokesman Ken Gavin told Terruso.