Rut-Row: Plan B?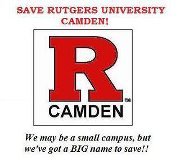 Talk of an alternative to an outright merger of Rutgers and Rowan universities
Rut-Row: Plan B?

Private discussions about the future of Rutgers-Camden and Rowan universities have gone public, with talk of a newfangled affiliation between the two South Jersey campuses.
Published reports suggest that administrative and degree-granting functions could be kept separate at a new "Rowan-Rutgers University," thereby preserving the marquee Rutgers School of Law while merging other elements of the two institutions.
"We haven't seen the details," Rowan spokesman Joe Cardona said Tuesday. "We haven't been involved in the discussions."
In a statement, Rutgers-Camden chancellor Wendell Pritchett said: "We have been engaged in meaningful conversations about higher education in South Jersey. The framework, as I understand it, would give Rutgers–Camden administrative and budgetary autonomy, while maintaining our academic connections to Rutgers University. In addition, Rutgers–Camden would engage in a deep and meaningful partnership with Rowan University."