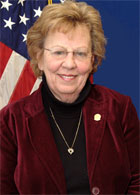 NJ Senator Loretta Weinberg, upon whom Chris Christie recently urged the media to "take the bat," called out the man himself Thursday night.
On the NJ 101.5 show 'Ask the Governor," Weinberg, a 76-year-old Democrat from Teaneck, phoned in to ask the governor to use a bit of the state's tax revenue windfall to restore some of his administration's cuts in family planning [rograms.
"Thank you very much," a suddenly bluster-free Christie responded. "I'll consider it."