Archive: October, 2010
Daniel Rubin

, Inquirer Columnist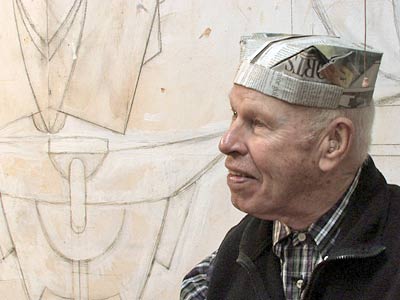 Got an e-mail, of all things, from Bill Campbell, Jr., whose 43 years of getting dirty for this place requires me to yield the floor for a moment and let him amplify a few things about last week's column on "The Art of Making Newspaper Hats."
That was the piece that let me spend a few hours with Bill Daley, my octogenarian mudman neighbor, as he demonstrated the craft, really, that he learned from his future bride's father, a Norwegian printer. In it I tell how the shrinking dimensions of the paper and the vagueries of fashion have made ballcaps more popular at our printing plant than the classic pressman's hat. Bill Campbell set me a little straighter:
DAN ,
Paper hats worn by Printing Pressman are indeed a lost art . But changes in the methods of printing not just the reduction of the size of the web have caused the decline in the hats .
Way back in the day ( as in 400 N.Broad ) newspapers were printed on a LETTERPRESS –the press was a perfecting press , meaning it printed on both sides of the web , directly from a lead plate . Pressure was used to press the plate to the sheet between it and the blanket . Consequently a lot of ink was in the air and everywhere else . On a Friday or Saturday night you could look up to the ceiling and see a constant black cloud of ink mist . The hats kept the ink off the Pressman's head ! You made a new one every day before the shift started-and you always used a blank waste sheet so there was no ink on it to begin with . if I remember correctly the Sunday circulation back then was about a million one . The double started at 11:00am Saturday and finished when the run was off about 4:30am Sunday morning –give or take-oh yea straight time !! Lots of ink .
Then came your move to Conshohocken –new web offset presses and no more ink in the air. The hats days are numbered . Necessity has vanished .
If you look on the wall along Callowhill street where the Pressroom use to be there were a few pictures of the old Pressroom . Back then the Pressroom was where the paper got life –now they print in a "PRODUCTION FACILITY " sounds like you are making tin cans –not giving life to the day's news !!
Keep the sheet tight kid ,
BILL
Ps-tell your neighbor not to make the center fold go all the way to the center-stay back about ¾" or so- the hat will work . The Smithsonian has a Printing Pressman's hat in a display .
Bill Campbell's newspaper days began as a wipe up boy at Broad and Callowhill. He moved onto flyman then apprentice before becoming a journeyman. He wound up his career as a lead supervisor in the 'burbs, which somehow sounds less romantic.