Archive: January, 2009
Daniel Rubin
I wonder which evil genius at Philly.com thought to sell an ad for Jenny's Diet Blog and place it on our Wing Bowl page. After all that gorging, that's news you can use. Different ads rotate in that space on the right-hand side of the page, apparently. But when I went there looking for the latest on our own bread and circus, I found a great visual:
Next to the little interactive home-gluttony game, where you race to virtually eat and drink as much as possible, and next to the list of past power-eating winners, was this testimonial for losing 25 ugly, hateful pounds.
We are full service, folks.
Daniel Rubin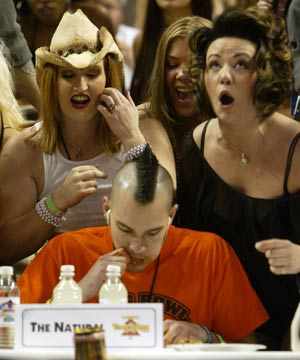 Put off by all this Wing Bowl promotion you see on our site?
Think it's a little gross to be glorifying over-eating at a time when Philadelphia food banks are scavenging for food?
Creeped out by a radio personality's nudge-nudge interviews of sexed-up Wingette wannabees?
Daniel Rubin
As Obama looks to the road ahead, we think about the wheelless.
Greg McCray bought a used SUV, which he drove to his job in Exton, a 2.5 hour daily commute.
First he lost his job. Then he lost his truck.
Daniel Rubin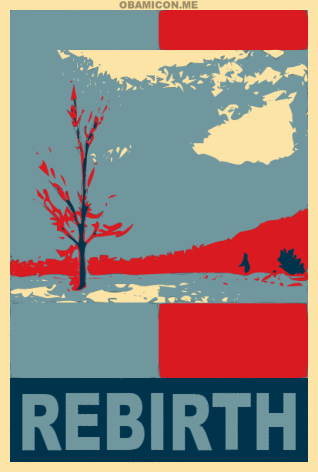 The folks at Paste Magazine have made it pretty easy to Obamafy yourself, at least graphically.
Even an idiot (yes, I did!) can follow the instructions and convert a photo into something akin to Shepard Fairey's iconic image used for the Obama '08 campaign.
You can tweak the words. Some have used 'change.' Some have dropped brands. Some dope did 'dope.'
Daniel Rubin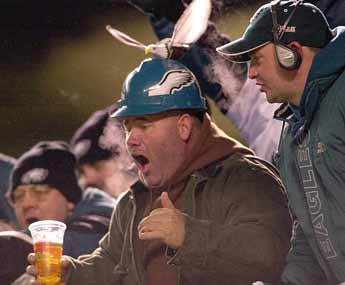 I don't know what's more satisfying than reading the New York papers whine about Philadelphia and its winning ways.
There's an obligatory cheesesteak reference (the sportswriter calls their perfume 'vulgar.') We get some Wikihistory (a schoolboy reference to Philadelphia's ascent to the nation's capital in 1790 then a less-taught attempt to siphon steamship commerce from New York ports during WWI).
But it gets more fun when you realize that while New York sports fans were looking north toward Boston they got ambushed from the south.
Daniel Rubin
Joe The Reporter is sharing some of the wisdom he's amassed during his parachute into Israel: first thing, he'd keep journalists away from war.
The media personality/unlicensed plumber/book flogger is on assignment for Pajamas Media. AP TV caught up with the newly credentialed scribe during a photo opp in Sderot.
Joe, aka Samuel J. Wurzelbacher, had this to say:
Daniel Rubin
You return from lunch and see that a reporter has called.

You don't think before calling him back.

This is how you wind up in the New York Daily News, providing fresh meat for the rivalry between those entitled Giants and our hairy Birds. It could have been a lot worse.
Daniel Rubin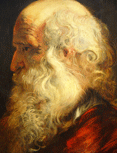 I am sure I am the last to know.
I just caught the news that President-elect Obama has named what some are calling a most impressive list of folks to fill key posts at the Department of Justice. Elena Kagan, Dean of Harvard Law School, will be Solicitor General. Tom Perrelli will be Associate Attorney General, and Dawn Johnsen will be Assistant Attorney General for the Office of Legal Counsel.
They are all impeccably credentialed. I know this because I went hunting for their bios, which I do reflexively. And at change.gov I found what I was really looking for. Their ages.