Weather
Monica Yant Kinney
Officially, the season changed last week, but this morning marked the first day it really felt like Fall.
Others in the Kinney household grumbled at the cool air, but I left the windows wide open and started humming the tune I think of every autumn since I moved here 15 years ago: Hall & Oates' fabulous Fall in Philadelphia.
(The song was on the band's first album. Video below is a modernized version from a Live from Daryl's House session with singer-songwriter Diane Birch. I think it's quite nice.)
Karen Heller
The Downeast Maine expression "you can't get there from here," made famous in the Bert & I stories, held true Wednesday in Philadelphia's Northwest.
You can't get from here to basically anywhere, especially Center City. Kelly Drive, Lincoln Drive, West River Drive -- all you cannot drive, though a rowboat might come in handy.
So much for living on higher ground. While some places in the country are land-locked, we're water-locked.
Monica Yant Kinney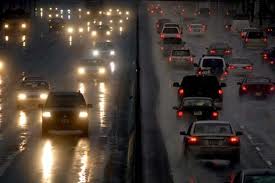 I take a lot of grief for living in New Jersey, but today felt fortunate on my morning commute. While the rest of the region dodged mudslides and flooded roads, I zipped over the Ben Franklin Bridge without incident.
Anyone who takes the Admiral Wilson Boulevard knows it's typically underwater in a drizzle. So how, after all this pounding rain, was the normally flood-prone route bone dry?
Low tide in the Cooper River! Timing is everything.
Karen Heller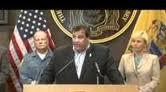 Chris Christie's immortal Irene battle cry provided one of the storm's only accidentally humorous moments.
"Get the hell off the beach, you're done!" he barked. "You've maximized your tan!" That perfect Christism would make a great back-to-school, return-to-fall T-shirt. How long before someone makes one?
Also, did you happen to see that Governor Garbo of Pennsylvania actually stepped foot in soggy Philadelphia Sunday night? Miracles happen!
Karen Heller
Weekend plans for the Shore scrapped, we would much rather sing "Goodnight, Irene" or watch an Irene Dunne movie, like The Awful Truth -- Cary Grant always makes us happy -- but we are being told to prepare for Hurricane Irene, potentially a Category 4 storm.
What do you need in a storm? Among other items, sturdy shoes and your Social Security card. (Do you know where yours is? Personally, I have no idea.) Oh, and do you have a portable, battery-operated radio? Who has one in the age of smart phones?
Governor Corbett's office sent out this advice Thursday:
Karen Heller
Sometimes a photo can say so much more than words.
Daniel Rubin

, Inquirer Columnist

One of the benefits of parents who live in Florida is the weather report. My dad, the amateur meteorologist, will go like this:

"It's hot today. Not a cloud in the sky. Really beautiful."

"What do you expect," I mutter. "It's Florida." Just because it's pleasant doesn't mean it's not hell.
Daniel Rubin

, Inquirer Columnist

It is good to know that Punxsutawney Phil and his shadow will be carefully watched tomorrow from across the ocean. Again this year, already staking out strategic positions to record the meteorologically gifted groundhog's behavior are a German radio station a German television. More are expected. Phil and his shadow for some reason are big in the Fatherland.

I know the Germans have always had a thing for the American West, from the Karl May novels (think: the Zane Grey of Saxony) to an empathy for the story of the American Indian. Once I approached the shores of the Oder River near the Polish border to find hundreds of teepees fanning across the horizon. The Germans were painstakingly re-enacting the lives of Sioux, Blackfoot etc... and the former DDR residents told how they, in particular, grew up identifying with the struggle of the noble native.

I did not know they identified with an Eastern whistlepig as well.