Stuff
Karen Heller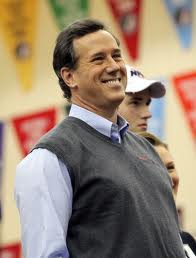 Since recovering Pennsylvanian Rick Santorum suspended his presidential campaign today, can we also suspend the sweater-vest trend?
Know Rick worked hard at rocking that look but, really, it never worked for us and certainly not for spring. Can you imagine the vest coupled with bright-colored jeans?
Uh, no.
Karen Heller

Another day, another dumb publicist pitch ostensibly tied to a holiday.
Today's email links drinking and St. Patrick's Day -- actually, drinking too much on St. Patrick's Day -- and a "must have" hangover remedy because there's really nothing Irish Americans like more than being reduced to a stale stereotype for the sake of hyping a client:
"Hi Karen,
Karen Heller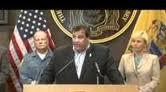 Chris Christie's immortal Irene battle cry provided one of the storm's only accidentally humorous moments.
"Get the hell off the beach, you're done!" he barked. "You've maximized your tan!" That perfect Christism would make a great back-to-school, return-to-fall T-shirt. How long before someone makes one?
Also, did you happen to see that Governor Garbo of Pennsylvania actually stepped foot in soggy Philadelphia Sunday night? Miracles happen!
Karen Heller
Parisian cobbler Christian Louboutin lost his legal fight in a New York federal court Wednesday against YSL to be the exclusive Scarlet Leather, that is, the only pricey purveyor of red-soled shoes.
Luxury goods continue to sell, according to the New York Times, even in these queasy times. The day the article ran celebrating the strong sales in German cars, Tiffany jewelry and high-priced footwear, the stock market slumped 512 points. (The story also resulted in one of my favorite recent corrections, where a photo caption misidentified the designer of a $1,495 pair of peek-toe pumps.)
My column Wednesday questioned whether it was wise for women to spend so much of their income on high heels that, literally, get them absolutely nowhere. I'm not immune to the charms
Karen Heller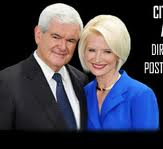 As if Newt Gingrich didn't have enough problems, what with much of his presidential campaign staff quittting, two promiment finance advisers left him this week.
Now, it turns out that the former House Speaker and his third wife, Callista, had a second, larger line of credit at Tiffany's, the Washington Post reports.
The second credit line had a limit of $1 million. All bills have been paid and the account is now closed. Gingrich had to reveal the account in his personal financial disclouse forms in his run for the presidency. The first credit line was for $250,000 to $500,000.
Daniel Rubin
Shaun Mullen at Kiko's House marks what would have been the 62nd birthday of Bob Marley with an in-depth look at his life and discography, including the news, to me, that the Jamaican reggae great once lived in Wilmington, Del., and worked a shift at the Chrysler plant.
*
"At 9 a.m. EST, officially it was 13 degrees colder at Philadelphia International Airport than it was in Anchorage, Alaska." This news comes from Tony Wood, Inquirer Renaissance man and climatic connoisseur, who has started a new site called Weather or Not.
Daniel Rubin
Jeremiah Trotter considering retirement? Say it ain't so, Newsday. Or NBC10.

Eagles three-time all-pro linebacker

Guitar World picked the greatest solos of all time. City Rag found video of the top 20. (via Clicked.) Pretty lame version of "Layla," essential Hendrix, and Jimmy Page on "Heartbreaker" makes me wish for a Led Zeppelin reunion.

Get paid to read blogs, hear podcasts. A Washington Post piece on a media company that scours the Web to track what people are saying about their clients.
Daniel Rubin
Philafoodie's sit-down with Pa. Liquor Control Board chairman Jonathan Newman, in which the man who has made state stores sexy explains why he's so opposed to the $150,000 CEO job created for former state Sen. Joe Conti - and wonders if he'll stick around to make any more chairman's selections.
The left lobes of the blogosphere suffered more than Whiskey Bar's closing. Suzy Madrak is giving up control of Suburban Guerrilla to become a city operator. She's got a gig as press secretary to Democratic mayoral candidate Tom Knox. Madrak, 52, a recovered suburban newspaper journo, will hand over the keys to some hand-picked guest guerrillas until the primary or general election, depending on how well the boss does. She writes by e-mail that the new writers include Maya Dexter, of South Jersey and Dr. S. of Bucks County, who is a former newspaper editor from some other city. Two more people - local activists - are lined up to post occasionally, she says. She may still drop a line or two.