Media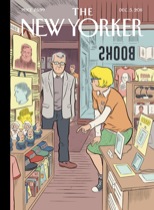 'Tis the season of the tablet. I love buying books. Even more than shoes. But we've run out of space. The shelves are crumbling. Do I get a Kindle, an iPad (The New Yorker, the cover featured here, has an awesome app for that) or keep buying hardcovers and supporting local bookstores. I wrote about the dilemma in today's column.
Like many people, I love Apple products, even wrote an appreciation of Steve Jobs, though after reading Walter Isaacson's biography of Steve Jobs, a not altogether likeable character with a dismal record on philanthropy.
But then we ran Donald Barlett and James Steele's investigation on Apple's factories in China, and I had doubts all over again.
Many of you have mocked previous posts about Occupy Philadelphia, chiding the protest for vague goals and questionable grooming habits. (You also made fun of Occupy Doylestown, but that was understandable. The angry suburbanites only displayed their rage for two hours before retreating to the comforts of home.)
Criticism is fair, but insight is vital. Now is your chance to ask the occupiers exactly who they are, what they want, why they need to sleep in tents outside City Hall to prove their point and how they're keeping clean in the great outdoors.
Philly.com will host a live chat with protest representatives today at 11 a.m. The discussion is sure to be lively, given plans for a 99-minute demonstration today (in support of fellow activists injured by police in Oakland, Calif.) and uncertainty about whether the Philadelphia contingent will honor plans to vacate Dilworth Plaza later this month.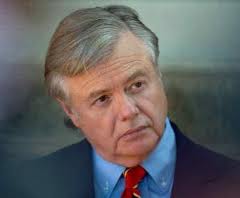 Why am I not the least bit surprised that disgraced former state senator Vince Fumo has spent his time behind bars writing email screeds comparing himself to Caesar and Christ?
The man who fancied himself the James Brown of Harrisburg (for his work ethic and effectiveness, not fashion sense or dance moves) always did love electronic communication. And, in one creature comforts of the Federal Bureau of Prisons, inmates can send as much email as they like so long as they have the cash to pay for it.
Fumo may not be free, but he remains wealthy.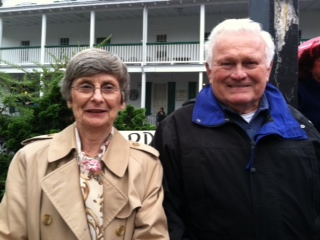 Fascinating range of reaction to Sunday's dispatch from the Occupy protests in Philadelphia and Doylestown. One reader sent a photo of a protester drinking a cup of McDonald's coffee while smoking a major-label cigarette as if to suggest hypocrisy. Others zeroed in on the cost - $400,000 in just the first week - of the protest at City Hall.
These people are not going do anything to ruffle the feathers of big business, corporate entities or Wall Street, claimed one caller. All they're doing is putting a drain on the taxpayers of Philadelphia and other cities. Do they realize this? Are they kicking in?

I'm posting a photo here of two seventysomething Doylestown protesters to dispel any thought that well-dressed Grandmas and retired corporate managers are sitting this one out. And below, behold a few of the most intriguing reader responses:
Just spent a couple hours at Occupy Philly, trying to get a sense of who's protesting and why.
That, of course, was my first mistake. Rare is the demonstration drawing anarchists and Quakers, aging hippies and parents pushing Bugaboo strollers. (Yes, I saw that with my own eyes. Rubbed 'em even, since Bugaboo is how 1 percent babies ride and the Occupiers purport to be 99 percenters.)
Walked by two African-American men sitting on a bench arguing about what to argue about. Overheard this snippit: "You're going to say Obama is a great man, like Martin Luther King Jr. and Malcolm X? Shut the $#*@& up. Then, you add animal rights on top of that?"
In a few hours, chatter of whether New Jersey Gov. Chris Christie is too fat to be president will be moot, as all bets suggest the tough-talking former federal prosecutor will close the door for good on a 2012 run.
I'm in Trenton for that spectacle, but while I wait, wanted to get a few words in on the issue adroitly addressed today by my colleague, Matt Katz and previously by ABC's Jake Tapper, among others.
Fat is the word many Americans associate with Christie, Katz wrote in the Inquirer, just as black was the only thing many knew about Obama at this stage in the 2008 presidential election campaign, political observers say. And just as Obama addressed his mixed-race background in a March 2008 speech in Philadelphia - and presidential candidate John F. Kennedy spoke of his Catholicism in 1960 - Christie would be pressed to address the "girth issue" in a significant way during a presidential campaign.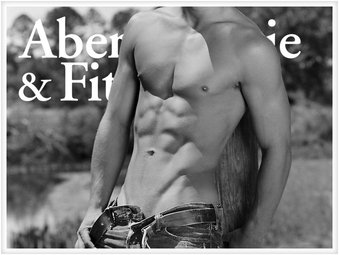 At the risk of propping up either brand in what smells like a summer's day publicity stunt, I will quickly wade in and out of today's dust-up involving Abercrombie & Fitch and The Sitch.
To wit: A&F, the chain that brought you kiddie thongs, half-naked salespeople, eardrum-exploding store music and cologne bombs stinking up major malls, thinks MTV Jersey Shore himbo Mike "The Situation" Sorrenttino is too uncouth for its clothes. So the retailer has asked him to cease & desist, even offering cold hard cash as an incentive.
Talk about a made-for-media spat: Last year, A&F confirmed that Sorrentino was the inspiration for its "Fitchuation" t-shirt. Now, the ticked-off clothing chain wants all its stuff back.

Been doing a bit of talk radio this week in response to pieces about the Philadelphia flash mobs.
Generally, I say yes to anyone who asks, since defending my work on other media goes with the job. Some programs are more civilized than others. Some, more fun.
Got a kick out of the honesty of one producer who took the time to warn me about the venom in the calls he was screening. He assured me he'd do his best to keep things PG, then advised: "We might go with one mainstream nut just for fun."