Deaths
Karen Heller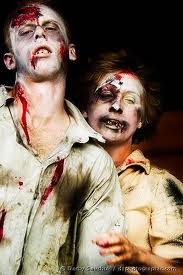 The normally staid Centers for Disease Control is helping the masses preparing for the Rapture, coming Saturday in case you didn't know, which is potentially putting a damper on your summer plans.
Yes, the CDC has compiled Preparedness 101: Zombie Apocalypse which is obviously, given the lowly number, a beginning course. Or, as a zombie might put it, a gut class.
Your federal tax dollars are hard at work, folks.
Daniel Rubin

, Inquirer Columnist

Oh, man. It's a day to break out "Band of Gypsies" and those old Electric Flag records:

Buddy Miles is dead.

The drummer died Tuesday at home in Texas of conjestive heart failure. He was 60. You might know him as man assaulting the skins on "Them Changes" or from a live record with Carlos Santana.
Daniel Rubin

, Inquirer Columnist

Craig Lovett, reigning Big Brother of the Year in Pennsylvania, died this week, I learned by email last night from one of his little brothers, Chris Conaway.

From Chris, who was writing from South Dakota: "I feel a profound sadness at the loss of someone who I considered a father to me and I only hope you can possibly help other people see how he lived and how much he actually gave back to the community and those around him. Craig was a great man who thought nothing of himself and always thought about the welfare of others before considering himself."

I'd spent an evening in May with Craig and his newest little brother, Pernell Francis, as "Perry" wolfed down a meal and a half at Tony Luke's. Craig visited Perry each week, picking him up at his South Philly rowhouse, taking him to dinners, and other events in Perry's packed life. The column's here. That's Craig and Perry, together in this photo, being honored by U.S. Rep. Chaka Fattah this September.
Daniel Rubin

, Inquirer Columnist

Thursday's column about the Wawa in the Northeast Philly that has a hugging problem prompted this email from Cindy Newman, which she allowed me to post:

As a recently retired law enforcement officer having read your column today regarding hugs at a local WaWa Store I was sadly reminded of an incident that occurred during my career. I was blessed to have spent the last 17 years working in S. Florida in a school-based policing program. We were a pro-active unit whose purpose was not just enforcement. We saw our students everyday, taught in the classrooms, built positive relationships with them outside of the arena of law enforcement. We were part of their everyday lives and I loved everyday I went to work with "my" kids.

There was one young man about 12 years ago who became very dear to me. He was 17 years old, at the time the same age as my son. He and I became friendly and over the course of the school year he shared so much of his life with me. He had been thrown out of his home by his mother and was living with his elderly grandmother. He hadn't seen his father in years. He had been a drug abuser, was involved in the "Goth" scene and was struggling to stay clean. His grades weren't very good. Every morning before school he would look for me as I was greeting the incoming students. He stayed with me until class started, sharing details of his weekend, his evening, his life. I listened, I advised, I counseled, we laughed. I then walked with him to homeroom where I gave him a brief hug, patted his back and told him to have a good day. This was our morning ritual everyday for many months.

One morning I was met by my Captain who needed to have a "chat" with me. Someone had called the police department and complained that they felt it "inappropriate" that I was hugging this young man everyday. They weren't suggesting any wrong doing; they just thought it was wrong. As a result of that phone call I was told that I could no longer hug or touch this young man. When he came to find me that morning I explained the new rules to him and he was very upset. He told me that he counted on seeing me every morning and "needed" that hug and send-off to class, that it "got him through the day". I told him that as sorry as I was, I could spend time with him in the morning, but no more hugs.

Less than a month after the "ban on hugging and touching" was initiated I was devastated to find when I arrived on duty one morning that he had committed suicide the day prior. He drove his car off the roof level of a parking garage and ended his life. What a sad ending for a troubled young man. I wondered then, and I still do now, if those morning hugs, those few seconds of human touch, really were what "got him through the day".

It is a sorry commentary about our lot as human beings when a simple hug, the warmth of human touch, a pat on the back has been deemed "inappropriate". As humans we require touch, it's how we show feeling, compassion, warmth and caring. If more people hugged their spouses, their children, their friends and occasionally the stranger-in-need, only positive repercussions I'm sure, would be the result.

Jennifer Horvay describes herself as a "hugger". Let those hugs keep on coming, Jennifer...people need them.
Daniel Rubin

, Inquirer Columnist
You loved him or you hated him. Maybe you even did a dead-on impersonation of him, collar out, cigarette waving, voice like a cartoon bear's?
But you watched The Tomorrow Show with Tom Snyder.
The former Philly noontime host - yes, Daily Sally has a brush with greatness - is dead at 71.
Daniel Rubin

, Inquirer Columnist

Barbaro is gone. The Kentucky Derby winner was euthanized in his stall this morning, ending his fight to survive the catastrophic injury he suffered during the May 20 Preakness Stakes.

Devotion from his cyberfans lasts forever. On Tim Woolley's horseracing site, some comments reflect strangely deep sorrow:

I must admit that on hearing the sad news of Barbaro's passing, the only other times that I have felt so empty and so devastated was when President Kennedy was assassinated, and when the World Trade Center Twin Towers collapsed.
Daniel Rubin

, Inquirer Columnist

He gained attention in the 1950s when President Eisenhower's spokesman called a NATO press briefing to debunk one of the owlish writer's columns, denouncing it as "unadulterated rot."

What spokesman James Hagerty failed to understand was that the column was a spoof.

The writer replied, "Hagerty is wrong. I write adulterated rot."
Daniel Rubin

, Inquirer Columnist
"Christmas in Heaven."