Kevin Riordan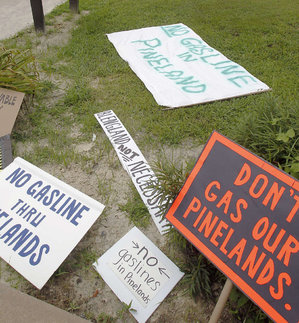 People in power have a way of getting what they want.
Regardless of whether we, the other people, want it or not.
Consider the natural gas pipeline-through-the-pinelands project the New Jersey Pinelands Commission dared to reject in a January tie vote.
Karen Heller
Graduation addresses can be numbing in their sameness and hollow platitudes. Can you remember your graduation address? Me neither.
But the Haverford College commencement Saturday is one few people will forget.
Earlier this month, former Secretary of State Condoleezza Rice withdrew from giving Rutgers' commencement address and receiving an honorary doctorate after faculty and students protested the choice. No word on whether she was paid the $35,000 honorarium to appear.
Karen Heller
Few things in life are constant, but a given in Philadelphia radioland is the supremacy of KYW-AM, the quintessential all-news station with "Traffic on the Twos."
But something is not right in radio, as the The Inquirer's David Hiltbrand reports.
Listenership for the venerable station crashed by 54 percent during the last three-month rating period. Commuters can get traffic from OnStar and Garmin. Good weather makes for lousy weather news, but still can't explain listenership dropping by more than half. And folks under 40 have no idea what radio is.
Kevin Riordan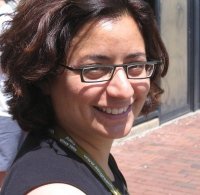 Thoroughbred horses may not be able to speak, but filmmaker Joe'l Ludovich gives them a voice in her new documentary.
"Scratched: The Epidemic of Drugs in Horseracing," will be screened for the public at 6 p.m. Friday, May 16 at the Collingswood Public Library, 771 Haddon Avenue. The event is free; any donations will benefit South Jersey Thoroughbred Rescue & Adoption.
"I've been volunteering with (the organization) for four years," says Ludovich, 44, of Collingswood. "I see first-hand how the horses come in, with injuries...and they are still so young."
Kevin Riordan, Inquirer Columnist
Al and Brian gazed at the ruins of the only home they've known for a year -- the woodsy patch of Camden known as the "bowl."
The two pals, both 50, from the suburbs, and (they insist) no longer using drugs, were among nearly 20 homeless adults whom Camden County authorities chased out of the ragtag encampment Tuesday. They had inhabited a sunken area just east of where the 10th Street bridge carries traffic over Admiral Wilson Boulevard, not far from the Linden Street "back woods" and several other other homeless encampments downtown.
On Wednesday, public works crews continued to cut brush, fell trees and fill dumpsters as Al and Brian salvaged a few items -- including a boom box on which "Head Like a Hole" by Nine Inch Nails blasted:
Karen Heller
With less than a week until primary day, first-time candidate Tom Wolf continues to lead the pack of four Democratic contenders hoping to unseat Republican Gov. Tom Corbett, according to the latest Franklin & Marshall poll.
The first-time candidate has a commanding double-digit lead over U.S. Rep. Allyson Schwartz, a 24-year political veteran in Washington and Harrisburg, and long presumed to be the frontrunner. The poll shows that 33 percent of likely voters support Wolf, while 14 percent favor Schwartz. Treasurer Rob McCord, who decided to go nuclear in attacks against Wolf, has 9 percent of likely voters, and former environmental secretary Katie McGinty attracted only 3 percent.
That old favorite, Undecided, leads all candidates with 39 percent.
Karen Heller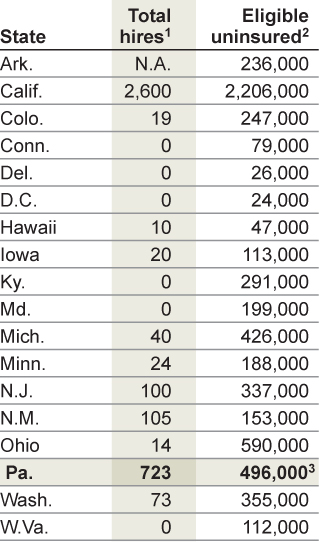 Better late and more.
Pennsylvania Gov. Tom Corbett famously turned down the Medicaid expansion, unlike all of our neighboring states, including those also helmed by Republicans. The commonwelath lost an estimated $2.2 billion dollars in aid this year that we already paid through federal taxes that would have helped half a million Pennsylvanians. Instead, your tax dollars are helping Americans be healthier elsewhere.
The Corbett administration devised its own plan, scheduled to launch next year. However, as The Inquirer's Don Sapatkin reports, it will require far more people to administer the program, an estimated 723 additional state employees, while other states hired none.
Kevin Riordan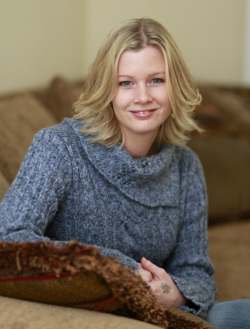 Author and activist Holly Austin Smith, who as a child was forced into prostitution in Atlantic City, will speak Friday in Barrington, NJ. The event is sponsored by Dining for Dignity, a Collingswood-based group that fights human trafficking.
Smith, whose new book is Walking Prey, will speak at 7 p.m. Friday (May 9) at GNFWC, 501 Commerce Drive, Barrington.
The appearance is particularly timely in light of the kidnapping of nearly 300 Nigerian schoolgirls, says Kelly Master, founder of Dining for Dignity.