Kevin Riordan
When Kahra Buss founded Live Civilly three years ago, she wanted to help youngsters like her own do service work in their communities.
The Moorestown mom and her husband, Joe, hoped the new nonprofit organization (livecivilly.org) would satisfy not only a hunger for service, but hunger itself.
"We have two community supported gardens that support food pantries in Moorestown," Buss says. "This summer, we made over 600 lunches for scholarship students at the township summer camp."
Kevin Riordan
More than 800 people have signed an online petition against changing the name of a Willingboro, NJ municipal complex from the Kennedy Center to the Obama Center.
The Change.org petition was started by Dawn Donnelly, a Burlington Township grandmother who grew up in Willingboro, graduated in 1977 from what was then Kennedy High School, and still works in the township.
"To me, this has nothing to do with President Obama," Donnelly, 55, says. "I voted for President Obama, and I would vote for him again. This is about taking away the name [that honored] a president who at the time the school was built was a huge deal. It's a change that's disrespectful of history."
Kevin Riordan
The Inquirer's front-page stories Tuesday about comedian/actor Robin Williams and Philly chef Michael Solomonov are reminders of the ruthless nature of the beast called addiction.
Williams' apparent suicide, reported on Monday, followed his recent visit to a Minnesota rehab. His lifelong battle with alcohol and drugs has been marked by long periods of recovery, interrupted by relapse. He also suffered from depression.
Solomonov, the chef at Zahav and a force behind Federal Donuts, went public this week about about his recovery from addiction to heroin, crack, and booze. He told interviewers that he went to rehab, attends self-help meetings regularly, and has been clean for six years.
Kevin Riordan
Young preservationists in Woodbury are battling the proposed demolition of a battered but historic former hotel on the Cooper Street gateway to downtown.
"Woodbury is rapidly losing what makes it a destination, which is historic buildings -- and the vibe they create," says Bryan Bonfiglio, of the Village Green Preservation Society. "The city doesn't need more surface parking lots."
Mayor Bill Volk says the city has worked with groups such as the Woodbury Olde City Restoration Committee to try and save the vacant Green Hotel since last year. But no buyer or other interested party with resources to rehabilitate the deteriorating structure has come forward. And the mayor says he's prepared to approve a demolition application scheduled to come before the city planning and zoning board August 20.
Kevin Riordan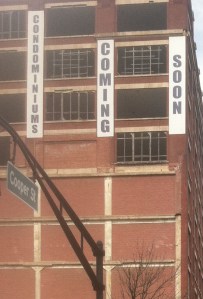 Camden will inspect the vacant, city owned Radio Lofts building in the wake of safety concerns raised by a local blogger.
In a post headlined 'Downtown Danger,' the NJ Poverty Reality blog published photos of cracked exterior brickwork, warped window frames, and material it said has fallen from the onetime RCA Building #8 at 2nd and Cooper streets.
"The building is solid," says city business administrator Robert Corrales, adding that personnel nevertheless will take a look and make a report. He adds there is no reason to believe the structure is in danger of collapsing, as the blog suggests.
Kevin Riordan
Premiering soon at the landmark Ritz Theatre in Haddon Township, NJ: The Reel East Film Festival.
The August 22 and 23 event will highlight esteemed indy cinema pioneer John Sayles, who will host a screening of his latest movie, Go For Sisters. Short films, documentaries such as Going Attractions and Brotherhood of the Popcorn, and classics -- including Alfred Hitchock's 'The Lodger,' with live musical accompaniment -- also will be on the bill. And musician Juston Stens (Dr. Dog, the Get Real Gang) will be on hand to present his autobiographical road film, I Lay Where I Fall.
The festival aims to showcase work by New Jerseyans such as Sayles and Stens, and will celebrate the Garden State's other contributions to cinema, says organizer Irv Slifkin. A film teacher, journalist and author (Filmadelphia) who lives in Delran, Slifkin is among the half dozen volunteers behind the festival.
Kevin Riordan
Collingswood, home to a thriving farmers' market and a lively restaurant scene -- but no supermarket -- may soon add two locally owned food stores to its bustling downtown.
The Welcome Market & Cafe expects to open at 712 Haddon Ave. next month. "The concept is to bring great, locally sourced and other food to a town that really values it," says entrepreneur Eli Massar, who is opening the 2,000 square foot store with business partner, Chris Thomas. "Collingswood and the surrounding areas have been starving, pun intended, for alternatives and options."
As my Inquirer colleague Clark Mindock reports, a second grocer -- McFarlan's Market, of Merchantville -- plans to open on the opposite side of the avenue if the borough commission votes Sept. 2 to approve a development plan for the former National Food Stores building. Meanwhile, efforts to establish a Collingswood food co-op continue as well.
Kevin Riordan
One of South Jersey's dwindling number of 'dry' towns is considering whether to license restaurant liquor sales.
So far, the public discussion in Haddon Heights has been as congenial as the Camden County borough itself. About 60 people attended a special borough council hearing Tuesday, but most of those who spoke seemed more concerned about the licensing process than the prospect of breaking with an 81-year-old tradition.
Not so the aptly named, gentlemanly teetotaler Jerry Drinkwater, 74, who urged the council not to allow liquor sales, period. "We already have a B.Y.O.B. system in town...and I think that''s as far as we ought to go," the retired salesman said. "There's plenty of liquor around in other towns."