Kevin Riordan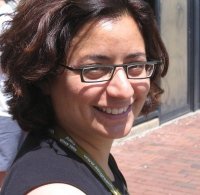 Thoroughbred horses may not be able to speak, but filmmaker Joe'l Ludovich gives them a voice in her new documentary.
"Scratched: The Epidemic of Drugs in Horseracing," will be screened for the public at 6 p.m. Friday, May 16 at the Collingswood Public Library, 771 Haddon Avenue. The event is free; any donations will benefit South Jersey Thoroughbred Rescue & Adoption.
"I've been volunteering with (the organization) for four years," says Ludovich, 44, of Collingswood. "I see first-hand how the horses come in, with injuries...and they are still so young."
Kevin Riordan, Inquirer Columnist
Al and Brian gazed at the ruins of the only home they've known for a year -- the woodsy patch of Camden known as the "bowl."
The two pals, both 50, from the suburbs, and (they insist) no longer using drugs, were among nearly 20 homeless adults whom Camden County authorities chased out of the ragtag encampment Tuesday. They had inhabited a sunken area just east of where the 10th Street bridge carries traffic over Admiral Wilson Boulevard, not far from the Linden Street "back woods" and several other other homeless encampments downtown.
On Wednesday, public works crews continued to cut brush, fell trees and fill dumpsters as Al and Brian salvaged a few items -- including a boom box on which "Head Like a Hole" by Nine Inch Nails blasted:
Karen Heller
With less than a week until primary day, first-time candidate Tom Wolf continues to lead the pack of four Democratic contenders hoping to unseat Republican Gov. Tom Corbett, according to the latest Franklin & Marshall poll.
The first-time candidate has a commanding double-digit lead over U.S. Rep. Allyson Schwartz, a 24-year political veteran in Washington and Harrisburg, and long presumed to be the frontrunner. The poll shows that 33 percent of likely voters support Wolf, while 14 percent favor Schwartz. Treasurer Rob McCord, who decided to go nuclear in attacks against Wolf, has 9 percent of likely voters, and former environmental secretary Katie McGinty attracted only 3 percent.
That old favorite, Undecided, leads all candidates with 39 percent.
Karen Heller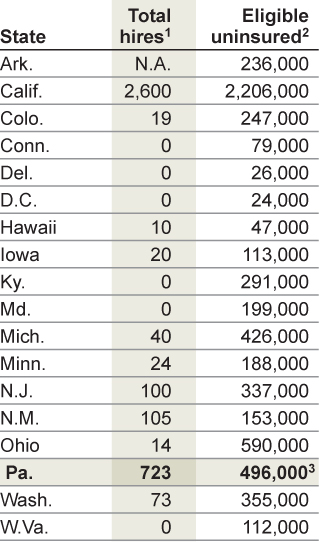 Better late and more.
Pennsylvania Gov. Tom Corbett famously turned down the Medicaid expansion, unlike all of our neighboring states, including those also helmed by Republicans. The commonwelath lost an estimated $2.2 billion dollars in aid this year that we already paid through federal taxes that would have helped half a million Pennsylvanians. Instead, your tax dollars are helping Americans be healthier elsewhere.
The Corbett administration devised its own plan, scheduled to launch next year. However, as The Inquirer's Don Sapatkin reports, it will require far more people to administer the program, an estimated 723 additional state employees, while other states hired none.
Kevin Riordan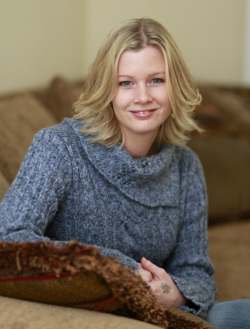 Author and activist Holly Austin Smith, who as a child was forced into prostitution in Atlantic City, will speak Friday in Barrington, NJ. The event is sponsored by Dining for Dignity, a Collingswood-based group that fights human trafficking.
Smith, whose new book is Walking Prey, will speak at 7 p.m. Friday (May 9) at GNFWC, 501 Commerce Drive, Barrington.
The appearance is particularly timely in light of the kidnapping of nearly 300 Nigerian schoolgirls, says Kelly Master, founder of Dining for Dignity.
Karen Heller
Celia Pretter's attempt to help neighbors and clean up her Mt. Airy block failed due to city regulations. In a recent column, I wrote about her renting a U-Haul, taking the trash to the Northwest Sanitation Convenience Center only to be turned away for using a commercial vehicle.
When I asked the Streets Department deputy commissioner what vehicle would have been allowed, he said her personal car, which happens to be a Subaru Outback with limited space. Meanwhile, Pretter told me she saw plenty of trucks drive onto the space with trash. All of them looked like they were being used for commercial purposes.
How readers responded to Pretter's tale of trash and woe! One reader wrote that many commercial trucks have removable magnetic signage, so their owners can drive onto sites designated for personal use.
Kevin Riordan, Inquirer Columnist
As Mother's Day approaches, Susan Rose and her volunteers are delivering exquisitely prepared gift baskets across South Jersey and in Philadelphia.
The Mothers Matter program has distributed a total of 25,000 baskets since 2001, says Rose, an old friend of mine whose daughter Lauren's accidental death inspired the annual Mother's Day effort, as well as the foundation that bears her name.
The baskets contain a colorful variety of donated personal care, cosmetics and gift items. They are filled and wrapped at the foundation's headquarters in Washington Township, and handed out during the week before Mother's Day.
Kevin Riordan, Inquirer Columnist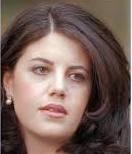 Monica Lewinsky's return to the public eye after a decade of near-invisibility brings back memories for my old friend Dan Cirucci, who once shared a table with her in Philadelphia.
It was April 6, 1998, and reports of the former White House intern's intimate relationship with then-President Bill Clinton had the media in a frenzy. "She was trying to be as natural and normal as possible," says Cirucci, a blogger and public relations professional who lives in Cherry Hill. "I felt sorry for her. I wanted to give her a hug."
Lewinsky, then 24, was in town with her attorney, William Ginsburg. He was speaking to the Philadelphia Bar Association, and Cirucci was its director of communications. "I was next to her on the escalator, and there were I don't know how many TV crews and still cameras waiting at the bottom," Cirucci recalls. "I said, 'Monica, how do you deal with this?'