Kevin Riordan
Former Camden Mayor Gwendolyn Faison is 89. But she's blessed with a better memory than Gov. Christie, whose dramatic narrative of how he saved her beloved city is equal parts self-aggrandizement and amnesia.
"He talked about Camden being corrupt at the same time the state had complete control of the city!" Faison exclaims, her voice as inimitably expressive as when I first heard it 25 years ago. Then, she was a force to be reckoned with on city council; later, she served 10 years as mayor, leaving office in 2010 -- in the days when, according to Christie, Camden's government was not only "corrupt," but "ineffective."
Faison's tenure followed the conviction of her predecessor Milton Milan on corruption charges; he was the third mayor in 20 years to disgrace his office with such an offense. Not so Faison, who was never charged with, much less, convicted of, anything. And to be fair, Christie neither named the former mayor, nor implied that she herself was corrupt.
Kevin Riordan
Gov. Christie may have been able to banish the Statehouse press corps from his séance with the national media Tuesday, but even he couldn't stop me from streaming it on my telepathic mind channel.
"Pay no attention to Bridgegate, budget deficits, pusillanimous polls, credit rating downgrades, Atlantic City…or any other sorry story concocted by those scruffy local scribes in exile behind the curtain," the governor proclaimed, as a brass ensemble paid for by the Republican Governors Association finished a fanfare inspired by "Get Rowdy."
"My fellow celebrities," Christie told the hand-picked press, "you are here to hear me offer unto you the facts, free from the distractions of scurrilous coverage by dying newspapers and obscure TV stations. And pay no attention whatsoever to the lamentations of my erstwhile cheerleaders on NJ 101.5."
Kevin Riordan
A sleek vehicle, a stylish soccer mom, and the leafy streetscapes of Haddonfield.
"A perfect fit," says borough businesswoman Kathy Gold, talking about a Mercedes-Benz commercial shot mostly in the downtown area last October and now being seen during BBC America's Top Gear. The 45-second spot also is available on YouTube.
"Our socioeconomic breakdown [matches] the higher end market" for luxury cars, says Gold, who's co-chairwoman of the marketing committee of the Partnership for Haddonfield, which manages the borough's business improvement district. She also owns the In the Kitchen Cooking School.
Kevin Riordan
Some members of my New England clan are Patriots fans. Others are Jets diehards. I live in Eagles country and dated a Steelers fanatic for two years.
Whatever.
But I can't seem to keep my distance from the epic Chris Christie and the Cowboys saga. This messier and messier mess just draws a spectactor in; the latest revelations raise ethical questions about the Republican presidential hopeful's acceptance of posh perks under the umbrella of friendship and fandom.
Kevin Riordan
Amid all the headlines about mega-projects coming to Camden, a small store with big goals has opened in the city's Parkside section.
The Made in Camden Store at 1216 Haddon Avenue aims to showcase local goods and support local entrepreneurs, Ajeenah Riggs says from behind the counter. "We want this to be a community friendly space."
Riggs, 38, is a partner in the store with Eric Powell, the founder of the My Heart BeatZ clothing line. She sees the modest establishment -- which currently offers a few racks of hoodies, sweatshirts and T-shirts -- as a catalyst for local artisans, craftspeople, and producers of all kinds.
David O'Reilly
Doug Maday, whose plan to swim in the Atlantic Ocean every day for a year was the subject of an article in Sunday's Inquirer, took his 99th plunge Tuesday at 7:15 a.m.
The waves off Seaside Park's M Street were "huge" and "brutal," he said, and carried him 75 feet south in seconds. "It was not bad for me," Maday said, "but conditions were not good. I got out right away."
Friends who watched Tuesday's ride described it as "pretty wild," he said.
Sofiya Ballin
If you happened by the City Hall courtyard over lunch break Friday, you might have encountered a surreal scene -- a gathering of Philadelphia lawyers, dressed in business attire and splayed motionless on the ground in solidarity with Mike Brown, the teenager who was shot to death by a Ferguson, Mo., police officer.
The 4.5-minute protest reflected the 4.5 hours that the teenager's body was allowed to lay on the ground in the August shooting, which last week a grand jury found was not grounds for criminal charges.
And the music playing over the grim courtyard scene?
Kevin Riordan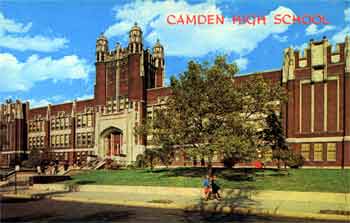 Gov. Christie's promise to spend $50 million to upgrade Camden High School is too little, too late for some critics. Others believe more spending on the place is a waste.
But I see the magnificent landmark -- and the 800 students who go to class there -- as well worth the investment.
A beloved and enduring institution in a city where many such community anchors have moved away or shut their doors, 'The High' (the nickname favored by recent grads) was constructed at the crest of Park Boulevard in 1918. Additions were built in 1959 and 1970.