Archive: October, 2011
Took a stroll down to City Hall this morning in search of Occupy Philly.
All I had to do, really, was follow the sound of the police helicopter hovering over the site, which by 9 a.m. was filling with a variety of protesters, their signs calling for an end to capitalism, change in Washington and the firing of Andy Reid.
That last critic wore a Phillies uniform and his sign was two-faced: "End the War" on one side and "Phire the Phat Man" on the other.
Freshman activist and senior Democrat George Norcross III talked education reform Wednesday at New Jersey's Rider University, and the atmosphere was … collegial.
"George gave a long spiel, and he got applause," one of the 100-plus people in attendance told me. "There were no outbursts, no 'gotcha' questions."
With its focus on society's most precious assets – kids, money and power, not necessarily in that order -- education reform is a highly charged topic. And Norcross is a lightning rod no matter what he says or does.
As the masses gather to Occupy Philly, I am sure their numbers will be flush with recent college grads, though the freshly minted B.A.s might show up a little late to the party, given that they're carrying so much debt.
I feel, I feel. Got one of those myself.
But if you read Thursday's column about the good/bad news for recent college grads, don't conclude that it would be better to avoid all that expense and go straight from high school into the job market.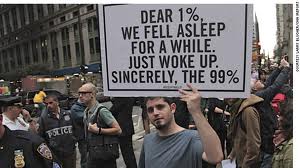 By this time tomorrow, Occupy Philly/Occupy Philadelphia should/will be in full/whatever force in City Hall/Love Park/protesters' minds. So, marriage license-seekers and Guapo's Tacos eaters, consider yourselves warned.
I wish I knew what, specifically, these folks want, besides publicity and taking the Occupy Wall Street camp-in national. If it's corporate greed and executive excess they're ticked off at (for good reason), why not occupy the stock exchange, a Fortune 500 company, a luxury car dealership or a country club? Why disrupt business in City Hall, filled with patronage workers who make chump change in comparison and homeless people seeking a clean bathroom and guidance from City Councilwoman Jannie Blackwell?
Having covered many a MOVE rally and demonstrations during the 2000 Republican National Convention, I get understandably wary of mass gatherings with catchy chants but vaguely stated goals. And in the interest of clarity, I should admit I lost respect for GOP protesters who complained, after getting arrested, that Philly jails didn't serve vegan meals.
The public television operation Chris Christie gave away showed a dancing mouse cartoon instead of the governor's nationally broadcast press conference Tuesday.
NJTV, the bargain basement replacement for the respected New Jersey Network, eschewed live coverage of the biggest Trenton news story of the year in favor of "Angelina Ballerina," the adventures of a relentlessly perky rodent in a pink tutu.
L'Affaire Angelina surely isn't as egregious as "My Pet Goat," the book President George W. Bush famously continued reading to Florida students after being told of the initial 9/11 attack.
In a few hours, chatter of whether New Jersey Gov. Chris Christie is too fat to be president will be moot, as all bets suggest the tough-talking former federal prosecutor will close the door for good on a 2012 run.
I'm in Trenton for that spectacle, but while I wait, wanted to get a few words in on the issue adroitly addressed today by my colleague, Matt Katz and previously by ABC's Jake Tapper, among others.
Fat is the word many Americans associate with Christie, Katz wrote in the Inquirer, just as black was the only thing many knew about Obama at this stage in the 2008 presidential election campaign, political observers say. And just as Obama addressed his mixed-race background in a March 2008 speech in Philadelphia - and presidential candidate John F. Kennedy spoke of his Catholicism in 1960 - Christie would be pressed to address the "girth issue" in a significant way during a presidential campaign.
I'm back in Jersey after a refreshing stay in Seattle, where Chris Christie is blessedly not the biggest news.
That's not the only charm of the Emerald City, a place of much water, many hills and even more homeless people, and where I forgot to take the monorail but did make it to the Space Needle.
Surveying the landscape from atop this marvelous monument to '60s optimism, I felt like one of The Jetsons.