Kevin Riordan
A launch event for a new book about the Cooper River is set for 1 p.m. Sunday, March 22 at the Camden County Historical Society, 1900 Park Blvd., Camden.
Along the Cooper River – Camden to Haddonfield (Arcadia Publishing) is "an invitation to dig deeper" into the river's enduring importance to Camden County and the region, says Robert A. Shinn, who co-authored the book with Kevin Cook. The two Cherry Hill residents share a keen interest in local history and also are lobbying for the county's Cooper River Park to be designated as an historic district.
"We had over 1,000 images to choose from," Shinn says, adding that most were culled from the collections of the Camden County Historical Society, the Historical Society of Haddonfield, and South Jersey historian Paul Schopp. Late 19th century photographs of the south side of the river in Camden, where it was lined with smokestack industries of all sorts, are among the unfamiliar images in the book. Along the Cooper River also offers wonderful glimpses of the river and its environs during the early 20th century, when waterfront land west of Route 130 was filled with gardens, swimming pools, tennis courts and other amenities.
Kevin Riordan
Like water, powerful people always seem to find a way.
Consider Gov. Christie, who wants the New Jersey Pinelands Commission to reverse itself and grant a waiver authorizing construction of a 22-mile natural gas pipeline -- partly through a protected portion of the National Reserve.
The governor was displeased by the commission's January 2014 vote against the project. He has sought to appoint new commissioners, presumably including individuals who are more pipeline-inclined.
Kevin Riordan, Inquirer Columnist
The rather fearsome look of next year's big-screen Aquaman bears little resemblance to the affably chiseled blond dude beloved by fans of the DC Comics superhero.
A stark and stylized black-and-white image of a bearded, tattoed, dreadlocked Aquaman, as portrayed by actor Jason Momoa in the 2016 film Batman v. Superman: Dawn of Justice, caused a stir when director Zack Snyder released it Feb. 20.
But lifelong fan and graphic artist Rob Kelly of Marlton, NJ -- the curator of an online Aquaman Shrine since 2006 -- cautions against rushing to judgment based on appearances alone.
Kevin Riordan, Inquirer Columnist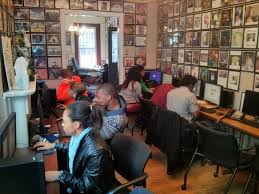 The youth development organization Hopeworks N' Camden doesn't want help from the Democratic National Convention next year in Philadelphia.
Instead, the respected nonprofit -- which assists 300 city kids annually through high-tech job training and other programs -- wants to help conventioneers understand how best to help their own cities.
"We don't need them to tour Camden. They've already seen buildings falling down -- it's called 'poverty porn,'" says Dan Rhoton, Hopeworks' chief impact director. "We need them to talk to our young people, who were part of the problem and now are part of the solution.
Kevin Riordan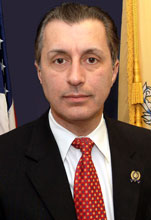 NJ Assemblyman John Burzichelli (D-Gloucester) just got a fabulous second public job as 'Director of Project Management ' for the Gloucester County Improvement Authority.
My Philadelphia Inquirer colleague Angelo Fichera reports that the Assembly's deputy speaker (who's also a businessman and a former Paulsboro mayor) was hired after a one-hour meeting with county administrator Chad Bruner and the improvement authority's acting executive director, George Strachan.
Curious, I used my telepathic mind channel -- on which I recently tuned in to Gov. Christie's secret conversations -- to retroactively livestream audio and video of the hiring festivities at the improvement authority's headquarters/mansion.
Kevin Riordan
So little known was Bruce Springsteen when he played Cherry Hill on August 14, 1973 that an advertisement misspelled his name as Springstein.
But as a devoted WMMR-FM listener and college radio DJ, Greg Longmore knew he had to go hear the artist not yet known as the Boss. So he dragged friends through the rain to Uncle Al's Lounge in the Erlton Bowl, and watched Springsteen play for about a dozen people.
"The E-Street band was with him, including Clarence Clemons," Longmore, who was 20 at the time, recalls. "I was the only one standing. It was like Bruce was doing the concert for me."
Kevin Riordan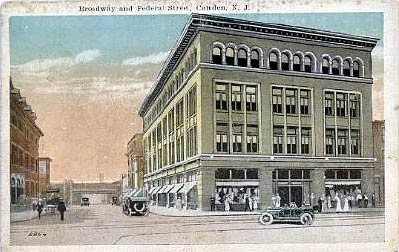 Hardly a block of downtown Camden offers a continuous, traditionally urban array of buildings. Some blocks haven't had anything — other than a parking lot — on them for decades. Others hold a single, suburban-style structure, such as a bank branch with a drive-through.
Along Cooper Street, once the city's finest address, most of the surviving real estate is no longer residential or commercial, but rather, institutional. Even the 12-story Wilson Building at the corner of Cooper and Broadway, described as "Camden's First Skyscraper" when it opened in 1926, is being converted to educational use — and will be off the tax rolls.
Among the handful of other landmarks in this depressing, economically exhausted landscape is the Commerce Building, which rises eight stories above Broadway and Federal. Designed as a "mixed use" structure, with retail on the first floor and offices above, it was supposed to be downtown's salvation when it opened on the site of an extinct department store in 1965.
Kevin Riordan
Tours offering a fresh look at a venerable Camden neighborhood are available online and on the ground -- thanks to an innovative "public history" partnership.
The Center for Environmental Transformation invited Rutgers University assistant professor Mary Rizzo and several of her students to research key locations on the center's hour-long walking tour of the Waterfront South neighborhood. This section of South Camden along the Delaware River is home to Sacred Heart Church, the South Camden Theatre Company, other vibrant community institutions and organizations -- and numerous environmentally damaged sites remaining from the city's industrial heydey.
"We've been doing what we call eco-tours since 2009," says Mark Doorley, the center's board chairman. "We identify the toxic properties and the brownfields, but also the places of rebirth."