An ongoing theme in transportation is how past arrangements and infrastructure influence present day decisions. In a story today, I wrote about SEPTA's efforts to become more environmentally friendly without having to stretch its budget. In two ways, the votes at SEPTA's Thursday board meeting were made possible, and limited, by history.
The financing mechanism used to fund capital investments designed to promote energy efficiency, and, potentially, to create a natural gas power plant that would have less of a carbon footprint than the PECO power grid, is a tool that's existed since the 1990s. Until 2013, when the state's Act 89 created $534 million in funding for the transit agency, SEPTA faced lean years. The budget couldn't handle any new costs, so power related improvements were made possible through the Guaranteed Energy Savings Act, which allowed debt payments to be structured so they would cost no more than the money saved through energy efficiency, SEPTA's general manager, Jeff Knueppel explained. That allowed improvements without increasing spending. That was turned to again in SEPTA's steps toward greening its system this week, but what is a useful financing tool today was once a necessity for the agency.
The natural gas power plant is just a proposal right now, but if it comes to pass it would provide 50 to 60 percent of the power needs for SEPTA facilities at the Midvale bus garage and for a large portion of the SEPTA rail service. But not all of it. The reason, SEPTA doesn't control all the rail lines it uses. The region's current rail network is built on the bones of the Reading and Pennsylvania railroads. SEPTA gained control of much of Reading Railroad, but the stretches of rail that were once the Pennsylvania Railroad were apportioned to Amtrak. As a result, SEPTA can only make changes in the power source for the old Reading lines.
Below is a diagram SEPTA provided of the stations that could benefit from the natural gas power plant.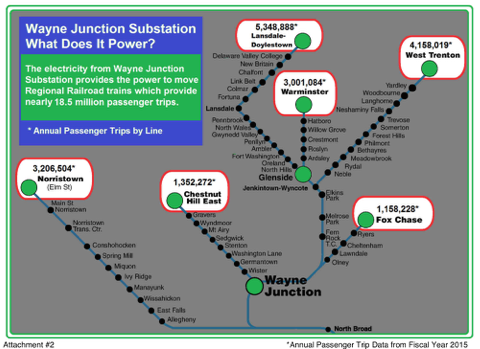 I'm always interested in hearing more about how our history is still playing a role in shaping transportation in the region, so if you have any ideas or insights please email me at jlaughlin@phillynews.com.