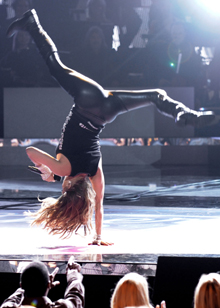 OK, what's my excuse? Excuse 1: I was just checking to see if the VCR was recording

American Idol

for my wife, who was off at book group. Excuse 2: I was too busy making and pigging out on a Boboli with taco leftovers to change the channel. Excuse 3: OK, I'm an idiot who, apparently like millions of Americans who watch quiz shows and sports, is a sucker for even the tiniest bit of suspense.

It's one thing to watch when there's actual performing. It's another to watch an hour of "results."

You'll find out who got booted right after this break. Wait. I already told you in the headline.
This is my second episode of the season. (Last night, unfortunately, technical difficulties prevented me from posting.) So it's Idol Gives Back with a splash of "Seasons of Love" from Rent sung by the remaining contestants... And tragic stories from Africa and Louisiana sprinkled in. I'm feeling a tad manipulated.. but where's my phone? Wait, Alicia Keys is asking the media to curb on "celebrity drama" coverage (Britney, Lilo) and turn its attention on HIV/AIDS because then, and only then, that particular medical crisis "will be well on its way to being solved" ..??? Oh Alicia, dear, there's so much naivete in that logic, I don't know where to begin. So, I'll leave it at that.
I was out and about tonight, listening to other singers, and so had to skip the play-by-play, but having now fast-forwarded through all the boring parts -- i.e., Ryan -- I do have a few "Idol" thoughts:
-- What is it about "Inspiration Week" that turns Randy into Mr. Crankypants?
-- I think it's extremely sad that we'll never know what Danny Noriega would've chosen to inspire us. Extremely sad.
Why was I not thrilled by Tuesday's "inspirational" music night?
Because it seemed like an hour-long warmup for the "Idol Gives Back" fundraiser happening Wednesday at 7:30 p.m.?
Because all those big choir and string-endowed arrangements sounded lifeless - and actually dragged down some performances, most especially Brooke White's show closing "You've Got A Friend"?
They bicker like nobody's business, but "AI" has united Sens. Hillary Clinton, Barack Obama and John McCain for one heart-tugging night with lots of potential voters.
The prez hopefuls will each make an appearance on tomorrow night's "Idol Gives Back" special, 7:30 to 10:30 p.m., which aims to raise funds for U.S. and international charities, the New York Post reports.
The trendy trio will be joined by celebs of the moment, Miley Cyrus and previous Idol winner Carrie Underwood, the paper said. Becks and Posh, aka David and Victoria Beckham, Jim Carrey, Adam Sandler, Alicia Keys, Reese Witherspoon and the Manning Bros, quarterbacks Eli and Peyton, and a slew of others will join the senators.
In a results show full of bizarre moments, one real head-scratcher came after Simon nicely explained to Carly Smithson that his suggestions the previous evening about her appearance were intended helpfully. Then Ryan Seasurge inserted himself in the discussion, saying, "Uh, there's a line. Let's not cross it." Implying that Simon was getting too personal.
Then a few minutes later, Idol's model of professionalism, Ryan, greeted Dolly Parton on stage, saying, "Thank you, beautiful, Or should I say, hot!"
The night beofre he said to Kristy Lee Cook, apropos of nothing, "I love your French pedicure!"
Brooke, as Simon predicted, is safe, but emo girl that she is, she's crying harder than anyone, a combination of Dolly, "Idol Gives Back" clips and plain old stress.
Kristy's safe, too, which leaves tiny Ramiele Malubay as the one going home.
Which is hardly a surprise.
OK, I love Dolly, but I do hope she isn't the star Simon the fashion critic thinks Carly Smithson should be emulating.
Not that her waistline isn't amazing.