I know some of the judges have their hearts set on a sing-off between Danny and Adam, but I'm still having a hard time imagining a finale without Allison Iraheta in it.
Yes, she's 16, but she doesn't act it.
(Can't say the same for Simon, who's apparently drawn a mustache on Paula's upper lip.)
Adam Lambert adjusts his attitude, as well as his look, for Motown Week -- showing Smokey Robinson more respect than he showed Randy Travis (not to mention Johnny Cash), while using his signature falsetto on "The Tracks of My Tears."
Will America love him even more without nail polish?
"I have six words for you -- one of the best performances of the night," gushes Kara, who may not be able to count but has apparently mastered the art of damning with faint praise without even meaning to.
It's been five minutes or so and I've already forgotten what Megan Joy sang, which Simon would say is Not a Good Sign for the singer, who's supposed to be over the flu but really doesn't sound it.
Kara seems to think she should've sung something else, anyway. She suggests "My Guy," which might not be the most sensitive thing to say to someone who since the competition began has dropped her last name -- seems like only yesterday it was Corkery -- because it happened to belong to her ex-husband.
Blind "singer-songwriter" Scott Macintyre, who last week teased viewers by promising that he'd sooner or later step away from the piano, tells Ryan he'll be sticking with the instrument for Motown week and that he's "going to find other ways to take risks."
The solution? Designated dancers.
Paula, aware that she may have gone too far last week in urging Scott to get away from the piano, is quick to praise what the rest agree was a so-so performance of "You Can't Hurry Love." Apparently Paula just needs to see movement, even it's just by the backup singers.
"You are one of the front-runners in this competition," Simon tells Matt Giraud, taking pains to put into standard English what Randy seemed to be saying a few moments earlier.
Which is that, no matter what you may have read elsewhere, the judges have not made up their minds. No, indeed. Not with weeks and weeks to go.
Sure, they still seem convinced a boy will win -- though it's going to be a long night of Motown, and they could still change their minds, on that, too. But, hey, maybe that boy doesn't have to be named Adam. Or Danny.
"If we were all perfect, we wouldn't need this show."
That's Texan Michael Sarver, who may have mistaken "American Idol" for church.
But, hey, it's country week, and that's the way they talk during country week. (Well, OK, maybe not Adam Lambert. Who really had better steer clear of Nashville, where they're probably setting up that "Ring of Fire" for him right now, since it's unlikely everyone down there's as nice as Randy Travis.)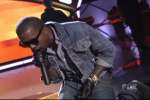 Quick thoughts. I love Kanye, and was glad to see he's gotten rid of the Lionel Ritchie hair thing he was experimenting with for the Grammy's. Looking good with the close crop, Kanye. It seems like he's still trying to figure out how to perform these 808 songs live, like he's rapping the parts he sings on the album and half singing the rest, and it was kind of funny, but naturally, way more entertaining than the rest of the show. But still, you did really want to hear what Simon thought of that performance. Might have merited a Simon raised eyebrow or two for sure. More to the point, I just don't like this new judges can save a performer rule. I thought the show was moving away from gratuitous cruelty. Poor Jasmine and Jorge. You get ousted by the vote, then sing for a last possible chance, and then rejected again. Those tears were tough to take. Ridiculous. Kelly Clarkson is very cool and complicated, something American Idol isn't.
I usually avert my eyes this early in the season, but last night for whatever reason - the economy? the cold? the lingering affects of watching Paris Hilton search for a new best friend - I found myself looking forward to the big comfy idol couch. I liked the new judge, Kara DioGuardi. She seemed cool, kind of smart, seemed to make everybody like themselves a little bit more. (And apparently, I am not alone as her website has crashed this morning!) I liked that there wasn't too much of the cringe horrible stupidness. I felt that familiar Idol realization, stuning as ever, when sincerely nice people give up their dreams to pursue this and then cannot sing at all. Idol delusion lives, an incurable human condition. I liked thinking about how parents can do their kids a disservice sometimes by encouraging them randomly. And there was the usual shock when the people you think can't sing actually can sing, according to the judges (tattoo pink haired girl, I didn't quite get that.) Blind hipster boy at the end is a keeper. And was that really a glimpse of Brian Dunkelman at the beginning? Long live the Dunk!