A couple of unholy, intoxicated church goers - high on booze and drugs - crashed a midnight Mass in Drexel Hill on Christmas when they stumbled down the aisle, fondled each other in a pew and flushed drugs down the church toilet, police said.
Authorities believe Alexander Pirone, 21, and Catherine McGrath, 24, planned to hide out in the restroom until after the building was locked up for the night so they could burglarize the church, but a cop and an EMT who were also at the Mass thwarted their plan, said police Superintendent Michael Chitwood.
Pirone and McGrath burst into St. Charles Borromeo Roman Catholic Church on Burmont Road and stumbled down the aisle shortly after midnight Mass began on Dec. 25, police said. Officer Samuel Sproull, who was on duty at the time and attending the Mass, saw them come in and saw that they were "whacked out," Chitwood said.
A CANE CORSO might look like a pit bull on steroids, as one expert described it.
But don't let any backyard breeder fool you about these big Italian mastiffs that, with their ears cropped, can look like American Staffordshire terriers, a breed often lumped in the pit-bull category.
More Cane Corsos have been dumped in the Philadelphia area than in the rest of the country combined - presumably by disappointed purchasers who wanted to enter them in dogfights or just keep them to look "bad," a local rescuer says.
WHEN YOU SIGN someone who had been convicted of operating a brutal dogfighting ring, who had just served 18 months behind bars and had been suspended indefinitely by the NFL, it would seem fair to say that you have a steep public-relations hill to climb. But that was what faced the Eagles when they took a flier on quarterback Michael Vick in August 2009 in a move that had Eagles fans howling: "They signed WHO?"
Bringing in Vick seemed to defy logic. The Eagles had a quarterback - Donovan McNabb. And they had a quarterback they were grooming to replace him - Kevin Kolb. Exactly how head coach Andy Reid would use Vick was not immediately clear, if he had larger plans for him than occasionally employing him in the Wildcat offense to utilize his superior running ability. In the uncertainty that then prevailed, the upside of having Vick on board did not seem to be worth the potential downside.
But it was the fans who were even more perplexed by the acquisition of Vick. Even fans who seemed to believe in the concept of redemption were uncertain what they would do if, by some chance, Vick emerged as the starting quarterback: Could they cheer for him? Given the appalling offenses that Vick had committed against innocent animals, fans suddenly found themselves torn between their allegiance to the team and their utter disdain for what Vick had done. While Vick had stood before a court of law and received his punishment, he now stood before the court of public opinion, which can be even harder to win over than any judge or jury.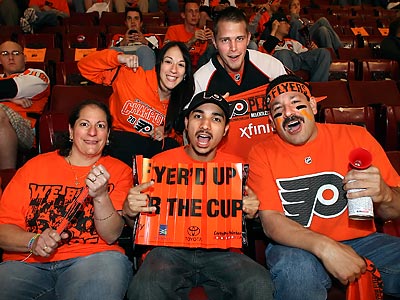 So how far do you expect the Flyers to go this season?
The vote is in: All . . . the . . . way.
In the survey conducted by the Daily News in tandem with Temple's Sport Industry Research Center, a whopping 73 percent of respondents who identified the Flyers as their favorite team said they expected the team to win the Stanley Cup finals this season.
Will Bunch
THERE IS NOTHING more magical than football in the snow.
If you grew up anywhere in the wintry half of this country, you probably have fond memories of hiking up your snow pants and sloshing around with your buddies and your Pete Rozelle-signed football in the backyard drifts - and the only thing that comes a close second to playing football in the snow is watching a classic NFL matchup in a furious downpour of the white stuff.
In 1948, the Eagles won an NFL championship at Shibe Park in a raging blizzard, a game that was never forgotten by the 36,309 die-hards who didn't think twice about braving those conditions to watch history in the making. Then there was the "Snow-Plow" game in New England and the Pats' memorable playoff victory over Oakland in a snowstorm years later, and the frigid 1967 Ice Bowl in Green Bay. To paraphrase Frank Capra this Christmas season, for a true football fan it would not have been as wonderful a life had those remarkable games never been born.
Rich Hofmann

, Daily News Executive Sports Editor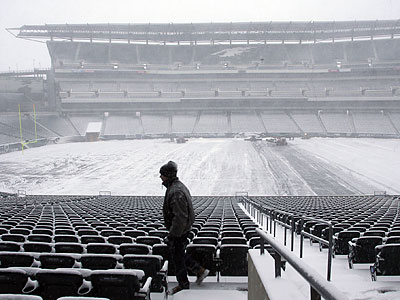 COULD THEY have played?
Yes.
Was the postponement wrong?
THE DAILY NEWS Eagles Fan Panel had
plenty to say about yesterday's postponement of the Eagles-Vikings game in snowy South Philadelphia.
I was really looking forward to watching football in the snow. Not that the NFL would ever make a decision based on money, but this should allow 2 more days for Saint Brett's concussion to heal, allowing him to play and giving the TV ratings a boost. Now the short rest next week could really hurt the Eagles, if the Cowboy game turns out to have a bearing on playoff seeding.
Dr. Frank Leone, director of Penn's Comprehensive Smoking Treatment Program, will chat on Monday, Jan. 3 from noon to 1 p.m. about how to stop smoking.
On a mobile device? Click here to join the chat.