Archive: April, 2013
Gabrielle Bonghi

, Philly.com
Philadelphia, Pa – Chestnut Hill holds its 17th Annual Chestnut Hill Home & Garden Festival on Sunday May 5, from 11:00 a.m. to 5:00 p.m. on Germantown Ave.
The outdoor festival will include live music with al fresco dining and festival fun up and down Germantown Avenue with delicious offerings from the restaurants of Chestnut Hill. There will be entertainment and fun for children, amusement rides, face painting and arts & crafts activities. Kids will even have an opportunity to paint a life-size Orca mural.

Retailers will have plants and gardening supplies like tomato plants and flower seedlings, orchids, hanging baskets and garden sculptures as well as products for home design like hand-made furniture, quilts, jewelry, art and collectibles. Eco Alley, featuring many vendors offering sustainable products from organic plants to recycled furniture, has been made possible by GRINCH (Green in Chestnut Hill). Presenting Sponsor Subaru will display its latest car models and Sponsor B101FM will provide contests and giveaways.

The festival is free at attend and $5 all-day parking is available in several of Chestnut Hill's lots. For more information, call 215-247-6696 or visit the website. Rain date is May 19, 2013.
Gabrielle Bonghi

, Philly.com
People are more excited than ever these days to experiment with growing their own food and reaping the rewards of an edible garden. But what if you don't have a huge amount of space? Are your dreams of a bountiful harvest coming from your own little plot unrealistic? Thankfully, that's not the case — there are actually a bunch of ways to produce a wide variety of edibles in small spaces.
The first step is to take a good look at your space and assess what resources you have available. Light and water access are the two biggest requirements of a food garden. Most food crops require a large amount of sunlight, something that small spaces sometimes lack. However, there are some crops that thrive in lower-light conditions. Regular water access is also key to healthy crops and should be considered when you're configuring a food garden. As long as you can access water and provide proper drainage, a happy food garden is in your future!
Let's look at some options for growing edibles in small spaces.
Gabrielle Bonghi

, Philly.com
Turn your furniture into something unique! Apartment Therapy has a great list of easy-to-customize IKEA products that are fun for kids and adults.
Here are a few ideas to get your gears going:
1. Recycling center specifically for kids.
Gabrielle Bonghi

, Philly.com
I distinctly remember one apartment hunt that brought me to tears. After sifting through dozens of not-right rentals, and with our moving-out date looming, we thought we finally had the perfect place in the bag — only to have it given to another applicant at the last moment. If you've ever had to look for an apartment, you know the process can be nerve-racking; even more so if you are new to a city or are looking in a competitive market where hoards of people show up to every open house.
There may not be a way out of doing the legwork, but these 11 tips can help you get organized, set your priorities, search smart and stay focused every step of the way.
1. Narrow your search. Focus on a favorite neighborhood or two, but be smart about it. Balance things like charming shops and a vibrant community with factors like price and access to transportation. Narrowing your search to a specific area will help streamline the process, since you can easily hit multiple open houses in a single morning.
Gabrielle Bonghi

, Philly.com
Most of us experience famous architecture in short bursts. We might spend half a day wandering around the Guggenheim museum, an hour strolling through Fallingwater or a few moments in the lobby of a building whose interiors were done by Philippe Stark. But unless you actually own a home designed by a famous architect — or have enough cash to dump on Jonathan Adler's lawn to coax him into designing your house — there's little opportunity to truly become intimate with world-famous design.
That is, unless you book a night in one of these buildings. Many famous architects and designers have tried their hand at hotel design, producing some incredible concepts. And they're completely accessible. Located all over the world and spanning every style — from traditional to ubermodern to brazenly individual — these 10 hotels offer some of the most luxurious accommodations created by some of the world's most interesting designers.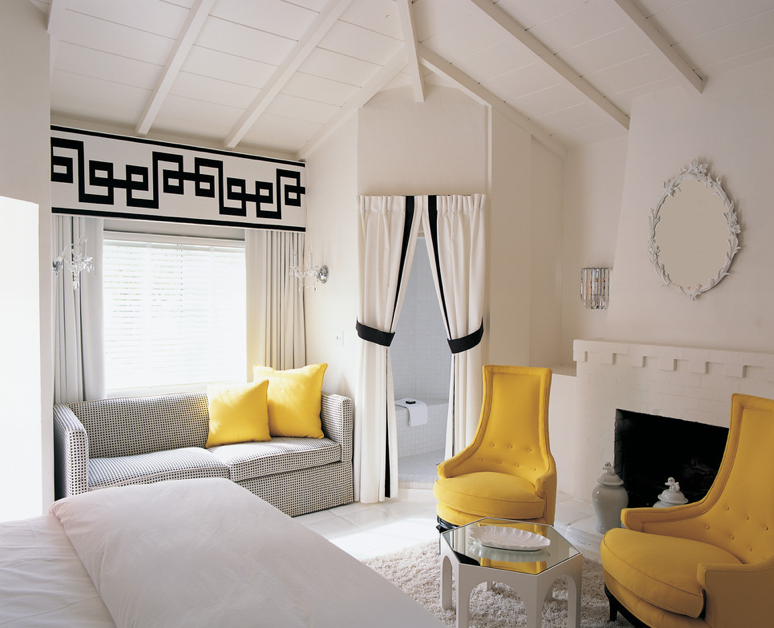 Gabrielle Bonghi

, Philly.com
Innovations in LEDs, compounded with many designers' renewed interest in age-old illumination techniques, have brought new life to contemporary lighting design. To celebrate creativity in this enduring design sector, the following are five notable hanging lights in a variety of mediums spotted throughout the 2013 Milan Design Week.
Lola Lely
Gabrielle Bonghi

, Philly.com
Bedside alarm clocks have been a standard feature of bedrooms for decades. They tell you the time when you're anywhere in the bedroom. They wake you up on time. And the well-designed ones can be a nice addition to the look of your bedroom. They also let you listen to news or music while you're getting dressed in the morning.
As with so many other things, the use of alarm clocks is on the wane, as they're being replaced by the ubiquitous, all-purpose mobile phone. But it doesn't have to be so. And it shouldn't be. Good alarm clocks can do things your phone can't.
For starters, both the displays and speakers tend to be bigger, so telling the time and listening to music and news can be done from anywhere in the bedroom. And the sound quality is much better. That's especially true of the new generation of alarm clocks. Some of the sound system miniaturization that has been developed for laptops, tablets and other mobile technologies has made its way into alarm clocks. The good ones sound way better than alarm clocks used to — and way better than your phone.
Gabrielle Bonghi

, Philly.com
Putting up wallpaper isn't necessarily fun, but tearing it off sure is.
ZNAK has created unique perforated wallpaper that allows you to pull off sections of the removable design to create your own look. As you tear, it reveals the existing wall color underneath.
See how creative some people got: