Melissa Kossler Dutton, Associated Press
Although glass and screens have eliminated the practical need for shutters, they're still popular for decoration. "They add another layer of thoughtful detailing to a house," says Ted Cleary, a landscape architect in Charlotte, N.C.
But to get the right look, you still have to consider function when choosing and hanging shutters, experts say.
"Beauty in architecture, as with many objects, often stems from seeing a detail that illustrates its purpose," Cleary says.
Layla A. Jones
A Philly family got lucky this morning when they won the jackpot of room makeovers thanks to Wendy Williams and Aaron's furniture store.
Recent Temple graduate and therapeutic staff contractor Rovonna Sampson and her husband Lemar were living in a living room that wasn't very livable—their sofa was being held up by books and a speaker. Thanks to the Wendy Williams 'Win a Room in June' contest, the Sampson's living room will get a space-lift including a nine piece Woodhaven living room suite, a 65" RCA" LED TV, and an LG Wifi Home Theater System.
'Win a Room in June' is a contest that will reward new furniture to one family every week in June for one room in their home. The Sampson's living room was selected out of more than 16,000 submissions and they are the second of four families to be chosen for the sweepstakes.
Kim Cook, Associated Press
Being a small, sparsely populated island nudged up against the edge of the Arctic Circle hasn't stopped Iceland from nurturing a rich and varied design industry.
While Viking runes, vintage Northern architecture and eons-old natural elements inspire much of the country's design and craft work, "the field is young, and we've taken steps to develop the industry as a whole," says Sari Peltonen, spokeswoman for the Icelandic Design Center. The first national design policy was published this spring, and the Iceland Academy of the Arts gave its first master's degrees in design.
Peltonen says much of modern Icelandic design speaks to the island's rugged geography, history and folklore (full of epic sagas and tales of magical wee folk).
Dean Fosdick, Associated Press
Making a yard and a community more beautiful begins at the curb. But that narrow space between sidewalk and street — sometimes called a boulevard, median, hellstrip, parkway, verge or tree belt — is a gardening challenge.
For starters, it's probably owned by the municipality but falls to the homeowner to maintain. So the first step in caring for it is to sort out what local rules allow.
"You need to go to the city's website if there are any questions about who owns what," said Evelyn Hadden, author of the new book "Hellstrip Gardening" (Timber Press). "The zoning laws should be posted online."
Layla A. Jones
Ask former teacher Monica Mangin and her best friend, Jess Jackson who used to be a part-time mom and recreational therapist, and they'll say their drastic career switches just made sense. Neither had formal design training but today the pair co-hosts a home improvement show called Knock It Off! on the Live Well Network and run East Coast Creative, a fun, popular home and design blog. They're like the local, lady version of the Property Brothers. Well, kind of.
The longtime friends and Bucks County residents believe you don't have to have a lot of money to makeover your home. That's the principle behind both their TV show and website, where you can find DIY projects on everything from a hi-lighter enhanced thrift-store painting to a homemade, birdcage style pendant light fixture.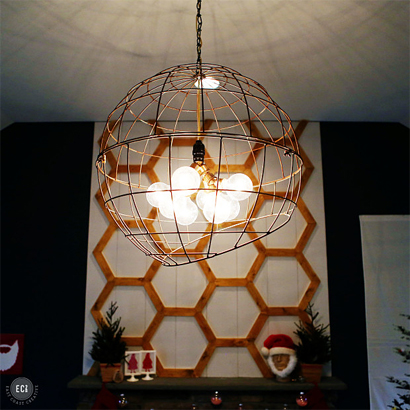 Colleen Barry, Associated Press
VENICE, Italy (AP) — In an era of "starchitects," Rem Koolhaas, who merits mention as one himself, wants to strip the discipline to its barest elements, bypassing the cult of personality and any architectural grandiosity.
Koolhaas had no time to waste as he hurriedly but efficiently guided visitors through a one-hour tour of his exhibit "Elements of Architecture" shortly before it opened here last weekend as part of the Venice Biennale's 14th International Architecture Exhibit. The exhibit covers nothing less than architecture's evolution from homo erectus' first man-made fire to heating fixtures of the future, focusing on the plainer elements: ceilings unnoticed overhead; corridors too quickly bypassed; those overlooked conveyances, elevators.
"If you look at each element in isolation" you can feel its powerful, psychological dimension, Koolhaas said, beyond any "technical, artistic and pragmatic details."
Lee Reich, Associated Press
Marigold is among the most widely planted and, hence, mundane of flowers. Yet I enjoy them as an essential part of summer with their yolk-like blooms and pungent foliage.
For those who are bored by marigolds, as well as those who love them, let me introduce Lemon Gem and its kin.
Lemon Gem is unlike most familiar marigolds. It belongs to a different species, in fact, than the French or African marigolds soon to open their sunny heads in gardens almost everywhere. Those marigolds you grow for their flowers — large, solid-color pompoms in the case of the African marigolds (Tagetes erecta), and smaller, sometimes multicolored single or double flowers in the case of the French marigolds (T. patula).
Dean Fosdick, Associated Press
Wildlife watchers can now wield unnatural powers, playing actual birdcalls on smart phones and other mobile devices. The practice, called playback, is effective for attracting elusive species but also can harm nesting birds if overused.
"It's kind of a balancing act," said Jeffrey Gordon, president of the American Birding Association in Colorado Springs, Colorado.
"If you're bringing a common bird into view for a group of kids or showing people how habitat is really good for birds, then a case can be made that it's a good tool for making birds visible. Caution is most warranted when you have a rare species or a species when a lot of people want to see it at the same location."