"You must look to the past in order to see the future." That seems to be the trend among designers, or they're brushing up on their art history!
Art has always had a major influence on interiors and fashion. Design is inexplicably interconnected. We are all influenced by one another and the things we see around us. Inspired by an image, we make it our own, changed as we see fit to go on and influence someone or something else. Let's call it the "circle of art." Designers often cite artwork as influence.
Tory Burch and L'Wren Scott spoke of being inspired by Gustav Klimt for their fall collections. There will be plenty of opportunity to be inspired, as there is a robust schedule of high profile museum exhibits, large and small, coming this season.
Vicente Wolf suggests he is always inspired by Frida Kahlo.

A Jackson Pollack-like design is an artful way to wrap your walls: from Porter Teleo.
Diamond Baratta saw an image in a Frank Stella that they loved so much they reproduced it as it was meant to be. Why tamper with success?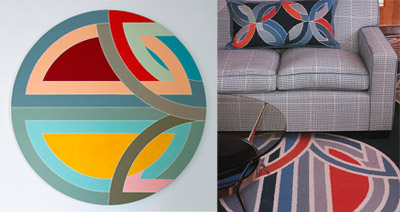 Sometimes color combinations are pulled off the canvas and into a room. Artists are masters of more than color,to be respected and educated by. I am sure to be inspired by the upcoming Léger exhibit at the Philadelphia Museum of Art mid October! Has a work of art inspired you?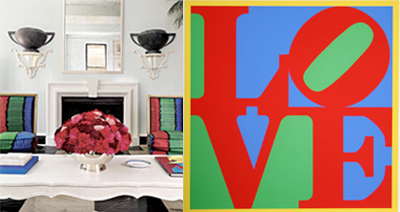 -
About Carrie Leskowitz For more than 12 years, Carrie Leskowitz has been creating some of the most stylish rooms in the Philadelphia region. Once a fashion and prop stylist, Carrie is now a renowned interior designer, and owner of a successful interior design business, Carrie Leskowitz Interiors. Leskowitz has created a style all her own, centered around luxe, organic, natural design with a dash of glamour. With a great eye for fashion, Carrie consults on residential and commercial projects in the Pennsylvania, New Jersey, New York, and DC areas. For more information about Leskowitz visit www.carrieleskowitzinteriors.com or her blog, Carrie's Design Musings www.carriesdesignmusings.blogspot.com.