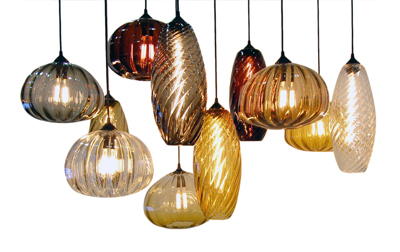 With his east meets west, classic meets modern sensibility, John Pomp is creating heirlooms of tomorrow. The simple clean lines and the organic feel to his beautiful hand blown lighting fixtures convey a warm, sensual feel that strikes just the right balance.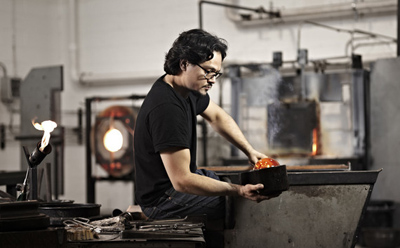 After being a painter for many years, a mentor of John's urged him to try his hand at glassblowing. He fell in love. He studied with Venetian glassblowers and began working in New York making vases. The light fixtures were a natural progression. John then set up shop here in Philadelphia. With his handmade equipment and tools (literally), an almost intimate relationship with each piece is created. There is a natural fluidity to glass, a gracefulness to the way the light plays off of it, a zen like quality that John strives for. "Beauty is not in the function. It's in the ancient technique done in a modern way," he says.
Master craftsman, painter, sculptor, and world traveler, John finds fascination and inspiration in flaws. That's where the beauty lies. There's an organized randomness you see in nature. A wabi-sabi aesthetic or the humble beauty of imperfection that John aspires to convey with each design. He has a very definite point of view.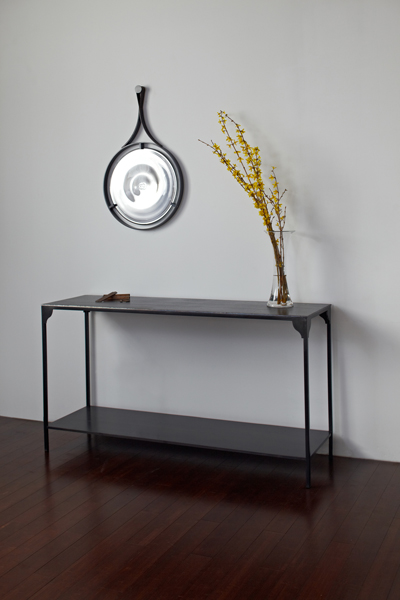 In seven short years, John is garnering fans and accolades worldwide. His lighting, and now furniture, is in 12 showrooms from New York to Paris to Dubai. He is the 15th fastest growing company in Philadelphia. And to think, it all started with his infinity fixture... there's no telling where he'll go.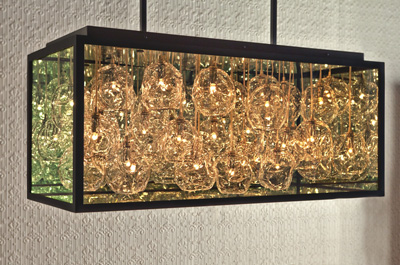 ---
About Carrie Leskowitz For more than 12 years, Carrie Leskowitz has been creating some of the most stylish rooms in the Philadelphia region. Once a fashion and prop stylist, Carrie is now a renowned interior designer, and owner of a successful interior design business, Carrie Leskowitz Interiors. Leskowitz has created a style all her own, centered around luxe, organic, natural design with a dash of glamour. With a great eye for fashion, Carrie consults on residential and commercial projects in the Pennsylvania, New Jersey, New York, and DC areas. For more information about Leskowitz visit www.carrieleskowitzinteriors.com or her blog, Carrie's Design Musings www.carriesdesignmusings.blogspot.com.