Blue hues that remind us of the sea and sky can provide instant relief from life's many stressors, making them perfect for a calming vibe in your bathroom. If you favor lighter shades but don't necessarily want to be surrounded by baby blue, I suggest picking a shade that has a bit of gray or green in it.
For a more dramatic effect, pick a darker royal or navy blue — just be aware that darker blues can make a space appear smaller and cavelike, so you'll want plenty of light in the space to offset this, or use them sparingly as an accent color. Pairing blue with shades of white or gray will give you a cool, contemporary look. For a warmer feel, try incorporating sandy beige and tan.
Here are some of my favorite blue hues for bathrooms, along with 11 eye-catching blue bathrooms from Houzz to inspire you.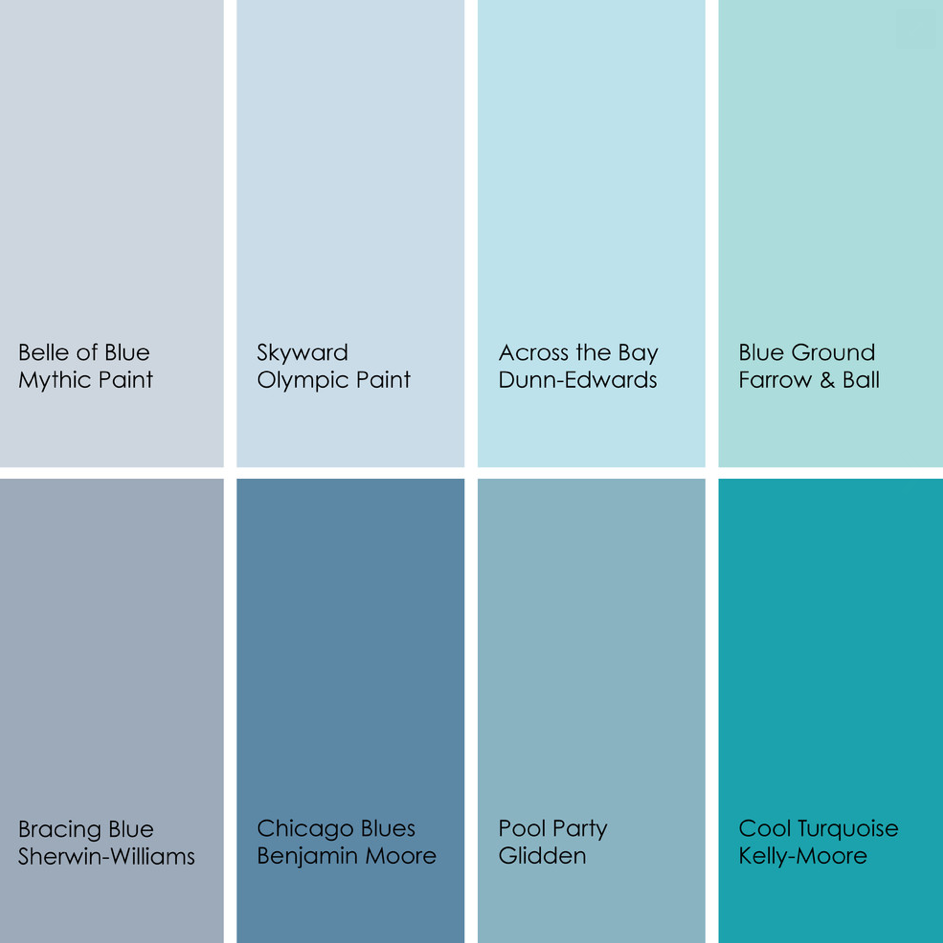 I'm partial to icy light grayish blues as well as bold turquoises, but there are many beautiful blues in between to choose from.
Blue paint picks for bathrooms (clockwise from top left):
1. Belle of Blue 021-1, Mythic Paint
2. Skyward C56-2, Olympic Paint
3. Across the Bay DE5757, Dunn-Edwards
4. Blue Ground 210, Farrow & Ball
5. Cool Turquoise KM3238-2, Kelly-Moore
6. Pool Party GLB09, Glidden
7. Chicago Blues 804, Benjamin Moore
8. Bracing Blue SW6242, Sherwin-Williams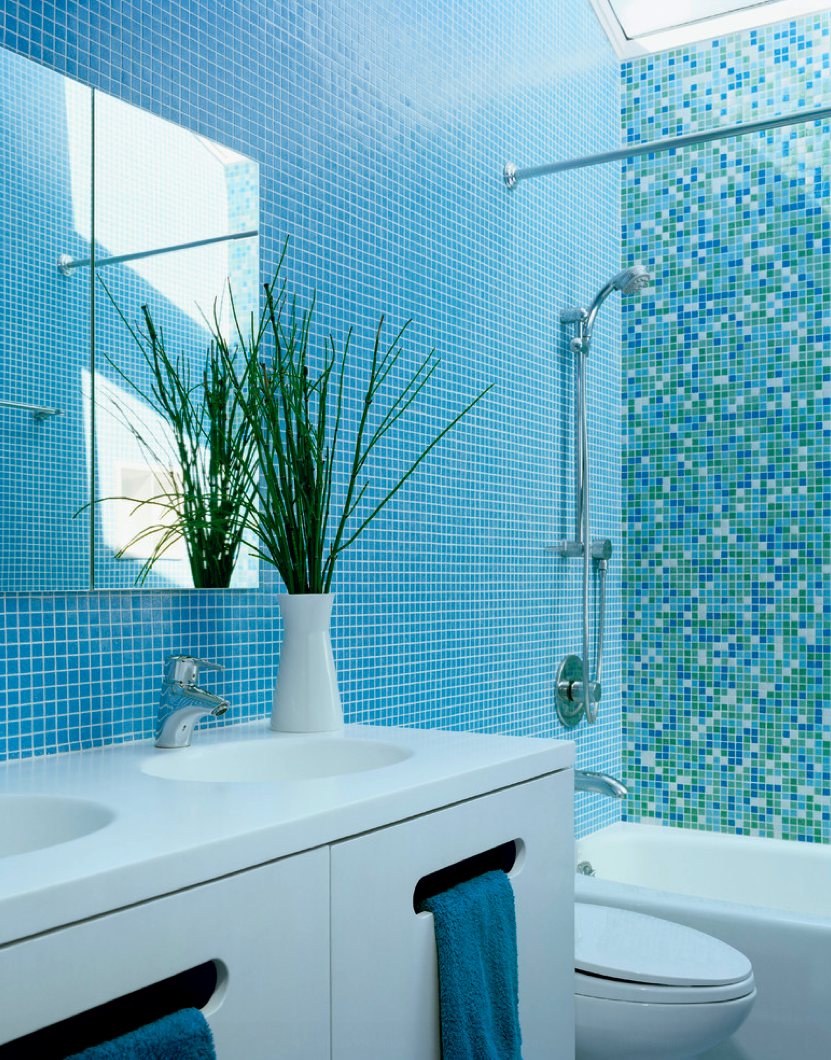 What a fantastic use of color and tile. I think it was smart to use the two different tiles on the walls to keep the walls from appearing monolithic and heavy. The bold blue walls are nicely lightened and heightened by the skylight ceiling.

Perhaps you aren't keen to adorn your bathroom walls with bright blue tile. Take inspiration from this striking minimalist bathroom; go with a neutral gray wall and floor tile, and inject color via a sky-blue vanity. This is a good palette for a bathroom that doesn't receive much natural light. The white walls help brighten the room.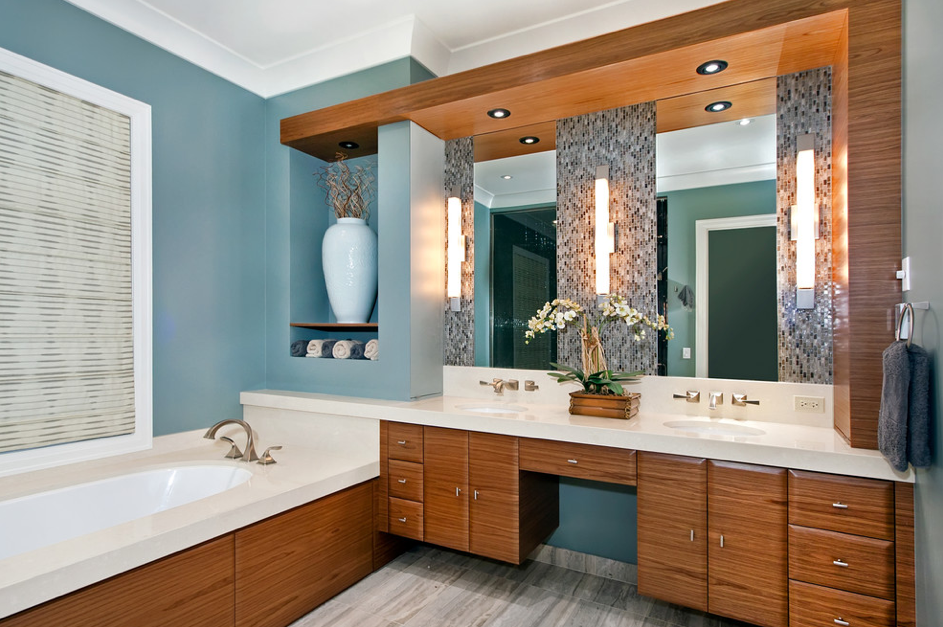 Check out how the generous use of wood and warmer neutrals offset a cool blue.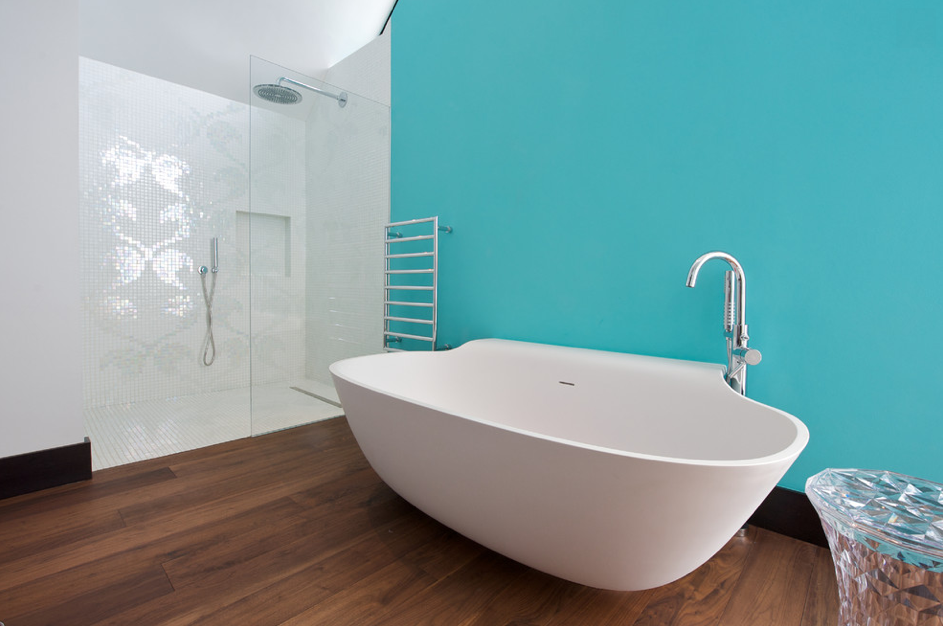 A stunning bathtub such as this deserves to be partnered with a wow color on the wall behind it to help it really stand out. Between the organic sculptural form of the tub and the bold wall color, you really don't need a whole lot of other decorative accessories.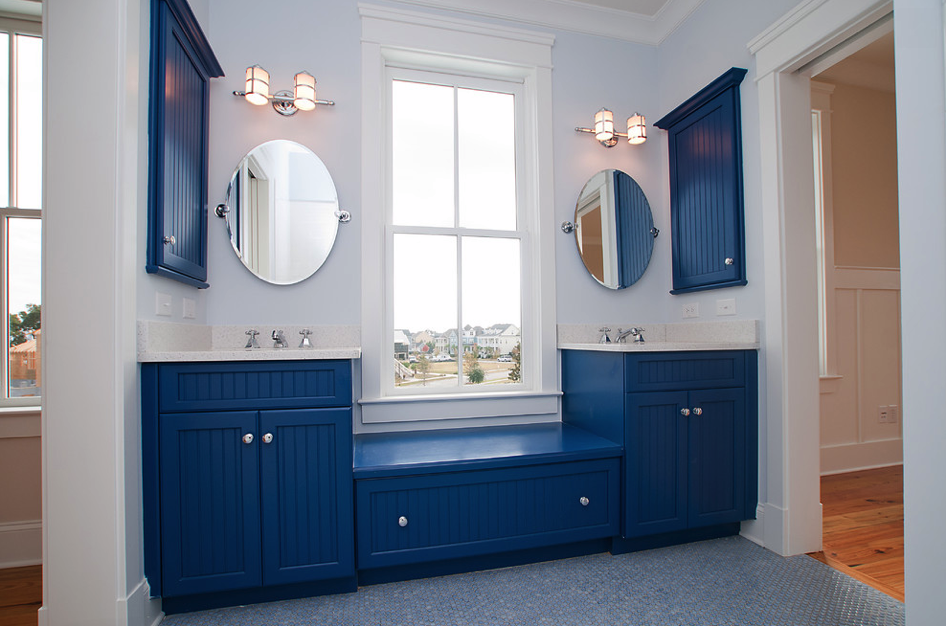 Another bathroom featuring blue painted cabinetry. If your cabinets are in good shape but you aren't a fan of the current color, consider painting them or having them painted. Then pick a darker or lighter version of the cabinet color for the walls or flooring material, to balance it out.