Layla A. Jones
Philadelphia will be welcoming a new public park on a pier along the Delaware Riverfront. Pier 68, located at Pier 70 Boulevard and the waterfront, has been revamped and will be open today. The public is invited to join Mayor Michael Nutter today at 2 p.m. for the pier's ribbon-cutting ceremony.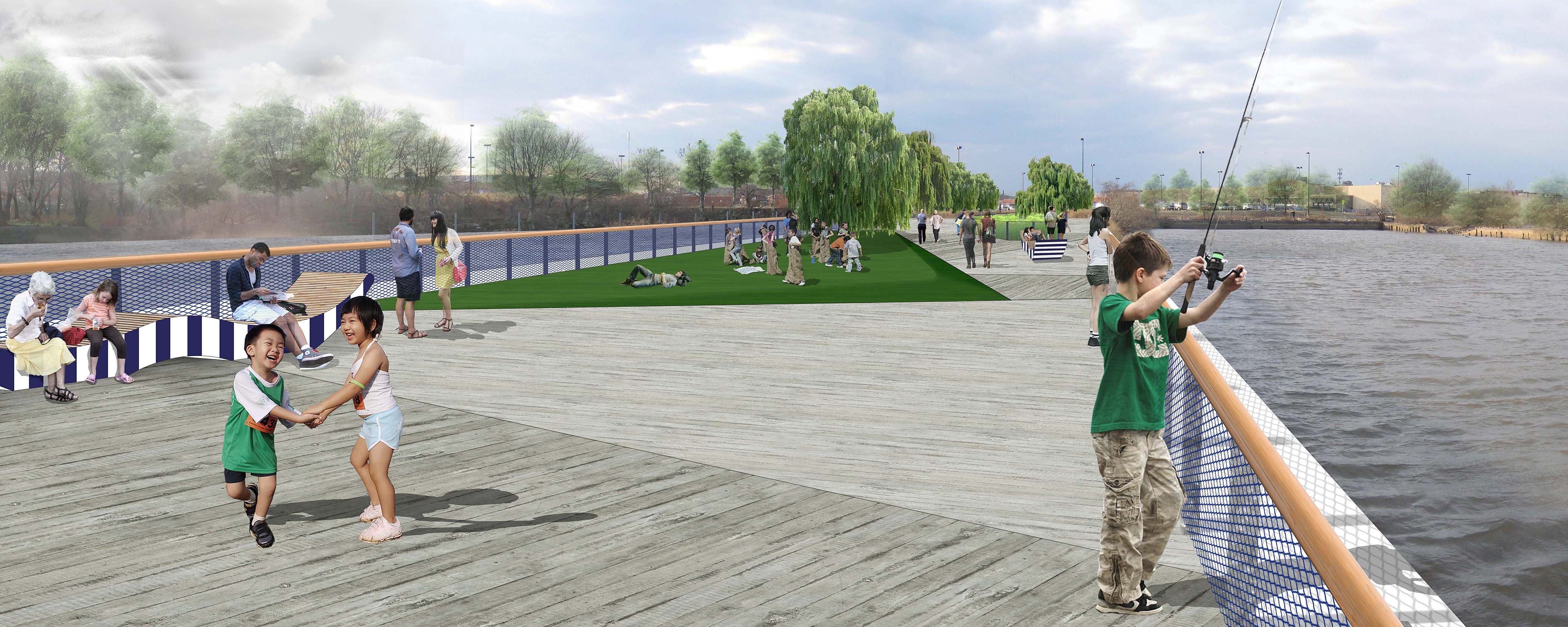 The pier sits next to the Walmart parking lot in South Philly. Studio Bryan Hanes, the park's designer, used trees to mask the lot from the park, which also includes seating, a waterside walk, and a fishing point.
Layla A. Jones
Dilworth Park will become home to the Red Bull Art of Can art exhibition in early October, an event whose launch will be marked by an interactive light installation on Oct. 2.
That Friday night, a light installation by Klip Collective will cover City Hall's west façade. The project promotes citizen interaction by allowing the public to control what's shown on the building. The Red Bull Art of Can exhibit kicks off, free to the public, that weekend from 7 p.m. until 10 p.m. and runs through Thursday, Oct. 8.
Red Bull Art of Can will showcase 30 art pieces from local and national artists covering a variety of arts categories including "physical art" using an actual Red Bull Can, "digital displayed art," which can be displayed on a screen, and "interactive installation art," which utilizes physical and digital art displays. Aside from the art that will be displayed, judges are choosing the top three entries from each category, with prizes ranging from a $500 cash grant to a $2,500 prize for winning entries.
Layla A. Jones
In Fall 2015, Philadelphia will open its own observation deck at the highest vantage point open to the public: the 57th floor of One Liberty Place at 1650 Market St.
Cory J Popp gives us an early view of the observation deck, which will offer 360-degree views, in his latest "Uncover Philly" short. Though still unfinished, the deck offers aerial perspectives of City Hall, the Ben Franklin Bridge and beyond.
Layla A. Jones
Thanks to Pennsylvania Horticultural Society partners, including Philadelphia Parks & Recreation, Fairmount Park Conservancy and St. Francis Xavier School, "PHS City in Bloom" will beautify Logan Square on Friday, May 15.
Following a speaking presentation at 9 a.m., students and volunteers will participate in plantings at Swann Memorial Fountain at Logan Square (19th Street and Benjamin Franklin Parkway). "City in Bloom" coincides with LOVE Your Park Week, which began May 9 and ends Saturday, May 16. LOVE Your Park Week invites Philadelphians all over the city to beautify their community parks.
As the week comes to a close, "City in Bloom" plans to plant over 2,000 flowering annuals, refresh planting beds, and remove litter and invasive plants.
Layla A. Jones
THE FLWRY, a local subscription-based fresh-cut flower service has officially launched its memberships. After a successful 20-membership early-release in the winter, the first floral subscription service of its kind in the area is now offering its remaining 130 memberships.
Subscription packages for THE FLWRY range from the full membership offering two refills a month for six months between June and November to the a half membership offering one refill a month between June and November. Both memberships can be paid in full or on a monthly basis. The arrangements of flowers, grown locally, will include six to eight blooms and about 25 stems. Customers pick up their flowers on Thursdays between 4:30 p.m. and 7 p.m. at various locations around the city. The pickup locations are:
Elixr Coffee in Rittenhouse Square (207 S. Sydenham St.)
Layla A. Jones
Flowers aren't the only thing blossoming thanks to the budding spring season and warmer temperatures.
The third episode of "Uncover Philly" opens with cherry trees in bloom and is carried on by the awakening of human life as well. Local filmmaker Cory J Popp went to the Urban Creators urban garden at 11th and York Streets for their "Life Do Grow" program, explored a festival celebrating Mexican heritage and, of course, presented viewers with plenty of springtime petals.
"The spring gives us our first taste of summer," says Popp of the video.
Layla A. Jones
Philadelphia's unofficial videographer Cory J Popp chose to continue his "Uncover Philly" series by exploring what he calls "Philadelphia's most interesting neighborhood:" Fishtown.
While he acknowledges the generational divide of the neighborhood, Popp makes sure to showcase only the positive aspects of the area. "The neighborhood has a huge amount of new, 20-to-30-year-old residents," Popp begins, "but the rest of the neighborhood seems to be made up of people who have lived there their entire lives."
The graffiti that covers Fishtown's walls, Popp says, is ever changing and makes the neighborhood feel alive. Fishtown's biggest draws, though, are the area's restaurants and bars. Popp filmed at neighborhood favorites like La Colombe, Barcade and Little Baby's Ice Cream. He also covered some of the shopping scene at spots like Jinxed and Philadelphia Record Exchange.
Layla A. Jones
In a new video series called "Uncover Philly," local filmmaker Cory J Popp will be doing what we love him for: portraying Philadelphia in a unique, beautiful way. This time around, Popp is digging into the city's well-known, lost and maybe forgotten, but not secret, treasures, and he's kicked off the series by exploring the Reading Viaduct Tunnel.
"The beautiful parts of communities tend to blend into the background and become less noticeable the longer someone lives there," Popp said in an email. "This series is a great excuse for me to capture the details of a community from a fresh perspective in a way that people can really share their pride."
The tunnel, built in the 1890s, was formerly used for freight trains and has been abandoned for over two decades. The Reading Viaduct Tunnel runs from 27th and Pennsylvania Avenue to 21st and Hamilton, and extends sporadically to Broad Street.