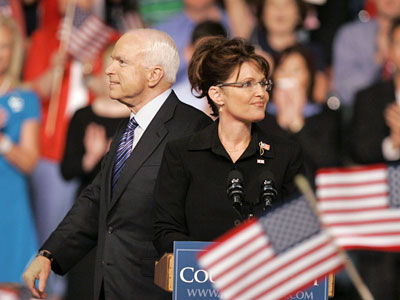 As it turns out, Sarah Palin -- governor of Alaska, now John McCain's choice to be his vice-presidential running mate -- once aspired to a higher calling. That's right, she wanted to be a sportscaster.
The details are still a little fuzzy, but the reporting so far is that, after graduating from the University of Idaho with a degree in journalism in the '80s, she worked for a short time as a sportscasting intern at a station in Anchorage.
First, Idaho. The university is in the town of Moscow. Way back when, back when Georgetown was making its first NCAA title run with Patrick Ewing in 1984, the Hoyas played in the sub-regional at Washington State, which is in Pullman. The press hotel was in Moscow, a few miles away. After the opening game -- Georgetown almost lost to SMU because the Mustangs held the ball the whole night; those were the pre-shot clock days; my God, I'm a hundred years old -- a couple of us went out to eat.
The name of the restaurant in Moscow was Karl Marx Pizza. Really. (That was back when Communism was still fun.) The four sportswriters at the table were Lesley Visser (CBS), Jayson Stark (ESPN), Tim Cowlishaw (ESPN) and me -- which raises the obvious question about what the hell happened to my career. Anyway, for all I know, Sarah Palin was in the next booth.
People undoubtedly are searching for some tape of her behind the anchor desk, giving the Iditarod standings, or whatever sports anchors in Alaska do. If she and McCain were to win, the clip might join this picture of another famous sportscaster who went astray:
UPDATE: MSNBC has the clip. And she did do some Iditarod.