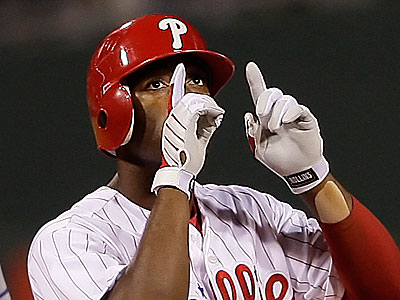 After the big comeback, after the Phils erased a 7-0 deficit and beat the Mets by 8-7 in 13 innings last night, Phillies shortstop Jimmy Rollins strongly suggested that some unspecified-but-premature celebration by the Mets worked to ignite the Phillies' rally from oblivion.
"The other team gives you inspiration -- let's put it that way," said Rollins, who had five hits in his first five at-bats in the game, including a home run. "And when you're able to take that and keep yourself motivated, it helps."
What did the Mets do?
"You've got to watch them," Rollins said.
Something they said or did?
"Just watch 'em," Rollins said. "Just watch 'em. If you were a player, you're looking over in that other dugout, you'll feel a certain type of way...You try to find something on any team, but especially these guys."
Body gestures? Something like that?
"Rewind the game," Rollins said. "Rewind the game."
The other shortstop (Jose Reyes)?
"Just watch the game," Rollins said. "That's all I can say -- watch the game."
Rollins would offer no other evidence. But what clearly is a rivalry between teams that genuinely don't like each other just saw the writing of another chapter.
From a wild night at the Bank:
1) Strategic move of the game was having catcher Carlos Ruiz play third base in the top of the ninth inning, preserving Eric Bruntlett as a pinch-hitter in the bottom of the ninth. Bruntlett cracked the game-tying double. Phils manager Charlie Manuel said he chose Ruiz because he could see the pitcher's spot coming around in the order, and because Ruiz actually had been an infielder as a prospect, way back when. But what you probably didn't see on TV was one of first baseman Ryan Howard's practice ground balls between innings totally flummoxing Ruiz. He knocked it down with his chest.
2) Comic relief came from Brett Myers (.045 batting average) in the bottom of the 13th, sent up to the plate with bases loaded and nobody out under orders from Manuel not to swing the bat. Myers played it up theatrically, including the unfurling of an exaggerated, Sadaharu Oh leg kick. He did everything but wave his arms and scream, "We want a pitcher, not a belly-itcher." But he worked a long count before striking out, and he did not swing. And Manuel said he told him after the at-bat, "You can follow orders."
3) How often have you seen a guy go 4-for-4 in a game that he didn't even enter until the eighth inning? That's what Chris Coste did, including the game-winning RBI in the 13th.
4) Third base coach Steve Smith is on a really hot roll lately with sending guys in tough spots and having it work out. Last night, he was waving Jayson Werth all the way from first on Bruntlett's ninth inning double.
5) Kyle Kendrick was going to be the next pitcher into the game last night, which is a little unusual considering he it tonight's starter against Johan Santana. Kendrick threw 40 warmup pitches and says he is fine and, well, we'll see. But they almost certainly have to bring up a body from the minor leagues for tonight, just in case.