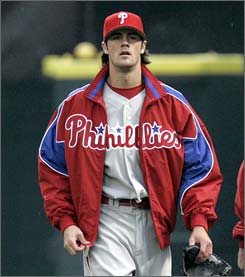 Things are still fine for the Phillies. Really, they are. With a magic number of three for both the division title (over the Mets) and the wildcard (over the Brewers), they're going to get in.
But if they don't get it buttoned down by Sunday, they have a problem -- that is, the identity of their Game 1 starter in the playoffs on Wednesday. Because I just don't know that you want to be running Brett Myers out there at this point. I don't know if it would be fair to anybody, Myers included, to put him under that kind of a spotlight. It is why the timing matters here. It is why the Phillies need to clinch before Sunday so that they don't have to use Cole Hamels on the last day of the season.
If Sunday is meaningless, they can set up the rotation like this:
Game 1, Hamels.
Game 2, Moyer.
Game 3, Myers.
Game 4, Blanton.
Game 5, Hamels (with Moyer available on full rest, followed by a cast of thousands, if necessary).
The problems come because of the Phillies' dithering the last two nights. Now Moyer will likely have to pitch on Saturday in a real game, which would make him unavailable to start a playoff opener on Wednesday on regular rest. If both he and Hamels are unavailable for Game 1, that leaves Myers or Joe Blanton. At this point, neither is the ideal. There also is J.A. Happ, I guess, but I can't imagine they'd start him. At the same time, though, don't they have to put him on the post-season roster now as Myers insurance? If Myers has another one of those games, and they have to go get him in the second inning, don't they need Happ, just in case?
Anyway, if Hamels has to pitch Sunday, they can set it up like this:
Game 1, Myers or Blanton.
Game 2, Moyer.
Game 3, Hamels.
Game 4, Myers or Blanton.
Game 5, Moyer (with the Game 1 starter on full rest, followed by everybody).
Comparing the two potential set-ups, it is obvious which is superior. And so, while the Phillies are fine, they do need to hurry.