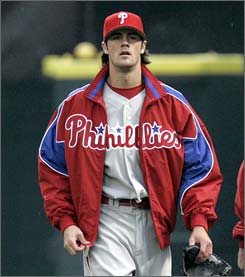 Things are still fine for the Phillies. Really, they are. With a magic number of three for both the division title (over the Mets) and the wildcard (over the Brewers), they're going to get in.
But if they don't get it buttoned down by Sunday, they have a problem -- that is, the identity of their Game 1 starter in the playoffs on Wednesday. Because I just don't know that you want to be running Brett Myers out there at this point. I don't know if it would be fair to anybody, Myers included, to put him under that kind of a spotlight. It is why the timing matters here. It is why the Phillies need to clinch before Sunday so that they don't have to use Cole Hamels on the last day of the season.
If Sunday is meaningless, they can set up the rotation like this:
Game 1, Hamels.