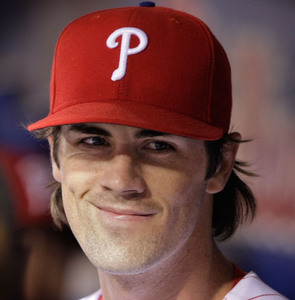 Somebody asked me earlier today in an online chat if Cole Hamels did not pitch well in Game 1, would he somehow be marking himself as unworthy of being an ace on a pitching staff -- which I think pretty much summed up the trepidation that a decent percentage of the population carried into the events of the afternoon, and the sometimes-uneasy feelings people have about Hamels.
I said then, and I will say now, that nobody defines their career this early, that nobody -- not Hamels, not anyone -- would be forever marked as great or lousy by one start in one game at the age of 24.
That said, few will forget this one.
Because the truth is, the Phillies did not hit a bunch in their 3-1 win over the Brewers. They had only four hits on a rainy, dreary afternoon. All three runs were unearned, thanks to some sloppy third-inning defense by the Brewers. The Phillies' great fear after hitting .172 in last year's playoff series against Colorado was upon them again. They worked some counts against Milwaukee starter Yovani Gallardo and got him out of the game quickly, but they really did not hit. It was a concern last year and it is a concern this year, especially with CC Sabathia pitching Game 2 for the Brewers.
But Hamels saved them. Cool, calm, collected and with a killer change-up, Hamels had the Brewers off-stride all day. Masterful is not too strong a word. Through eight dominant innings, he allowed only two singles, one in the fifth inning and one in the sixth, and struck out nine. Only one Milwaukee runner reached second base with Hamels on the mound. Again, masterful.
What that does for a team is hard to explain. What it does for a team that didn't hit last year in the playoffs, and sometimes struggled to score runs this year, and didn't really hit all that much during the game, is impossible to understate.
He calmed them. He bolstered them. He was as soothing as Brad Lidge was nerve-wracking in the ninth.
The future will take care of itself. It will be a long time before history renders its judgment. This day, though, belonged to Cole Hamels, ace.