Archive: September, 2009
Rich Hofmann, Daily News Sports Columnist
The chase began with a great and glorious hangover. It ended with Brad Lidge getting the final out. There is no time to explain what happened in between. There is only a celebration. It seemed that it was always going to be this way, always going to be about this mix of emotions. And so it has been, the story of the 2009 Phillies.
So many people expected that it would get to this point, a third consecutive division title. No one saw the tortured route, though. No one saw starting pitching that would be dreadful for more than 2 months and then substantial after that. No one saw Brad Lidge, the perfect closer of 2008, being smacked down so hard by the backswing of the sport's merciless pendulum.
No one saw the acquisitions of Cliff Lee and Martinez in the days leading up to the trade deadline. No one saw the Mets, their scorned and scarred rivals, going over a cliff while strapped to a hospital gurney.
No one guessed that broadcaster Harry Kalas, the voice and the soul of the franchise, would die before an April game in the broadcast booth at Nationals Park in Washington.
No one could have imagined.
It was easier this time but it was harder. The division title was preordained for months but fretted over for days. Mixed emotions, then. They, and the Phillies, rule.
It was never going to be like last season. Everybody knew that if they listened for a second to their hearts. The drought had been so long before the 2008 championship, and the rush to the finish line had been so thrilling, and the parade had been, well, perfect. It was an all-senses experience that would not be repeated.
But there was a championship to defend, and a new set of realities for the people of this city to acknowledge. It was the first time in a quarter-century that Philadelphians were experiencing a championship afterglow -- and you could sense a struggle at times with the emotions. They began the season bathed in a perpetual happiness. By September, that had morphed -- through Lidge's struggles, mostly -- into a cloud of perpetual concern.
And it was funny: when you catalogued the emotions of the paying customers, you never really saw greed. Well, maybe for a few days there when people called up the radio and suggested they trade the entire farm system for Toronto's Roy Halladay -- but that was it.
In the year 1 AD (Anno Delirium), whatever the new normal for Phillies fans is, we really do not know.
It was mixed emotions, then -- until the last day of September. It was then, cocooned by a frenzy of waving white towels, blanketed by a joyous roar, that it happened. And then, right then, it really did seem like 2008 again.
Rich Hofmann, Daily News Sports Columnist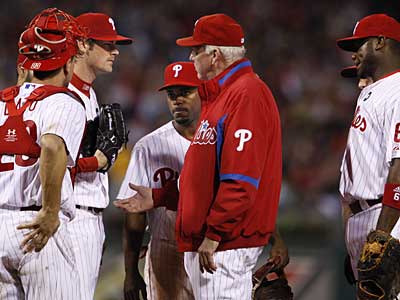 As the Phillies limp home, just the facts here.
There are 30 teams in the major leagues. On those 30 teams, there are 43 players who have played in at least 150 games so far this season. The typical team has one, maybe two. The Phillies have six: Ryan Howard (155), Pedro Feliz (153), Jayson Werth (153), Chase Utley (152), Jimmy Rollins (151) and Shane Victorino (150).
Now, look at it since the All-Star break. Fifteen players in the whole entire major leagues have played at least 68 games since the break. Five of them -- one-third -- come from a single team, the Phillies: Rollins, Howard, Werth, Feliz and Utley.
Rich Hofmann, Daily News Sports Columnist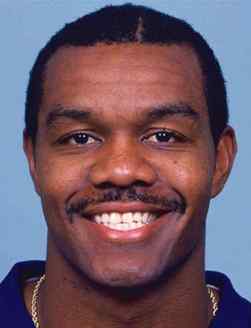 In January of 2003, the Eagles and Falcons played a playoff game. It was Donovan McNabb vs. Michael Vick. It really doesn't seem like that long ago.
In September of 1986, Eagles coach Buddy Ryan installed Randall Cunningham as his third-down specialist. It was an abomination in many ways -- not the least of which was the 104 sacks the team allowed that season, more than 70 by Cunningham himself, who only played about a third of the time. But the Ryan theory was that he had this great, raw, physical talent who a) wasn't ready to start in the NFL but who b) needed some incentive to keep his head in the playbook every week while learning as a backup. He came up with this scheme, literally a shotgun marriage between a player and a sport. And Cunningham ran around and made a hash of it all, but also was prepared to start the next season. The season after that, they were in the playoffs, and the Fog Bowl, and all the rest. And, no, it really doesn't seem like that long ago.
Anyway, Cunningham is coming back this weekend to be honored by the franchise and Vick is coming back to the NFL after 2 seasons of incarceration and McNabb might or might not be coming back from a broken rib (probably not). Back in 2003, I called up Randall and reminisced a little and talked about how it was his experience that helped to birth McNabb and Vick and the rest of the big, mobile quarterbacks who followed.
Rich Hofmann, Daily News Sports Columnist
Join Rich Hofmann for a live Eagles chat Monday at 1:30.
Rich Hofmann, Daily News Sports Columnist
The conclusion might be this after Saints 48, Eagles 22 at Lincoln Financial Field:
That the future offers some promise.
That the problem is the present.
Rich Hofmann, Daily News Sports Columnist
The question to DeSean Jackson on Wednesday afternoon was simple enough: compare the balls thrown by Donovan McNabb and Kevin Kolb. The answer was as you might expect.
"It's a little different," Jackson said. "Donovan has a lot of velocity on his football. Kolb throws a great ball, too, but sometimes it's just a little bit easier. Wide receivers, we can't get caught up in that. We just have to go out there and catch the football."
Jackson, the NFC's special teams player of the week after his 85-yard punt return touchdown on Sunday at Carolina, was asked to do the compare and contrast thing a number of times between McNabb and Kolb, and he did his best to avoid the questions. McNabb is unlikely to play Sunday because of a broken rib, although the Eagles have not ruled him out. In his absence, Kolb will get his first start as a pro.
Rich Hofmann, Daily News Sports Columnist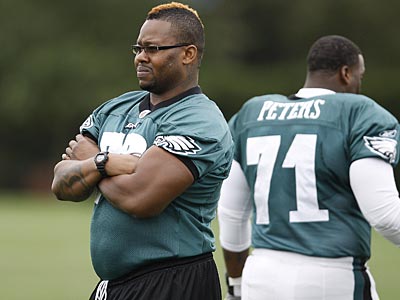 The melancholy tone of the posts on Shawn Andrews' Twitter account has been building for days, even since he was unable to practice with a back injury. It has built, sadly, to this day -- the day when Andrews was placed on injured reserve by the Eagles, ending his season and maybe his career with the team.
Yet, in a series of posts Tuesday afternoon, Andrews continued to display great respect and affection for Eagles coach Andy Reid.
Three posts:
Rich Hofmann, Daily News Sports Columnist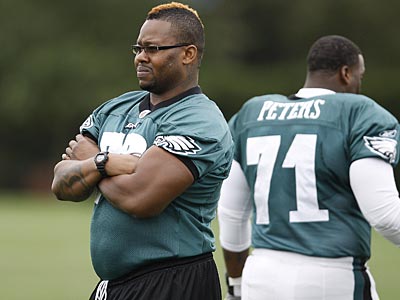 Nothing is certain when it comes to ballplayers and bad backs. Nothing is certain, either, with a football franchise that throws emotional haymakers on the hour, it seems. But you really have to wonder if this is it for Shawn Andrews.
The news that the Eagles have placed Andrews on injured reserve, ending his season, in order to make room on the roster for newly-arrived quarterback Jeff Garcia is nothing short of stunning. This is a team that is carrying seven wide receivers for some unknown reason, yet it gives up on Andrews for the 2009 season. It is just breathtaking.
When you think about the career Andrews should have had, you cannot help but shake your head at the misfortune, at the depression, at the back injury, at the rest of it. It is all tied together, this uniquely free-spirited player and this uniquely awful set of mishaps. But it leaves us here today, wondering.
Rich Hofmann, Daily News Sports Columnist
If you can be euphoric while holding your breath, that is what the Eagles are here in Charlotte. They arrived for the 2009 season as if shot out of a cannon, and then they were forced to endure the sight of their quarterback, Donovan McNabb, being knocked out of the game with a broken rib. His status for next week is uncertain.
The final score -- Eagles 38, Panthers 10 -- told a lot of the story, the story of a carnivorous defense that forced seven turnovers overall (five interceptions and two fumble recoveries). In his first game calling the plays, defensive coordinator Sean McDermott dialed up an impressive array of blitzes and coverages that totally flummoxed the eminently-flumoxable Jake Delhomme. The heat on Delhomme and his successors, Josh McCown and later Matt Moore, was constant.
Meanwhile, on offense, right tackle Winston Justice more than passed his first test at right tackle, and the line as a whole -- which we fretted about all summer because of injuries and lack of practice time together -- did a great job. It looked as if they had been playing together forever.
Rich Hofmann, Daily News Sports Columnist
Now that NFL commissioner Roger Goodell has announced that Michael Vick will become a real, live member of the Philadelphia Eagles in Week 3 of the regular season, the next question rises quickly:
What about AJ Feeley?
You can argue this a hundred different ways -- OK, maybe three different ways -- but it seems to me that this should be the progression: trade Feeley now, not Kevin Kolb, and then either trade Vick at the end of the season or make him your starter in 2010.