Archive: July, 2012
Video: What impact do the Shane Victorino and Hunter Pence trades have on the future of the Phillies' organization? The Daily News' Rich Hofmann discusses.
Video: State College has faced a lot of turmoil since November. How did the Penn State campus react to the NCAA sanctions Monday? The Daily News' Rich Hofmann reports.
Rich Hofmann, Daily News Sports Columnist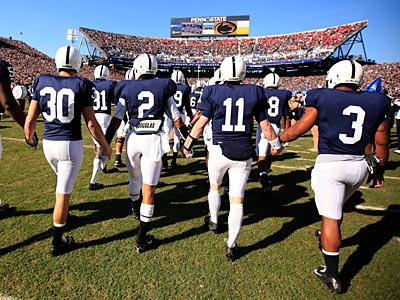 The jackhammers did their work quickly, by all accounts. The cement that moored the Joe Paterno statue to its foundation broke easily. It had to come down, and on a summer Sunday morning it did come down, and there really should not have been a debate; false idols, etc.
If only the rest were that easy.
The NCAA comes on Monday. An organization that has most often stood for all that was good and holy and profitable in college athletics -- and not necessarily in that order -- is set to pronounce sentence on the Penn State football program.
Video: How seriously should the Phillies consider trading Cole Hamels? Will the team have a shot if it holds onto its core players? What is the best way to determine home field advantage for the World Series? The Daily News' Rich Hofmann offers his take.