Archive: May, 2010
Rich Hofmann, Daily News Sports Columnist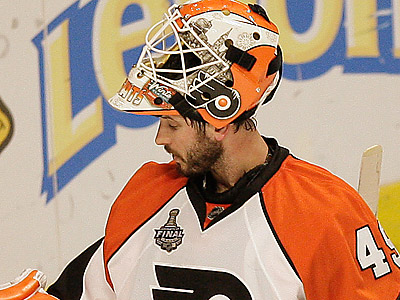 CHICAGO -- Twenty-eight seconds. Shorter than a television commercial, longer than eternity.
How long does it take to lose a hockey game? How long does it take to challenge the fates, again?
In one 28-second span of the second period, the Flyers lost Game 2 of the Stanley Cup Final. In just that amount of time -- less time than it takes to sing a typical anthem, more time than it takes to recognize a dirge -- Flyers goaltender Michael Leighton went from the star of the game to just another player on a team that is in an 0-2 hole in the biggest series of their lives.
Rich Hofmann, Daily News Sports Columnist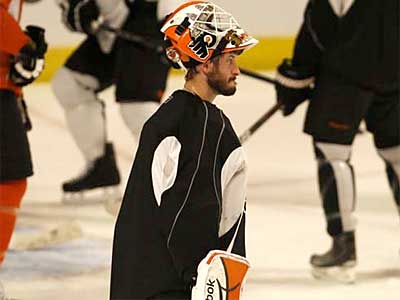 CHICAGO -- There have been about a dozen media availabilities in the last week and only one game played, which amounts to too much talk and not enough action. Game 2, though, is upon us -- and the coaching wheels are beginning to spin. Three things to watch, then:
1) The Carcillo effect. We know this much, that Dan Carcillo will enter the lineup for Game 2 against the Blackhawks and that James van Riemsdyk will exit. The notion that Carcillo is coming in because the Flyers were terribly outhit in Game 1 or weren't physical enough is kind of overstating things -- but that's what the Stanley Cup Final is about, after all -- a big stage and big overstatements. More on this below.
2) The Parent trap. The other lineup change is that Ryan Parent is almost certainly coming out on defense. Then again, after playing only 41 seconds in Game 1 -- during which he lost his stick and the Flyers gave up a goal -- that decision was pretty obvious from that point on. The assumption is that Oskars Bartulis -- who played a little in the first round against New Jersey -- will be back again. This, though, is not a huge deal. If Bartulis plays 5 minutes, it will be an upset.
Rich Hofmann, Daily News Sports Columnist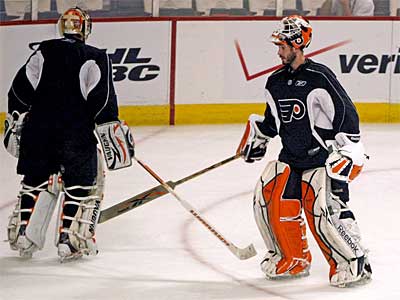 CHICAGO -- The Flyers scored five goals against the Blackhawks, had the lead in the game three different times, didn't take a penalty and still managed to lose. Which means that Game 1 of the Stanley Cup Final was the working definition of a wasted opportunity.
Which means that after everything that has happened this season, we all now get to wonder if the Flyers have one more comeback in them.
As defenseman Chris Pronger said, "The world is not ending and the sun came up today. It's a long series. We're looking at it as a long series. We played a decent game, but not our game (Saturday), and I think we understand that. That mistakes that were made can be easily corrected and that's what we're looking at.
Rich Hofmann, Daily News Sports Columnist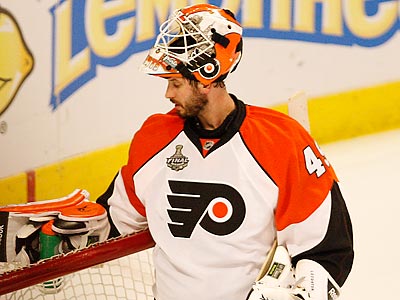 CHICAGO -- This is not 1997 -- let us begin there. This is not the Stanley Cup Final from back then, when Flyers coach Terry Murray changed goaltenders, from Ron Hextall to Garth Snow, after Game 1 against the Detroit Red Wings, and then changed back to Hextall after Game 2. After Game 3, Murray made the infamous remark about his team being caught up in a "choking situation." As many of the writers said that spring, Murray deserved the Conn Smythe Trophy as the playoffs' most valuable player for providing them with an easy story angle on every off-day of the series.
This is not that. Still, Flyers coach Peter Laviolette obviously has a decision to make. He pulled goaltender Michael Leighton out of a wild Game 1 of the Stanley Cup Final, pulled him while his team was trailing by 5-4. It is not the customary time for sending your team a message. The game had crazy written all over it from the beginning, and it's true that Leighton never made a really big save. But it was still a real "feel" kind of move for the coach who has had great instincts this spring, switching in the second period from Leighton to Brian Boucher -- who was only dressing for the first time Saturday night after spraining both knees in Game 5 of the Boston series, nearly 3 weeks ago.
Boucher ended up giving up the last goal of a 6-5 loss. He also made a couple of nice stops and looked completely healthy. Afterward, Laviolette said, "I thought Boosh came in off the bench. He looked good in practice, and he did a good job."
Rich Hofmann, Daily News Sports Columnist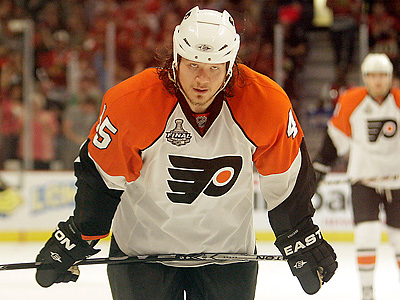 CHICAGO -- "Wild" does not begin to describe the evening. "Wide-open" does not do the action justice. As someone ducking his head into the press box said last night, "Yeah, we all knew we were at the Stanley Cup Final -- but little did we know that it was the 1987 Stanley Cup Final."
But it was like that. It was every bit of that. And because the Blackhawks got the last goal -- by Tomas Kopecky, in the third period -- the Flyers' springtime of resilience will now be tested again. The final score was Blackhawks 6, Flyers 5. And it really was that wild.
Eleven goals -- and none of them were scored by the first-line players on either team, who canceled each other out and left the circus to everyone else.
Rich Hofmann, Daily News Sports Columnist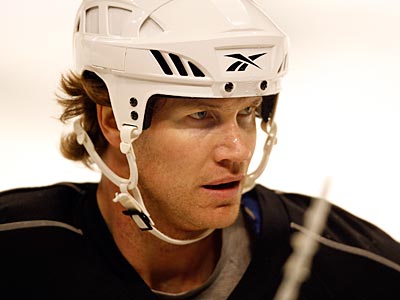 CHICAGO -- With all of the pre-game interviewing and prognosticating completed (and, truth be told, nobody really had anything left to ask or answer by Friday afternoon), the Flyers and Blackhawks are about ready to start deciding which team gets to lug the Stanley Cup to fire halls, sports arenas and backyard barbecues from here to Helsinki and back this summer.
With that, three things to watch:
1) Mr. President. The speculation has grown in the previous few days that President Obama, vacationing this weekend with his family in Chicago, might just spend a few hours watching the fastest game he's ever seen in person. Things could obviously change -- Presidents are like that -- but having the First Fan in attendance would further add to the luster of a Final series that the league quietly hopes will draw relatively big television ratings, given the market sizes and passion for the game in Chicago and Philadelphia and given how well the early rounds have done on NBC and Versus.
Rich Hofmann, Daily News Sports Columnist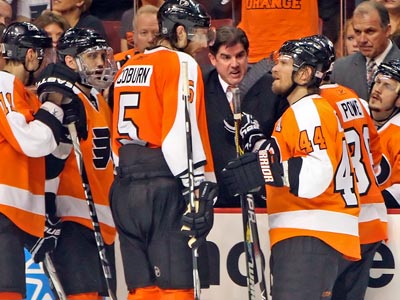 If life indeed begins on opening day, and if Bill Parcells is right when he says that you are what your record says you are, the Chicago Blackhawks had the third-best record in the NHL this season with 112 points, the Flyers were tied for the 18th-best record with 88 points, and we all might as well just save the airfare.
I would posit a different start date, though: December 23, 2009. It was after the firing of Flyers coach John Stevens and after a hellish shakedown cruise at the start of Peter Laviolette's tenure, as he implemented his attacking system and his team got in better shape to play it. Historians will note that the previous day, December 22, practice was cancelled because of a busted sewage pipe at St. Pete Times Forum in Tampa. After everyone had a day of easy jokes -- you know: "The Flyers stink so bad, are they sure it was the pipe they were smelling?" -- they began a nice winning stretch until the Olympic break that marked them as one of the top teams in the NHL in that period of time.
Seeing as how the Blackhawks also played great during that stretch, they are not being slighted by using that start date. And seeing as how the NHL has, for years, been all about how you play in the second half of the season, and given the Flyers' unique circumstances, it seems pretty fair and pretty instructive.
Rich Hofmann, Daily News Sports Columnist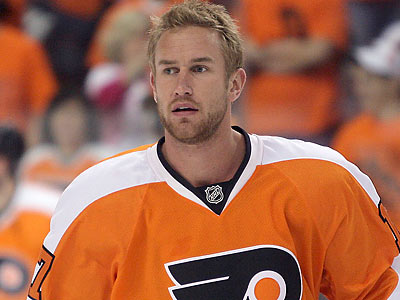 In the Stanley Cup playoffs, anything really can happen.
This just in...
Just a look at the numbers for the last five tournaments -- since the lockout and the rules changes that opened up the game to more skill -- tell you all you need to know about the importance of opportunism most of all. The NHL is a league where an entrance ticket into the playoffs is a real and valuable thing -- real and valuable because everybody really does start with a clean slate. The Stanley Cup is not won by the best team but by the team that is playing the best.