Archive: May, 2009
Rich Hofmann, Daily News Sports Columnist
Jameer Nelson is pretty good at everything he does, which means he has been a good cheerleader/unofficial assistant coach during the Orlando Magic's run to the NBA Finals. But talking to him during the first round, you could tell he was dying inside. His first All-Star season, truncated when he tore up his shoulder and had surgery in February, has led him to this place -- and you know it's been killing him.
But now, suddenly, there is talk that he is about to be re-evaluated physically. It comes from the top of the Orlando organization, and it's on the record, so there must be something there.
Maybe it's just wishful thinking from a part of the country where Nelson made his name at Chester High and Saint Joseph's, and left an indelible mark -- but Jameer putting on a uniform and playing in the Finals, even a little bit in the Finals, would add an element of interest to the post-LeBron landscape that might not otherwise be there.
Rich Hofmann, Daily News Sports Columnist

Charlie Manuel says he doesn't want you to boo his team.
He says he was kidding.
He said, "I definitely didn't mean it." He was referring to something he said to reporters before Tuesday night's game. They were asking him why the team wasn't playing well at home and, at one point, he said, "Maybe (the fans) should get on us a little."
Rich Hofmann, Daily News Sports Columnist
The reactions continued to pour in on the untimely passing of former Flyer Peter Zezel. Zezel died Tuesday from a rare blood disorder at the age of 44 in Toronto.
RICK TOCCHET: "It is a sad day. Obviously, as a former teammate, it is a sad loss. I know he touched a lot of lives. Unfortunately, I had lost touch with Peter the last few years. We kind of went our separate ways in the hockey world. In talking recently with some of his friends regarding the stuff he was doing with the youth hockey he had been involved with back in Toronto, I am sure he will be leaving behind a legacy. He was just a great guy.
"In the time that we were teammates in Philadelphia, he was probably one of the most popular guys, not just with the Flyers, but among all sports figures in Philadelphia. He was probably one of the top three athletes in Philadelphia at that time. Everybody recognized him on and off the ice. As far as his play was concerned, he was one of the best draw guys in the league and one of the best passers. I know his rookie year he had a bunch of assists. He had really good chemistry with Timmy Kerr on the power play. He was just a guy you could count on. He was a guy you couldn't knock off the puck. He was a big part of our team.
Rich Hofmann, Daily News Sports Columnist
According to a published report, the Eagles are bringing in a combination kicker/punter for a tryout on Wednesday.
The kid's name is Zach Thiry, and he is out of someplace called Carroll College, an NAIA powerhouse that has won five national championships. Thiry apparently wants to concentrate mostly on punts and kickoffs -- he was a national leader in punting at one point in his college career -- but the idea seems to be that he wants to try to do everything as a means of spelling both David Akers and Sav Rocca this summer, and then impress people any way he can. A tryout on Wednesday would be the first step.
The Eagles have already brought in free agent Sam Swank out of Wake Forest as a camp kicker.
Rich Hofmann, Daily News Sports Columnist
Terrible news out of Toronto: Former Flyer Peter Zezel has died in a hospital as a result of a rare blood disorder.
Multiple reports indicate that Zezel had fought the disorder, hemolytic anemia, for the last decade, but that he was thought to be coping well in recent years. His family made the decision to turn off life support this afternoon.
Zezel was drafted by the Flyers in 1983 and was a very popular player, especially among the females in the stands, when he played here from 1984 to 1989. In that time, he and his young teammates made two trips to the Stanley Cup finals under coach Mike Keenan. He was one of the faces of that popular young group that never was quite able to knock down the door.
Rich Hofmann, Daily News Sports Columnist
Sonia Sotomayor, announced as President Obama's choice to succeed the retiring David Souter on the Supreme Court, has been involved in two huge sports cases over the years.
In one, during the baseball strike of 1994-95, she ruled in favor of the players over the owners, effectively ending the owners' ability to impose a tough contract on the players and start the season with scab replacement players in an effort to force them to agree. The ruling pointed out, in painstaking detail, the serial ineptitude of commissioner Bud Selig and his lieutenants as they presided over this mess. It was Selig's worst moment as commissioner and there wasn't a close second.
A decade later, Sotomayor ruled for a league over a player when, as an appeals court judge, she wrote the ruling that overturned a lower court decision that would have allowed Maurice Clarett to enter the NFL draft despite the age restriction that the union had collectively bargained.
Rich Hofmann, Daily News Sports Columnist
Here is the real news from the Eagles' roster:
Macho Harris is his name. Not Victor. Macho.
It says so, right there on the Eagles' website. And the change was confirmed by the club. The cornerback from Virginia Tech whom the Eagles drafted in the fifth round last month has a real first name on his birth certificate, name of Victor, but that's done. The preference now, on first reference, is to use the nickname that his family gave him as a young child. Macho Harris.
Rich Hofmann, Daily News Sports Columnist
The news was in The New York Times the other day. At the NFL owners' meeting, as a result of making a deal with Comcast on carrying the NFL Network, the league's deals with CBS and Fox were renegotiated as well. The key point, though, is that the owners will get the network cash even if the league were to lock out the players in a labor dispute in 2011.
From the Times report:
The N.F.L. will receive a 1 to 2 percent increase over the previous contracts that averaged $712 million a year from Fox and $622 million a year from CBS. According to two people with knowledge of the deal who were not authorized to speak about it, the N.F.L. will get that money even if games are not played in 2011. (The networks will receive credits for the payments in following years.)
Rich Hofmann, Daily News Sports Columnist
Michael Vick is out of jail.
Now, the maneuvering begins.
NFL commissioner Roger Goodell is playing this very cozy. He said he is looking for Vick to show proper remorse before reinstating him, all of which is fine. But what nobody is really saying out loud, but which everybody knows in their heart, is that no NFL team is going to touch Vick -- even after serving his debt to society in this despicable dog-fighting business -- unless there is some reasonable certainty that the resulting publicity firestorm will blow over fairly quickly. That is, no one will want to deal with PETA picketing their games and their practice facilities and their sponsors for months on end.
Rich Hofmann, Daily News Sports Columnist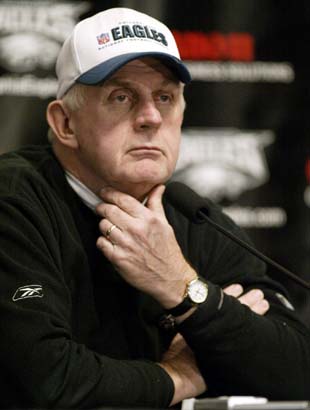 This is awful, as anybody who knows Jim Johnson can tell you. Even if you only know of him, the news of his leave of absence to resume chemotherapy treatments just grabs the air out of your chest. This is a good man, and a tough man, and the idea that he is involved in this kind of a struggle is disheartening. If prayers and good wishes and hopeful thoughts matter, Johnson will get through this -- because his friends and admirers in a tough business are legion.
In the meantime, Sean McDermott runs the Eagles' defense. He is young, only just 35, but he has been in the building for 11 years now. He actually pre-dates Andy Reid, arriving as an assistant in the scouting department in 1998. When Reid got here, McDermott became assistant to the head coach. Those are great stepping-stone jobs in the NFL -- you see everything and learn everything and work your ass off, and then you work your way up from there. This is what McDermott has done, from quality-control coach (another work-your-ass-off/learn-the-business job), to coaching both the secondary and the linebackers with the Eagles.
Is McDermott ready? You never know until you know, obviously, but it is hard to believe somebody could be better prepared to run this system. And if track record matters, people named Leslie Frazier, Ron Rivera, Steve Spagnuolo and John Harbaugh (for a season) have all worked under Jim Johnson and all gone on to success in other places. We all have talked and written in the past about the connection Johnson has had with his players, but there is a clear connection with his coaches, too.