Archive: December, 2011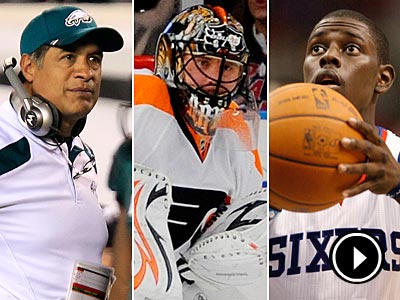 What coaching move must the Eagles make? How will the Sixers season go? What will Flyers goaltender Ilya Bryzgalov say next? The Daily News' Rich Hofmann has the answers.
Rich Hofmann, Daily News Sports Columnist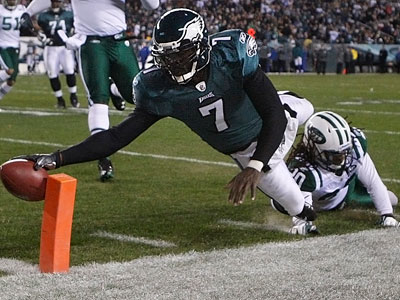 On a cold Sunday evening that was part history (because LeSean McCoy set the Eagles' club record with his 18th, 19th and 20th touchdowns of the season), part comedy (because the Eagles and New York Jets combined for eight turnovers) and part impossibility (because their playoff chances somehow remained intact), the Eagles roared out to a 28-0 lead and coasted to a 45-19 victory.
Which was pretty much how everyone drew it up beforehand.
In the shabby NFC East, the 6-8 Eagles indeed remain alive with two games remaining. Their path to winning the division title and making the playoffs goes like this: winning their last two games (at Dallas, home against Washington), having the Giants lost next week to the Jets, and then having the Giants beat the Cowboys at the Meadowlands in the season finale. With Detroit's win over Oakland, there is no longer a chance for the Eagles to get a wildcard playoff berth.
Rich Hofmann, Daily News Sports Columnist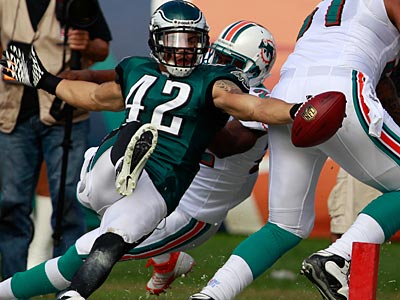 MIAMI -- In the absence of several lightning strikes, the Eagles' 26-10 win Sunday over the Dolphins was pretty much the working definition of meaningless as far as the 2011 playoffs are concerned. In a broader sense, though, there will continue to be a debate.
For the Fire Andy people, this was a win/win situation. To go on the road and win a game against a Miami team that had won four games out of five will be viewed as a waste of talent and of opportunity; of course they show up when it doesn't matter anymore in the standings. Then again, if the Eagles had rolled over and lost, they would have been labeled as quitters. But the thing is, you get to play it both ways if you control the conversation, which the Fire Andy people currently do.
For everyone else, though, there is an ongoing search for something that might suggest that the overall evaluation of this 5-8 team's talent was not entirely incorrect. To completely implode here would suggest the need for a massive overhaul of the roster. It is why these games do matter.
Rich Hofmann, Daily News Sports Columnist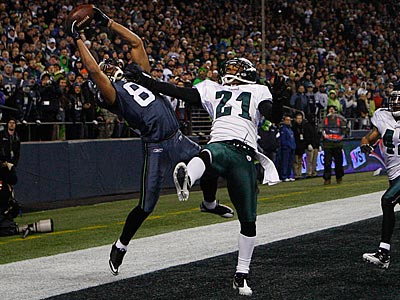 SEATTLE --The Eagles have crawled up into a ball now, their position both fetal and futile. They can only hope that this was the worst.
To watch them blow lead after lead in the fourth quarter of games this season was maddening. To watch too many of them fail to complete against the Seattle Seahawks last night in a 31-14 loss was much different, and much worse.
It is such a jarring sight -- not only to see an Andy Reid team so ridiculously underperforming, but to see them spanked by a team such as this. But as a wise man once said, you are what your record says you are. And at 4-8, after this mess, the Eagles' record says they stink.