Archive: November, 2010
Rich Hofmann, Daily News Sports Columnist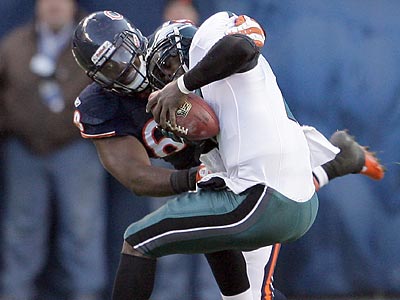 CHICAGO -- For those who believe in worrisome parts of football schedules, and trap games, and the pendulum of emotion that is the result of those forces, the Eagles' game against the Chicago Bears was proof positive. It looked like a bad spot coming into the game and it was: Bears 31, Eagles 26.
Everbody knew the deal. The Eagles had just played three emotional games in succession, including two within the NFC East, and won them all. They are in the middle of an odd stretch: Monday night, Sunday night, Sunday afternoon, then Thursday night upcoming against Houston. This looked like trouble all along. And it was.
For the people who calmed their concerns with this mantra -- "But it's Jay Cutler playing for the Bears" -- it turned out that Cutler played about as well as people around here have seen him play. He did it against an Eagles defense that was missing injured cornerback Asante Samuel, and it really showed. Anybody who can doubt Samuel's value to this defense should be forced to watch a tape of this one on a continuous loop. Without Samuel, both sides of the field were suddenly open for attack, and Cutler did just fine, thanks: 14 for 21 for 247 yards and 4 touchdowns.
Rich Hofmann, Daily News Sports Columnist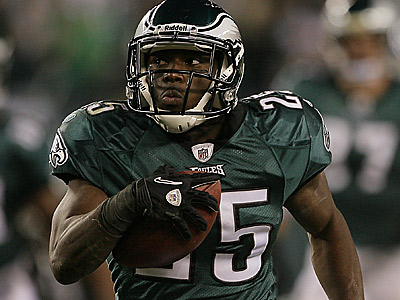 Too crazy to categorize.
Too wild for words.
The Eagles played a sloppy first half, leaving all kinds of points scattered in the red zone. They blew a 16-3 lead in the third quarter and were losing by 17-16 in the fourth. It was a game where Michael Vick looked human, with the New York Giants hitting him early and often. It was a game where turnovers dotted the play-by-play sheet, and where referee Ron Winter spent an inordinate amount of time beneath the hood of the replay review machine, trying to decipher a couple of really close calls.
Rich Hofmann, Daily News Sports Columnist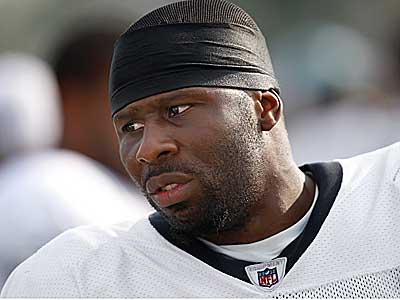 There is another side to a 59-28 victory -- the side with the 28 on it. For the Eagles' defense, it was an odd bit of business, sitting there with an enormous lead, trading time for yards. It was not natural.
"It's tough when you get in those games," safety Quintin Mikell said the other day. "When you get up so quickly, the team scraps their game plan and basically scraps what you studied for all week and just starts throwing the ball deep or doing all kinds of off-the-wall stuff. So it's tougher for a defense.
"But I think the thing we can take away from that game is the fourth quarter, even when you have a team down like that, you don't want to let up a little bit. We've been dealing with that all year and it's kind of frustrating. I guess that's one thing we can learn from that game."
Rich Hofmann, Daily News Sports Columnist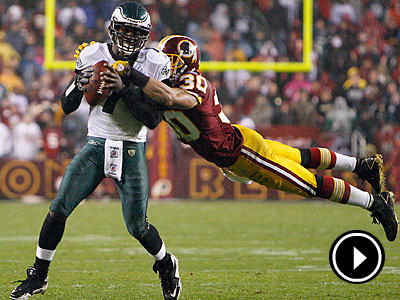 Video: The Daily News' Rich Hofmann talks about Sunday's showdown, the Eagles' Super Bowl chances and Sixers early season troubles with CineSport's Noah Coslov.
Rich Hofmann, Daily News Sports Columnist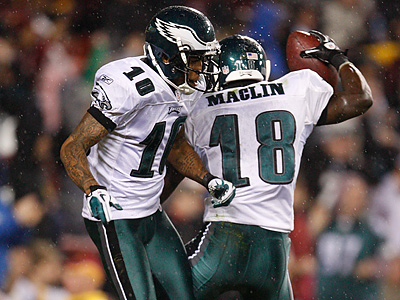 LANDOVER, Md. -- Two franchises passed each other in the night, rapidly if not necessarily permanently, because there is no such thing as permanently, not in the NFL, not in 2010.
It really was just one game.

But, man, what a game.

On the day when the Washington Redskins gave Donovan McNabb a $78 million contract extension, the Eagles scored the second-most points in the history of the franchise in a 59-28 bludgeoning administered by Michael Vick at FedEx Field.

Vick hit DeSean Jackson with an 88-yard touchdown strike on the Eagles' first play from scrimmage, and that was just the beginning. The Eagles led by 35-0 early in the second quarter and 45-14 at the half. Along the way, Vick did something that no quarterback in the league has done, at least since 1960: he threw for four touchdowns, ran for two touchdowns, threw for more than 300 yards and ran for at least 80 yards.

It was a historic stomping. When Kevin Kolb finally replaced Vick with only 2:13 left in the game, here were the quarterback's numbers: 20-for-28 for 333 yards, four touchdowns, no interceptions and a passer rating of 150.7. Vick also ran eight times for 80 yards and two more touchdowns. It was savage mastery.

Only a 64-0 win by the 1934 Eagles over the Cincinnati Reds -- yes, those Cincinnati Reds -- outpaced the 59 points scored by the Eagles in this one. Still, beneath all of the fireworks, was an underlying question that both franchises have had to answer this season. And while it would be absurd to judge the next few seasons based upon one outrageous night, this night and this game will always serve as a kind of know-it-all shorthand if it continues to trend this way.

Each team was offered a choice: stability or ability?

The Eagles chose ability.

The Redskins chose stability.

That McNabb was in the middle of both decisions, at least for a while, will keep this story alive for years to come, it would appear. Now that the Redskins have given McNabb this 5-year mega-extension -- and done it 2 weeks after McNabb was benched with 2 minutes left in a winnable game -- the strands of this plot will be years in the untangling.

But the truth is, both teams -- guided by their histories and their desires -- looked at the risk-reward calculus and made decisions that will potentially govern their respective franchises for years to come.

The Eagles chose ability.

The Redskins chose stability.

First when they went to Kevin Kolb, and then again when they went to Vick, the Eagles chose ability, period. In the process, they said goodbye to the player who many regard as the best quarterback in the history of the franchise. Then, later, they threw away a succession plan that was months in the making and replaced Kolb with Vick. Especially in that case, it was all about who was the better player at the moment. It seems obvious now, but nobody really knew it as late as Labor Day. Or, well, put it this way: if the Eagles knew, they weren't letting on.

Contrast this with what the Redskins did by extending McNabb. They clearly chose stability. McNabb can still play, but his best years are behind him. He is not a player who can lift a team anymore. But the Redskins are a franchise that has seen so much change over the years, and that has been forever chasing its tail, and now -- for better or for worse -- they have committed to several more years of No. 5. They now will enter a desperate race to improve the team around McNabb enough to be a factor in the playoffs while McNabb himself still has the ability to be a factor in the playoffs. The truth is, they might not make it.

The Eagles' decision has left them with Vick, incandescent and leading a team that is suddenly a pretty intriguing 6-3, with a Sunday night game against the New York Giants looming. The Redskins' decision has left them with a veteran leader who will need whatever leadership skills he can muster to keep a 4-5 team from beginning the long slide down. But what can McNabb realistically do? He threw two touchdown passes and three interceptions and was 0-for-10 trying to convert on third down against the Eagles.

When it was over, Eagles fans left with visions of what might be. Redskins fans left wondering what they have gotten themselves into. Both, though, seem to have defined a new path as they passed in the night.

Rich Hofmann, Daily News Sports Columnist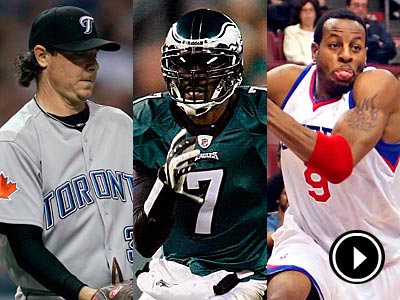 Video: Every week, CineSport's Noah Coslov turns to the Daily News' Rich Hofmann to get the answers to the three biggest questions in Philadelphia sports.
Rich Hofmann, Daily News Sports Columnist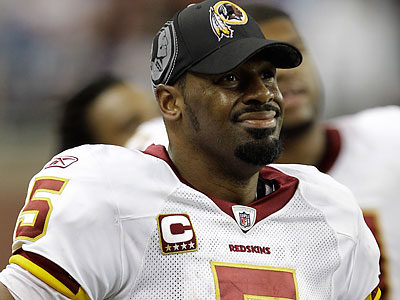 No shock: Donovan McNabb threw no bombshells at his weekly press availability Thursday morning. His benching at the end of the Redskins' game against Detroit continues to dominate the questioning, but McNabb is supplying no gasoline for the fire. Surprise.
"I like to handle my business behind closed doors," he said, adding that he has never agreed with people who deal with their grievances through the media. He said, "I think that's not truly professional."
What McNabb said was that he has spoken with the Shanahans -- coach Mike and offensive coordinator Kyle. He said they have talked about trying to play more to McNabb's strengths, but that he has received no assurances that, given a similar circumstance, he won't be pulled again.
Rich Hofmann, Daily News Sports Columnist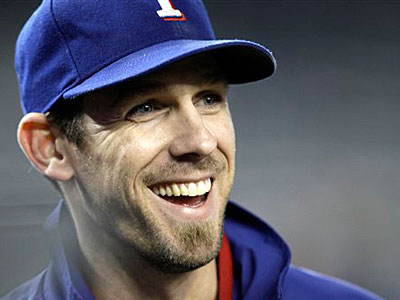 I know this is probably a little bit counter-intuitive, but that's the mood I'm in today. And when the subject turns to Cliff Lee, and whether or not the Phillies should be involved in trying to reacquire the free-agent pitcher, what that means is that I really believe it would be a mistake -- because there is such a thing as too much of a good thing.
Yes, it would be a rotation for the ages if you brought in Lee to join with Roy Halladay, Cole Hamels and Roy Oswalt. None of us has ever seen anything like it, and it would give the Phillies the undisputed best pitching rotation in the game. That is obviously a huge positive -- and if the money is there, well, why not?
But here is the question I ask: which one is the fourth starter in the post-season?