Archive: January, 2009
Rich Hofmann, Daily News Sports Columnist
And so, it seems, the Flyers' annual flirtation with Peter Forsberg and his sore feet has ended. Thankfully.
Forsberg says today that he won't be coming here to play this year, or anywhere on this continent. The key quote out of Sweden goes like this: "There won't be any NHL this season, that's totally clear. If I can play it will be in the (Swedish) Elite Series and Modo."
To which there is only one logical reply:
Rich Hofmann, Daily News Sports Columnist
You first hear and you are shocked. Eagles defensive coordinator Jim Johnson has a cancerous tumor on his spine, a recurrence of melanoma that has spread to other, undisclosed locations as well. You hear the news and you can't concentrate on the interview you're doing for another column.

Jim Johnson. Honest. Plain-spoken. Intense on Sunday. Approachable on Monday. Matter-of-fact. Seen it all. Wise. Wickedly-inventive. Honest. Yes, honest twice. And now, cancer.

You look back on how the season ended, with the defense carrying the Eagles to the finish line and through the first two games of the playoffs, only to lose the last one at Arizona. You look back on how Johnson's physical condition deteriorated through the weeks, how he coached the last two games from the press box, how he used a cane the one week and then rode around on a small vehicle the last week. He had made it out like he had simply thrown out his back.
Rich Hofmann, Daily News Sports Columnist
The news has undoubtedly reached Bob and Phil and Les and Domo by now. Friends and competitors, they are at the Super Bowl. They get up very early, like 6 am early, and get on a bus and go to interview one of the teams at their hotel, and then they get on another bus and go to interview the other team at their hotel, and then they get on another bus and go back to the big media center, where they either will write their stories or get into another conveyance and go back to their hotel and write their stories.

Unless, of course, they are looking for Donovan.

The Super Bowl is Donovan McNabb's time. It is where he speaks. It is where he lets you know what weapons he believes he needs. He does all kinds of appearances, some advertising related, some just talking. But it is where the pronouncements come. He drops hints in Philadelphia. He drops bombs at the Big Supe.
Rich Hofmann, Daily News Sports Columnist
When the Eagles made it to the Super Bowl, I needed to buy a Super Bowl ticket for someone. You know, me, long-time sportswriter in town, somebody who allegedly has a bunch of connections. Well, I was able to use those connections to get a ticket. It was being scalped by somebody within the league -- no names, please. I believe my money passed through at least three sets of hands before it got to the person who was actually selling the ticket in the first place. I don't actually know the name of the person who originally got the ticket. I'm not even sure I know the names of all of the go-betweens.
It was a huge hassle but I was grateful for the way it worked out. I had to go to the ATM in Jacksonville on three consecutive days in order to get the money and ended up carrying around this enormous roll of $20s in my pocket for all of that time, but I was still grateful.
Price of ticket: $2,200.
Rich Hofmann, Daily News Sports Columnist
Odds and ends as we prepare for the crushing boredom of Super Bowl XLIII (I think):

According to Vegas -- all-knowing, all-seeing Vegas -- the Phillies are the most likely team from the National League East to win the World Series. Their odds to repeat as champions are 17-2. That makes them the fourth choice, behind the Yankees (11-4), Cubs (11-2) and Red Sox (15-2). Directly behind the Phils are the Mets and Dodgers, both at 10-1. All of which seems reasonable enough, I guess, given how much money the Yankees just spent. But didn't anybody else see the Cubs in the playoffs last year?

Then there are the Eagles. They already have the odds up for next year's Super Bowl, and the Patriots are favored to win that one at 6-1. Behind them are the Steelers (7-1), Giants (8-1), Colts (8-1), Cowboys (9-1), Ravens (11-1) and then the Eagles, Panthers and Titans (12-1). That make the Eagles tied for seventh in the NFL. It also makes them third in the NFC East. It also raises one obvious question:
Rich Hofmann, Daily News Sports Columnist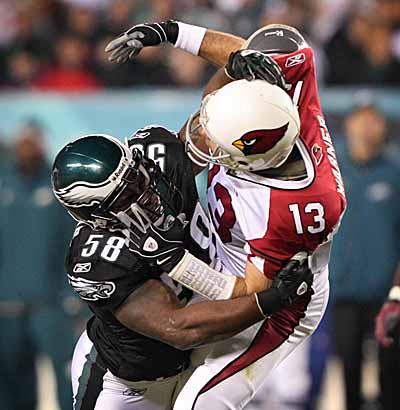 Best as I can tell, the Eagles blitzed Cardinals quarterback Kurt Warner 13 out of 30 pass plays. It was a ton of blitzing. Thirty percent blitzes is a bunch. The Eagles were just north of 43 percent. It was a lot, and I might even have missed a couple for all I know -- and this doesn't even include when they blitzed on running plays. But it still wasn't enough.
The Eagles' dilemma going into the game was clear. Warner is great against the blitz so they needed to get four-man pass rush pressure. It was the game's most significant imperative. But they couldn't do it, not consistently enough, especially in the first half
Here are the numbers for Warner:
Rich Hofmann, Daily News Sports Columnist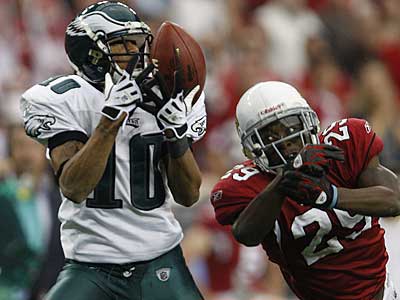 So let me get this straight: the Eagles just played a season in which they set a franchise record for points scored but they don't have any weapons.
And just so I understand: whenever Donovan McNabb plays a good game it's because he's great and whenever he comes up short it's because he has no help.
Just so I get it.
Rich Hofmann, Daily News Sports Columnist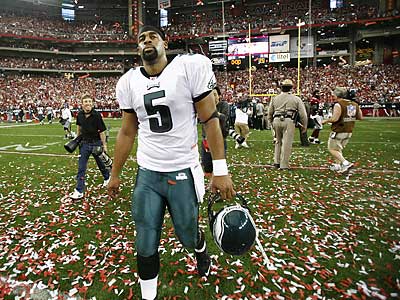 A crushing loss. An impossible loss.

Another NFC Championship Game, gone.

The Eagles, torched early, came back. Down 24-6 at the half against the Arizona Cardinals, left seemingly for dead, they rallied and took a 25-24 lead with 10 minutes, 45 seconds left to play. Donovan McNabb threw for a million yards in the second half. They had done the unlikely.