Archive: December, 2008
Rich Hofmann, Daily News Sports Columnist
A quick update from footballoutsiders.com, the outfit that runs a weekly computer simulation to determine playoff odds. The Eagles' odds dropped about 2 percent after the events of last week, which isn't much either way. They remain a 1 out of 3 shot to make the playoffs. Their number is essentially the same as the Cowboys. It is behind the Falcons and way behind the Bucs.
This you already knew.
Still, there is comfort in knowing exactly where you stand. And, as you already probably know, this is the week where the Eagles will win or lose the thing, in all likelihood. This is the week where Atlanta has to go to Minnesota, and where the Bucs face the mercurial Chargers at home. If the Eagles don't get some help from one of those two teams this week, they probably aren't getting it.
Rich Hofmann, Daily News Sports Columnist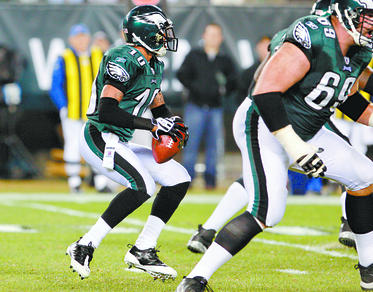 The Eagles will be about a 3-point favorite this Sunday afternoon in Washington. This would not have been true a couple of weeks ago. It speaks to the turnaround, the opposite-directions turnaround, of both teams. Talks about ships passing in the night...
That said, this is the most serious of business now for the Eagles. They're limping a little bit in the red zone, which happens to them sometime, but this Wildcat formation, with its direct snap to wide receiver DeSean Jackson and the hilarity that ensues, is not the answer. They really should put it away at this point.
It's not revolutionary because everybody does it in the NFL anymore -- well, almost everybody. The Eagles have shown it plenty of times on film now. Nobody will be shocked if they line up that way. And if it might have made some sense early on, especially when Brian Westbrook was limping some and Donovan McNabb was misfiring some and this offense was craving big plays to paper over its problems, well, that isn't the case anymore. Westbrook and McNabb look like themselves again. There is no need to fool around anymore.
Rich Hofmann, Daily News Sports Columnist
Well, that was easy.

The Eagles have now won three straight games after walloping the Cleveland Browns, 30-10. They have won what essentially was their third straight elimination game. They are 8-5-1 with two games to play. They do not control their destiny but you cannot deny their momentum.

This game was a cinch, true enough, but they all count. The Eagles had some wacky moments, true enough, but they were never in anything but total control.
Rich Hofmann, Daily News Sports Columnist
Andy Reid's post-game press conference figures to go something like this.
Rich Hofmann, Daily News Sports Columnist
In the National Football League, it is so ephemeral. You know, "it": what the Giants had until a couple of weeks ago, what the Panthers have now, what the Eagles are desperate to wrap their arms around, a quest that continues Monday night against the Cleveland Browns.
It. Think about the Giants for a second. Two weeks ago, they were 11-1 and being anointed as Super Bowl favorites. Since then, they have taken a bullet to wide receiver Plaxico Burress' thigh (a big deal), a knee injury to monster running back Brandon Jacobs (a bigger deal), and now a couple of knocks along the offensive line (maybe the biggest deal of all). The whole gun thing with Burress was a pretty colorful episode, pretty unusual, but the rest of it is just garden-variety stuff that happens to every NFL team. The Eagles have fought through the same stuff with Brian Westbrook and three different right guards. Every team in the league is confronted by the same problems. Yet the Giants have been rocked here, losing to the Eagles and now the Cowboys. Whatever "it" is, it's gone.
That is the league in 2008. People refuse to acknowledge it but the end of the season is all that matters as long as you don't shoot yourself out of it early (you should excuse the expression, Plaxico). We all talk and give opinions for a living, or just for fun in the bar, but it is beyond meaningless. It's all about now. When you look around the NFC and try to pick the favorite to get to the Super Bowl, well, good luck with that. I guess it's Carolina right now. Then again, they play the Giants next Sunday night at the Meadowlands. Maybe Jacobs will be back by then. Maybe the line will be healed up. Maybe.
Rich Hofmann, Daily News Sports Columnist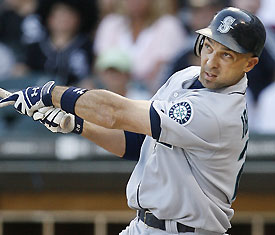 Lefty, lefty, lefty.

Raul Ibanez is obviously a strong major-league hitter. The Phillies could have done worse in their attempt to replace Pat Burrell in leftfield. He's a big RBI guy. You have taken some strikeouts out of the lineup. It's fine -- and the best part is that it only cost them money, not the cream of their meager minor league crop to get him. But we all know the problem.

Lefty, lefty, lefty.
Rich Hofmann, Daily News Sports Columnist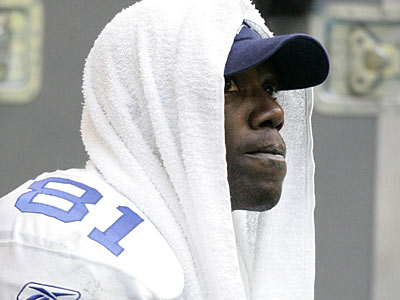 Let's review. In the past couple of weeks:

-- The New York Giants have cut ties with wide receiver Plaxico Burress after Burress shot himself in the leg in a New York club. They have stopped paying him, sent him away, and watched as the Eagles took advantage of his absence to load up their run defense and bury their running game. Oh, and big back Brandon Jacobs has a bum knee that appears to be only getting worse.

-- The Washington Redskins have witnessed snide radio warfare being perpetrated by running back Clinton Portis against first-year coach Jim Zorn, who pretty much stopped using Portis in the second half last week and said that the problem was that Portis barely practiced anymore. Portis mockingly called Zorn a "genius," among other things. All very nice.
Rich Hofmann, Daily News Sports Columnist

As the Phillies sit out there in Las Vegas, trolling for whatever, newly-minted general manager Ruben Amaro Jr. might be best to sit tight. Figure out an answer to Jamie Moyer's issues, whatever they are. Don't do any unnecessary gymnastics in an attempt to fill in for Pat Burrell in leftfield. Don't go crazy about a backup infielder to keep second base warm while we wait for Chase Utley to heal -- unless you've been lying about Utley's prognosis following hip surgery.

Do less. Horde some cash, even a small pile. Wait.

Read the economy here. See the effect it is having all over the sports landscape. Watch the National Football League lay off 14 percent of its staff. Maybe this is an excess of caution -- I have no idea -- but every league except the NHL has already resorted to at least some layoffs. See that. Plan for that.
Rich Hofmann, Daily News Sports Columnist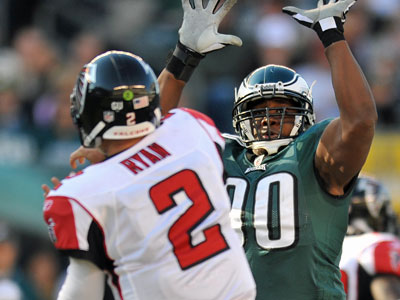 You probably don't care about this but I do: the fact that the Eagles tied that game in Cincinnati is making the next couple of weeks so much easier.
There are no tiebreakers to worry about this year because of that tie. There is no pesky calculation of record against common opponents, no worry about conference or division record, no fantasizing about net points or any such stuff. The tie takes all of that out of the equation. In fact, there is no equation -- which means I can think of plenty of other ways to embarrass myself in print without having to resort to messing up wildcard calculations.
That said:
Rich Hofmann, Daily News Sports Columnist
Andy Reid isn't saying if he decided to tweak his approach to running the football the last two games because of a decision to take the ball out of quarterback Donovan McNabb's hands, or because running back Brian Westbrook is finally healthy, or because they just needed a change for the sake of change.

He isn't saying and he will never say; same old.

This has happened a few times in the past. In 2002, it was because McNabb was getting killed. In 2003, it was because McNabb started the season erratically. There have been other times, too. Reid changes his approach, either radically or subtly, and never lets on, never acknowledges it is even happening. The reason is simple enough: he doesn't want to criticize his players. But it happens all the time.