Rich Hofmann, Daily News Sports Columnist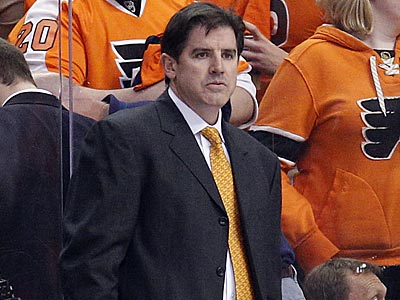 It has been more than a week now since the Flyers were eliminated by the New Jersey Devils. Somewhere, coach Peter Laviolette and his staff, along with general manager Paul Holmgren, are going about the annual ritual of assessment and reassessment after you lose -- what went right, what went wrong, what needs to be fixed, what needs to be tweaked. It happens every spring -- and in the Flyers' case, 37 springs and counting.
Their analysis does not take place in a vacuum. Teams are still playing. There is a game every night on television, and there is a narrative that is being sold and told and re-told. It is about blocked shots. The New York Rangers are the leading practitioner of the art, and they are in the conference final -- tied at one game apiece with the Devils.
Compared to 5 years ago, playoff shot-blocking is up about 10 percent. That is a real number. The Rangers already have blocked 309 shots in 16 playoff games. The Washington Capitals blocked 308 shots in 14 games. The leader in the 2006-07 playoffs was Ottawa, which blocked 310 shots in 20 games. So, yes, this is happening.
Rich Hofmann, Daily News Sports Columnist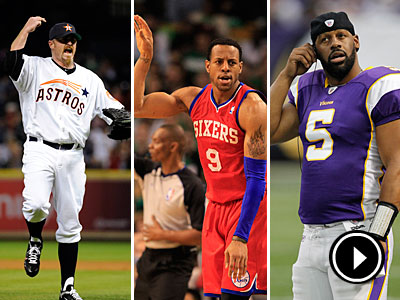 Video: Are the Sixers determined enough to advance to the Eastern Conference finals? Is the Astros' Brett Myers the answer to the Phillies' bullpen struggles? Will any NFL team give Donovan McNabb another chance? The Daily News' Rich Hofmann discusses.
Rich Hofmann, Daily News Sports Columnist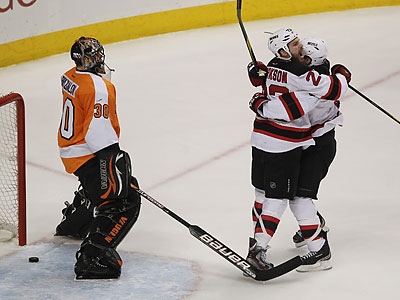 And so, this is how it ends, one of those only-in-Philadelphia nights. It is a story that we pass down through the hockey generations, like baldness. The Flyers lost a playoff series to the New Jersey Devils and this will be the enduring symbol from the final game:
Flyers goaltender Ilya Bryzgalov, trying to shoot a puck away from the front of his net, away to safety, instead seeing the puck picked out of the air by Devils forward David Clarkson and ricocheting behind him and into the goal.
It was impossible, and it happened.
Rich Hofmann, Daily News Sports Columnist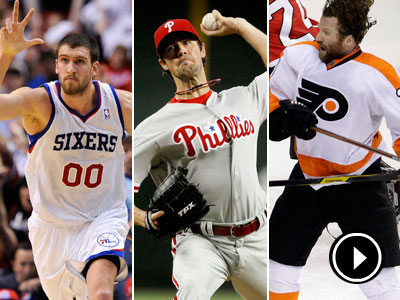 Video: Every week the Daily News' Rich Hofmann provides answers to the three biggest questions in Philadelphia sports for CineSport's Noah Coslov. This week Rich answers questions about the Flyers and Sixers playoff hopes and offers his take on the Cole Hamels vs. Bryce Harper situation.
Rich Hofmann, Daily News Sports Columnist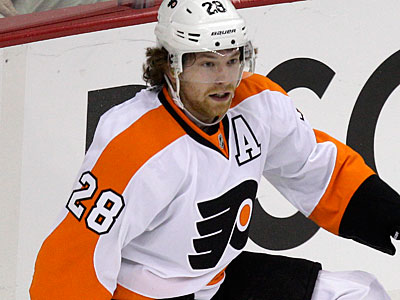 Well, the Flyers have their rallying cry.
NHL dean of discipline Brendan Shanahan has done it. He has suspended the Flyers' Claude Giroux for one game for a hit to the head of the Devils' Dainius Zubrus in Game 4 of their playoff series Sunday night. Shanahan has suspended a superstar player with no discipline history, for a hit that did not cause an injury, for a game in which his team can be eliminated.
Brave new world.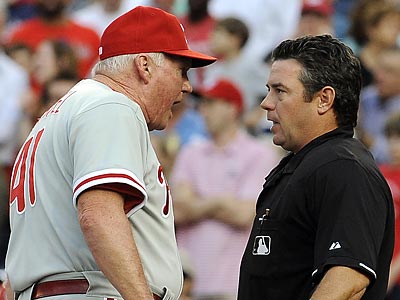 Join Daily News columnist Rich Hofmann for a live chat about all things Phillies starting at noon Monday.
If you're on a mobile device, click here to follow along and post comments.
Rich Hofmann, Daily News Sports Columnist
NEWARK, N.J. -- Claude Giroux has become the Flyers' leader, and no one questions it. He is them and they are him and that is that, at least for now.
When Giroux is the best player on the ice, they beat the Pittsburgh Penguins in the first round of the playoffs. When he is quiet, they lose two straight games and fall behind the New Jersey Devils in the second round.
When he assists on a power play goal and persists on a shorthanded goal in the first period on Sunday night, the Flyers remain alive in a game in which they should be dead. Eventually, they were dead, by a final score of 4-2. They now trail the Devils by three games to one in the series.
Rich Hofmann, Daily News Sports Columnist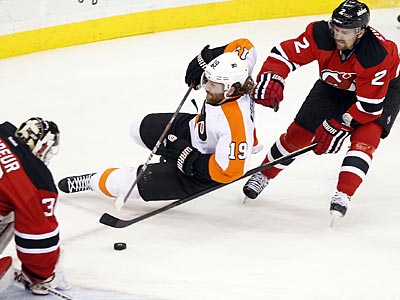 NEWARK, N.J. -- For people who play hockey at this time of year, the desperate search is for victory in any of its many shapes and forms: pretty, ugly, does not matter. For people who watch hockey and write about hockey at this time of year, the quest is for a narrative to explain it all, to validate every personal preconception and cover every eventuality.
So far, through three games of Flyers and Devils, that story cannot yet be written. The plot has not yet been fleshed out, and preconception has been turned on its head. Each team has taken turns making the other side look slow and inept, and there still is no obvious explanation for why the momentum has switched and then switched back and then switched again.
There is only this:
Poll: How will the Flyers-Devils series end?

(2592 votes)