Archive: October, 2010
Rich Hofmann, Daily News Sports Columnist
Video: Rich Hofmann of the Daily News sits down with CineSport's Noah Coslov for the answers to the three biggest questions in Philadelphia sports. This week focuses on the Phillies re-signing Jayson Werth, Evan Turner's NBA debut, and the Eagles' grade midway through the season.
Rich Hofmann, Daily News Sports Columnist
DeSean Jackson, 9 days removed from the concussion he suffered in a horrific collision with the Falcons' Dunta Robinson, was on Comcast SportsNet's "Daily News Live" on Tuesday afternoon. It was the first interview he had done, post-concussion. In the middle of the interview, it dawned on me that Jackson had not yet been asked if he'd been knocked out on the field. Well, he said he was.
That changes things. For everyone who seems so certain that Jackson will be returning to the field for the Eagles' next game against Indianapolis (following this Sunday's bye week), I say maybe. I say maybe at best.
Much was made on Monday night of coach Andy Reid saying that Jackson had passed a concussion test. Well, after probing Jackson a little bit on DNL, it sounds as if he passed the very preliminary baseline test that is just the beginning of the stringent protocol for returning that Eagles head athletic trainer Rick Burkholder has devised. And it took 8 days for Jackson to pass that test. By comparison, after their recent concussions, quarterback Kevin Kolb and linebacker Stewart Bradley both passed much more quickly, in a day or 2.
Rich Hofmann, Daily News Sports Columnist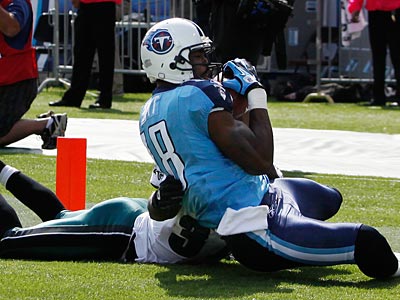 NASHVILLE, Tenn. -- This is a game the Eagles always seem to lose: on the road, against an AFC team with some credentials, just before the bye. It is something we have seen several times during Andy Reid's tenure. There is no explaining it, just like there is no explaining why their Septembers are always so unstable, and why they always win the game right after the bye, and why they play like crazy in November and December. It is just part of the annual cycle.
And, well, for a long time on Sunday, this one looked like a win -- until, that is, it turned into one of the ugliest Eagles losses in recent memory. Titans 37, Eagles 19 will live in infamy -- at least through the upoming bye week. Cortland Finnegan's 41-yard interception return for a touchdown with no time remaining was the final indignity.
Quarterback Kevin Kolb wasn't playing well when trying to throw the ball downfield, but the running game and the short passing game were solid, and kicker David Akers was money after a tough day the previous weekend against Atlanta. On defense, the Eagles' No. 1 job was to stop Tennessee running back Chris Johnson -- and for the third straight game, the defense did just that against an opposing back.
Rich Hofmann, Daily News Sports Columnist
Video: Did Manuel go to the bullpen too soon last night? Are you surprised how the series has gone so far? Will Roy Halladay live up to his ace billing and send the series back to Philly? The Daily News' Rich Hofmann answers these lingering questions.
Rich Hofmann, Daily News Sports Columnist
It's a funny thing about the Phillies: they have lived in the October cauldron for 4 seasons now but they have usually managed to avoid the worst of the heat.
The Phillies have front-run in almost every series in which they have played. The two series they lost -- that first one against Colorado in 2007 and last year's World Series to the Yankees -- were disappointments tempered by the reality that a lot had been accomplished along the way.
This series is different, though; different year, different expectations. Lose Game 1 -- behind Roy Halladay, at home, when favored to win not only this series against the San Francisco Giants but to win the whole thing -- and the temperature begins to rise. It is the simple reality.
Rich Hofmann, Daily News Sports Columnist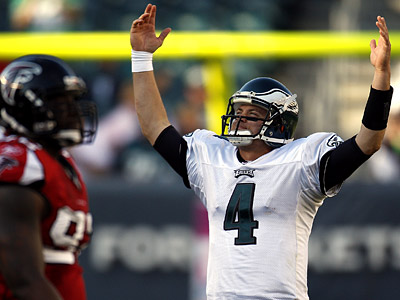 Gentlemen, start your quarterback controversies.
Kevin Kolb has played his way back into a conversation that Eagles coach Andy Reid is clearly uncomfortable having. Just as Michael Vick played well when Kolb got hurt, Kolb now has played well while Vick was hurt. And after this one, after a 31-17 win over an Atlanta Falcons team that arrived at Lincoln Financial Field as one of the top teams in the NFC, well, it will take all of Reid's considerable experience to keep the Vick-Kolb conundrum from consuming his locker room in the same way that it is likely to consume the fan base.
Kolb was very good against the Falcons: 23 for 29 for 326 yards, 3 touchdowns and 1 interception. His quarterback rating was 133.6. He has gotten better with every game this season, and that is undeniable. Why Reid decided to throw away his off-season game plan and switch to Vick as his starter remains the story of the season. Whether or not he could possibly switch back to Kolb when Vick is recovered from his cracked rib cartilage -- perhaps as soon as next Sunday at Tennessee -- figures to be the subject of an intense debate in the coming hours and days.
Rich Hofmann, Daily News Sports Columnist
In October of 2008, the Phillies and Milwaukee Brewers played what turned out to be a series-clinching game for the Phils at exactly the same time that the Eagles were playing the Washington Redskins. Televised against each other, the ratings were no surprise to people in Philadelphia. Even though the Phillies had a lot more at stake, the Eagles trounced them in the Philadelphia ratings, 22.7 to 13.2.
Two years later, a sea change.
Sunday night, the Phillies won the ratings war against the Eagles. It was the same situation -- a series-clinching game for the Phils, a regular-season game for the Eagles. It was the same television dynamic -- Phillies on cable, Eagles on a network. But according to Sports Business Daily, the Phils were the winners among Philadelphians watching television, 27.7 to 24.1.
Rich Hofmann, Daily News Sports Columnist
SAN FRANCISCO -- The education of Kevin Kolb continues. It is what this season was supposed to be about, back when. We thought he would get the ball out quickly and accurately, but we did not know when he would learn to be a winner. That was going to be the process that consumed our attention.
It isn't like that anymore; long story. But because Michael Vick is injured, Kolb is getting a chance to play again. Last night against the 49ers, with a full week of practice snaps and a promise of nothing more than the day, Kolb played an excellent first half and a good second half, nursing a 17-10 halftime lead into a 27-24 victory.
What it means for the future is known to only one man, the guy in all-black on the Eagles' sideline -- and Andy Reid has defined mercurial so far this season. But it seems fairly obvious that the more Kolb plays, the better he gets. He had a shaky first half in the opener against Green Bay before suffering a concussion. He had a much better game last week in defeat against Washington. He had a fine game overall last night.
Rich Hofmann, Daily News Sports Columnist
Where does Roy Halladay's no-hitter rank in the pantheon -- a less-crowded pantheon than many, it must be acknowledged -- of Philadelphia greatest sports moments?
Everybody's answer is different. Mine, not untypically, is a little bit complicated.
We all have our own personal list -- Wilbert Mongomery's run, Wilt Chamberain's 100, fourth-and-26. We all are struck differently, at different times in our lives, by what we see -- by Villanova's perfect game in the 1985 championship, and Pete Rose rescuing that wayward popup in 1980, and Mike Schmidt hitting those four home runs into the jet stream at Wrigley Field.
Rich Hofmann, Daily News Sports Columnist
This week, the Daily News' Rich Hofmann opines on the historic value of Roy Halladay's no-hitter, the chances the Eagles can win the next two games without Michael Vick and whether the Flyers can repeat as Eastern Conference champions.