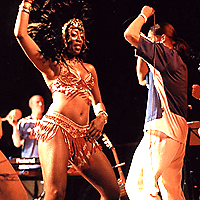 Seeing

Alô Brasil

perform is always an amazing experience. The 12 member Philly-based samba band seems unassuming when they step into the room, but once they start playing they transform any space into the middle of a carnival parade in Rio . Their high energy percussion heavy music is can get the most hesitant wallflower up on their feet and dancing. Their live performances usually include costumed samba dancers, capoeira masters, and a large portion of Philly's Brazilian population in the audience. Watch the video clip to get an idea of the Alô Brasil experience.
If this sounds like a great way to enjoy your weekend, then make your way to

World Cafe Live

this

Saturday April 19th

because Alô Brasil will be perform live. With the warmth of spring time starting to show its face, it's only right to celebrate with some sunny samba rhythms.
Alô Brasil @ World Cafe Live (3025 Walnut St.). Saturday, April 19th. Doors 8 pm. Show 9 pm. Tickets $23 +.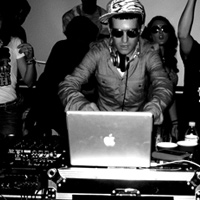 The big night this weekend is Sunday. There are two major parties happening that you need to look out for.
First up is the Fool's Gold vs. Dim Mak tour at one of Philly's new favorite hang outs, The Barbary ( 951 Frankford Ave). This event brings together two of the top labels in the realm of hipster-esque music, Fool's Gold Records and Dim Mak Records, for a night of PBR drenched fun. On the wheels will be DJ A-Trak (Fool's Gold label head, champion turntablist and Kanye West's dj), Steve Aoki (Dim Mak label head and one of the heirs to the Benihana fortune), Sinden and Sammy Bananas. Expect to hear a mixture of everything from Rod Lee to Bloc Party.
If the vibe of the Barbary party isn't your thing, then head over to Silk City (5th & Spring Garden St.) for Hot Peas and Butter. This is a night of 7" vinyl, rare grooves, and lots of soul. Legendary Philly turntable wiz DJ Cash Money and Dj Skeme Richards of the Rocksteady Crew keep the speakers pumping full of some of the funkiest music ever made.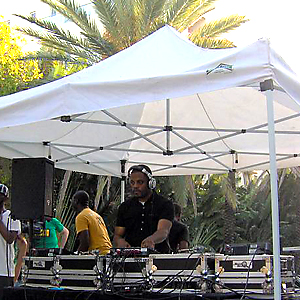 While many music lovers flocked to Austin this year for the SXSW festival, the real party was happening down in South Beach. Every year for the past 23 years, large numbers of djs, electronic music producers, and party people from all over the globe have made there way to Winter Music Conference in Miami. The Winter Music Conference is an annual event that brings together the best of the best in the world's dance music scene. Residents know it as the time of year when the city is pretty much overtaken by djs. Every hotel and nightclub has a party going on with a line down the street. Just about retail store and restaurant has a set of turntables set up. You can't walk down the block without seeing someone like house dj Louie Vega or hiphop legend Biz Markie walking around dragging there dj bag behind them.
One of the funniest things about heading down to the conference is that you can't go anywhere without seeing a bunch of people from Philadelphia. It's almost as if every Philly-based dancer and music lover who could get the week off is down there partying like it's no tomorrow. As you can imagine, the club scene back home usually takes a big hit that week.
Philly is also well represented on the dj front. Every year, our hometown heroes have their hands in some of the biggest and best events in South Beach. This year Rich Medina tore it down with his mixture of afrobeat, soul, hiphop, and house at a bunch of different events, including the gigantic OM Records soiree and his own Afro Disco party. King Britt, Vikter Duplaix, and Dozia's Art of Seduction party was sexy enough to make people trade in their shorts and flipflops for white linens and high heals. The Sundae crew got some of their favorite house djs together for a crazy yacht party on a Sunday afternoon. Even hometown legend Dj Jazzy Jeff came down to do a big event with Common, Dj Spinna, Biz Markie, Mark Farina, and many others. What a week!