YFS Fest 2008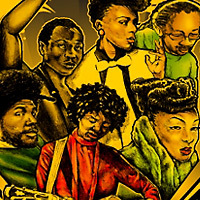 The YFS Fest brings Black Music Month to World Cafe Live.
YFS Fest 2008

Y.F.S. Fest is back for 2008. Y.F.S. Fest is an annual concert series put together by Young Friends Society (hence the acronym) to celebrate Black Music Month. All the concerts are taking place at World Cafe Live and they feature some of the most buzz worthy talent in the business right now.
The headliners include one of my favorite new artists, Janelle Monae, who is performing Saturday night. She is a funky futuristic rock opera chick from the Outkast camp who just recently signed with Bad Boy Records. On June 21st, they have Ayo, who will be bringing her critically acclaimed mixture of african folk and soul to the stage. On June 27th, world music superstar Zap Mama is going to fill the World Cafe Live with mind bending vocal work and music that takes hiphop to the Congo. The final show on July 5th brings Seun Kuti, the son of legendary afrobeat master Fela Kuti, along with one of Fela's original bands, Egypt 80. You can't lose with a line up like this.
Saturday June 14 - Janelle Monae @ World Cafe Live (3025 Walnut St.). Door 8pm. Show 9pm. $25
Saturday June 21 - Ayo @ World Cafe Live (3025 Walnut St.). Door 6pm. Show 7:30pm. $19 - $24
Saturday June 27 - Zap Mama @ World Cafe Live (3025 Walnut St.). Door 8pm. Show 9pm. $25
Saturday July 5 - Seun Kuti & Egypt 80 @ World Cafe Live (3025 Walnut St.). Door 8pm. Show 9pm. $27