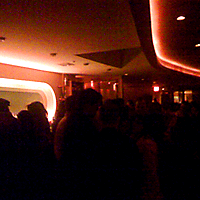 Most lounges and clubs keep the same look until the place is literally falling apart. In those cases, it's usually too late revive the magic of the venue's glory days. The folks over at the Walnut Room have the right idea. They decided to give their lounge a hefty facelift while the venue is still in the height of its popularity. While this may be a pretty risky move for some places, the Walnut Room team has made just the right upgrades to keep them a serious competitor against upstart nightspots like Vango and G Lounge.
The first thing you will notice is all the open space. In its previous incarnation, there was this counter space between the bar and the sitting area that proved to be a huge obstacle during crowded nights. It's gone and now there is plenty of hardwood floor ready for you strut your best dance moves on. The long built in sofa that made up the lounge area is gone as well. In its place is a series of classy but almost cocoon like booths that are perfect for starting your own private party. In the back of the room, the tiny dj booth has changed into a wide open platform that I'm sure will end up doubling as a stage.
Because of the redesign, the Walnut Room is now known as the Walnut Room Redux. The new name and new look also comes with a brand new attitude. There is a push now for membership, which you can get for free by signing up at
www.walnutroomredux.com
. Most importantly, there is a bigger focus on quality entertainment. There is a great line of celebrity djs such as DJ Scratch, DJ Cash Money, and many more.
If you really like to dance... I'm not talking about doing the two-step. I mean REAL dancing!!! ...then nothing can bring out that raw energy like some quality house music. We are lucky enough to have not one... but two amazingly talented soulful house djs in town this weekend.
Saturday night, we have New Yorker Alix Alvarez dropping a guest dj set at Paperstreet's Mojito boat party, which happens weekly on the deck of the Moshulu. Alix is best known for his record label Sole Channel and the music he has produced for artist such as Tortured Soul, Lady Alma, Mr. V, and many more. Expect to hear some feel good music with a heavy bounce factor.
On Sunday evening, you can catch Baltimore dj Karizma playing at the FallOut party at Vango. Karizma has been part of the scene for years now, but since he dropped the album "A Mind Of It's Own" he has become a major force in house music. He has been highly sought after for his high energy dj sets and aggressive remixes that blur the lines between house and broken beat styles. Bring a towel because you are going to get sweaty.
Saturday June 27th. Mojito @ Moshulu(401 Columbus Blvd.). Guest dj Alix Alvarez. 10pm-2am. $5-$10.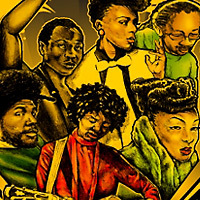 Y.F.S. Fest
is back for 2008. Y.F.S. Fest is an annual concert series put together by Young Friends Society (hence the acronym) to celebrate Black Music Month. All the concerts are taking place at World Cafe Live and they feature some of the most buzz worthy talent in the business right now.
The headliners include one of my favorite new artists, Janelle Monae, who is performing Saturday night. She is a funky futuristic rock opera chick from the Outkast camp who just recently signed with Bad Boy Records. On June 21st, they have Ayo, who will be bringing her critically acclaimed mixture of african folk and soul to the stage. On June 27th, world music superstar Zap Mama is going to fill the World Cafe Live with mind bending vocal work and music that takes hiphop to the Congo. The final show on July 5th brings Seun Kuti, the son of legendary afrobeat master Fela Kuti, along with one of Fela's original bands, Egypt 80. You can't lose with a line up like this.
Saturday June 14 - Janelle Monae @ World Cafe Live (3025 Walnut St.). Door 8pm. Show 9pm. $25
Saturday June 21 - Ayo @ World Cafe Live (3025 Walnut St.). Door 6pm. Show 7:30pm. $19 - $24
Saturday June 27 - Zap Mama @ World Cafe Live (3025 Walnut St.). Door 8pm. Show 9pm. $25
Saturday July 5 - Seun Kuti & Egypt 80 @ World Cafe Live (3025 Walnut St.). Door 8pm. Show 9pm. $27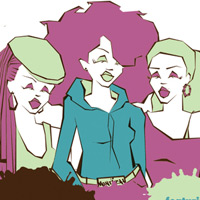 People who headed over to Fluid Nightclub after The Roots Picnic this past Saturday were greeted with a special edition of FlyGirrl's Tasty Treats party that paid tribute to the purple one, Prince. Regular party go-ers, as well as various celebrities who were in town for the concert, celebrated the 50th Birthday of Prince by dancing the night away to some of the greatest songs in his catalog.
This event was the first of a series of special events happening at Tasty Treats in June to kick off the summer season. This Saturday June 14th, they are bringing DJ Ali Shaheed Muhammad into town. Muhammad is best know for his work as dj and producer for legendary hiphop group A Tribe Called Quest, as well as working with Lucy Pearl, D'angelo, and others. Then Friday June 20th and Saturday June 21st, they are hosting two special events for the Ladies of HipHop 2008 Festival (Don't forget to check out www.myspace.com/ladiesofhiphop2008 for a complete listings.). On June 20th, the have female MCs Bahamadia and Ethel Cee rocking along with their djs Dj Statik and Dj Ultraviolet. On June 21st, Tasty Treats is bringing DJ Beverly Bond to play alongside resident selectors ?uestlove and Mike Nyce.
If this is just some of what FlyGirrl has in store for us in June, imagine what is going to happen in July!
June 14th - Tasty Treats w/ guest dj Ali Shaheed Muhammad @ Fluid (613 S. 4th St.). 10pm-2am. $10
June 20th - Ladies of HipHop w/ Bahamadia, Ethel Cee, & more @ Fluid (613 S. 4th St.). 10pm-2am. $10
June 21st - Tasty Treats w/ guest dj Beverly Bond @ Fluid (613 S. 4th St.). 9pm-2am. $10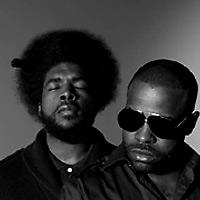 This weekend is overloaded with big events, but I only have time to mention a few...
Friday night, the 4AM party is back to kick off the summer. DJ Dirty (from the Sundae party) and promoter turned dj Jay Yo are the men behind this event. Each month they bring guest performers and djs to the Barbary to get a packed room of party people loose to a new school mixture of dance party music. In the last few months, they have had groups like Yo! Magesty and DJs like LA Riots. This month they are partnering up with Vice Magazine and Colt 45 to bring New York's Drop The Lime aka Curses! down to rock the party.
4AM @ The Barbary (951 Frankford Ave.) - Friday June 6th - 10pm - 2am - Free
Of course, The Roots Picnic is the biggest party in Philly this weekend. The worlds greatest hiphop band, The Roots, have brought some of the best most buzzed about artists to Philly. Gnarls Barkley, Sharon Jones & The Dap Kings, J*Davey, Esperanza Spalding, and many more. It all goes down over at the Festival Pier at Penns Landing this Saturday afternoon at 2pm. But just to make this event bigger, they just added a pre-concert jam session Friday night at the Filmore at TLA featuring The Randy Watson Experience (?uestlove, James Poyser, Bilal and Robert Glasper), Santogold, Janelle Monae, and of course, The Roots. This is not to be missed.
Hors D'Oevres Pre-Picnic Jam Session @ Filmore at the TLA (4th & South St.) - Friday June 6th - 11pm-2am - $35
The Root Picnic @ The Festival Pier (Columbus Blvd and Spring Garden St.) - Saturday June 7th - Starts at 2pm - $39-$49
On Sunday, we know people are flocking north for the Philadelphia Bike Race and south for the Odunde Festival, but for those of us that need to get crunk, head to 12th and Spring Garden. Diplo and his Mad Decent label are throwing a block party with some the best of the best of the hipster/hollertronix (for lack of better term) scene. The long list of talent includes Flosstrodomus, DJ Blaqstarr, Dj Sega, and many more.
Mad Decent Block Party @ 12th & Spring Garden St. - Sunday June 8th - 12pm - 8pm - Free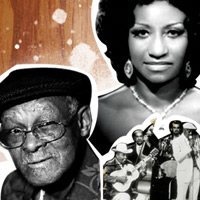 It's a pretty well known fact that the best parties don't always happen in nightclubs. Think of all the fun you have had at soirees in people's living rooms, in warehouses, and art galleries. There is just something special about not having to deal with high drink prices and moody doormen to enjoy a night on the town.
The Young Friends Society has the right idea for their Soul Simpatico event, which is happening this Saturday May 17th. Instead of going for the usual suspects when it came to choosing a venue, they decided to go for Northern Liberties' hidden gem, the Media Bureau, instead. The Media Bureau is a local company that dabbles in audio/video production and digital media. In their studio space they have hosted some amazing and innovative events over the 10+ years it's been running. The studio is a beautiful mixture of hardwood floors, vintage furniture, and the latest a/v technology.
The Soul Simpatico party is a perfect fit for this venue. This event is a celebration of the afro-latin influence on art and music. There will be plenty of stimuli for the eyes, ears, and soul including screenings of Brazilian films, Cuban photography, vendors, and even massages. On the musical side of things, there will be live salsa music by The Latin Playboys and afro-latin dance music mixed by DJ Lexx (who I know for a fact has a heavyweight collection of tunes). This is that change of pace that you have been looking for.
Soul Simpatico: Red, Hot, & Bembe @ Media Bureau (725 N. 4th St.). Saturday May 17th. 8pm-1am. $20, $10 in advance.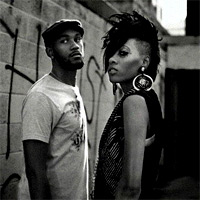 As we move into this weekend, the Black Lily Film & Music Festival marches on. Events are happening all day... everyday. There are two that you definitely need to watch out for.
Tonight at Silk City, Two.One.Five Magazine is presenting the Black Lily Jam Session. This event will be a throw back to Black Lily's days at the Five Spot in Old City. Featured performers include Imani Uzuri, a powerful singer/performance artist who has collaborated with 4Hero and Herbie Hancock, and Maya Azucena, a Brooklyn based songbird who has made lots of noise on the alternative soul scene. On band duty we have the Back 2 Basics Band, an all-star group of some of Philly's best musicians who play at King Britt's Back 2 Basics party on Monday nights. Also, on DJ duty we have DJ Junior from Eavesdrop Radio on WKDU 91.7 FM. Expect lots of amazing performances and lots of surprise guests.
Saturday Night has the event that you need to watch out for. It's the Black Lily Honors Concert at World Cafe Live. Just to give you some background, last years concert had a heavyweight line-up with special performances by people like Jill Scott and a slightly intoxicated Amy Winehouse, amongst others. This year's top notch line-up includes legendary female mc Bahamadia, soul diva Jaguar Wright, former Digable Planets member Ladybug Mecca, and a special performance with jazz/blue performers Lizz Wright and Toshi Reagon together. That's just the start! Of all the performers scheduled, I'm looking forward to seeing LA electro-soul group J*Davey, who sound like they could be Prince's love children. A word to the wise... Don't miss this event!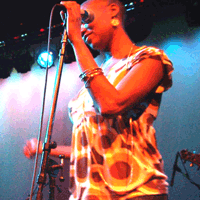 In Philly this week, we are lucky enough to have the 2nd Annual Black Lily Film & Music Festival. Black Lily started out as a female artist showcase at the Wetlands in 1999, which became a weekly event at the Five Spot in Philly until 2005. The event, which was started by alternative soul group Jazzyfatnastees, helped to launch the careers of a long list of artists, including Jill Scott, Floetry, and Jaguar Wright. After the event ended it's run, Black Lily became a non-profit aimed at supporting female artists. In May 2007, the organization produced the first Black Lily Film & Music Festival.
This year festival includes free workshops, panel discussions, short films, concerts, and much more. The opening night celebration is going down at World Cafe Live on Thursday May 1st with a special edition of the Ladies Love Hip Hop party. On the wheels we have some of Philly's finest female djs Ultraviolet, Roxy, and AfroDJiak. The night will also feature a live performance by Detroit lyricist Invincible, who has made a name for herself from her work with the Platinum Pied Pipers, and Philly based mc Ethel Cee. It's a good way to things started for a weekend arts and excitement.
I will be writing up some of the Black Lily festival events as the weekend comes closer, so keep checking Highlife. For more info on the 2nd Annual Black Lily Film & Music Festival go to http://www.blacklilyfilm.org.