Archive: September, 2012
Troy Graham @troyjgraham
In Council's ongoing effort to find more places to allow advertising - and to raise more dough for the city's coffers - Councilman William K. Greenlee introduced a bill today to allow newsstands to sell digital advertising on all sides and to permit newsstands to display ads on vinyl wrapping.
The bill would impose a seven percent excise tax, which is consistent with taxes already charged for advertising on private property, Greenlee said.
"Allowing for enhanced advertising on newsstands is a win-win for the city, as it generates more revenue and helps small business owners become more successful," he said in a statement.
Troy Graham @troyjgraham
Opinions on the state's controversial voter ID law and the legal challenges to it have broken pretty reliably along partisan lines, with Republicans saying the law would prevent voter fraud and Democrats saying it's meant to disenfranchise their supporters.
Council members Curtis Jones Jr. (a Democrat) and David Oh (a Republican) say they are going to bridge that divide with their "BetheVOTE" event tomorrow, an all-day extravaganza at the Shepard Recreation Center at 5700 Haverford Avenue.
The event, which will include entertainment, was described this afternoon as a "non-partisan Council leadership effort to get Philadelphians proper identification." Those attending will be able to check their voter registrations, ensure they have the proper ID and, if they don't, get help securing a valid ID.
BOB WARNER
The Nutter administration has decided not to follow the lead of Montgomery and Allegheny counties in issuing photo-ID cards for Philadelphia voters through county nursing facilities or Philadelphia Community College.
The city Law Department is not certain such IDs will be accepted at polling places and the city intends to use its limited resources in other ways to help registered voters who will need photo ID to cast ballots in November, said Brian Abernathy, chief of staff in the city managing director's office.
"With limited resources, the city's efforts should and will be focused on actions that we know will be successful and guarantee voters the right to vote," Abernathy said in an email to the PA Voter ID Coalition, an amalgam of more than 150 organizations trying to help the public deal with the new voter ID requirements approved by the legislature and Gov. Corbett last March.
Miriam Hill
Anonymous, the loosely knit group of hackers that has threatened computer systems around the globe, appears to have issued a warning to Philadelphia:
http://www.youtube.com/watch?v=J-mhWVFBzus
Heard in the Hall is using the word "appears" because while the style of the video is consistent with the past work of Anonymous, it's not like we can call anyone to ask for confirmation.
BOB WARNER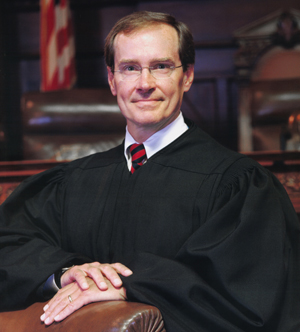 Commonwealth Court Judge Robert E. Simpson Jr. has scheduled a hearing for next Tuesday, Sept. 25, in Harrisburg, to deal with the state's implementation of the new voter-ID law and ultimately decide whether the law will stay in place for the November election.
The state Supreme Court sent the case back to Simpson this week, ordering him to evaluate the state's efforts to provide photo ID cards to registered voters who need them and issue an opinion by October 2 on whether the state is providing the "liberal access" to ID cards that the legislature intended.
The Supreme Court said that Commonwealth Court was obligated to issue a preliminary injunction to block the law if it is not "convinced in its predictive judgment that there will be no voter disenfranchisement" from the new law.
Breaking News Desk
Mayor Nutter is joining the chorus of Obama supporters criticizing Republican presidential candidate Mitt Romey for suggesting nearly half of Americans are dependent on the federal goverment and are not likely to vote for him.
The following is Nutter's statement as distributed by the Obama campaign:
"The fact that a candidate for president - in a closed door event with donors - said that 47% of Americans are 'dependent on Government' and 'believe they are victims' is beyond shocking. That he doubled down on those comments in public is unfathomable. But most deplorable about Mitt Romney's comments is who he is insulting - an overwhelmingly majority or the 47% he is referring to are seniors, working families, students or people with disabilities. The vast majority of these Americans pay a significant percentage of their income in taxes, whether they are federal payroll taxes, property taxes, sales taxes or other state and local taxes. They often pay even a higher share of their income in these taxes than wealthier families, like Mitt Romney's. How can Mitt Romney continue to run for president when he has categorically written off half of the American people?"
Miriam Hill
Updated at 4:12 p.m. Friday: The state court of Judicial Discipline has suspended Traffic Court Judge Robert Mulgrew with pay for now but will hear arguments at a later date on whether the interim suspension without should be with or without pay.
And here is the original item:
Traffic Court Judge Robert Mulgrew, who was indicted in federal court Thursday for allegedly spending public grant money on himself and on friends, was suspended from his job Friday.
BOB WARNER
When he was running for governor two years ago, Tom Corbett's position papers said he would provide "an open, transparent, accountable and trustworthy government." He was committed to "100 percent transparency throughout state government," he said.
So why did it take two weeks for the Corbett administration to acknowledge it was giving a $75,000 contract in the voter ID case to a Philadelphia law firm that had helped his campaign?
We don't know. Despite its public commitment to transparency, the Corbett administration is not returning The Inquirer's calls or answering emailed questions about its contract with the Philadelphia law firm Drinker, Biddle & Reath LLP.