Archive: May, 2013
Bob Warner
It's official: The city's Republican ward leaders have elected state Rep. John Taylor as chairman of Republican City Committee, signaling the end of an internal rift that has divided the party for more than three years.
Taylor, 58, the sole Republican in the city's legislative delegation, replaces attorney Vito Canuso, who had held the chairman's post since 1995. Canuso announced his intention to give up the job three weeks ago, and both factions of the party embraced Taylor as his successor.
The ward leaders met Tuesday night at the United Republican Club in Kensington – the same location where Canuso last stood for re-election in 2010, a vote disputed by elected ward leaders who were not permitted inside the building. Ultimately the election was ruled invalid by the state Republican organization.
Troy Graham @troyjgraham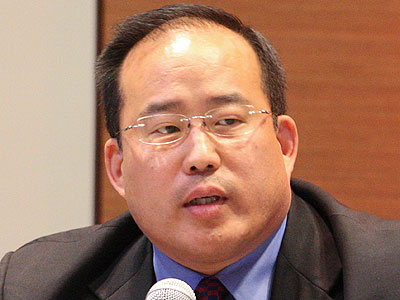 A Council committee defeated a bill Wednesday that would have thwarted the Free Library of Philadelphia's plan to eliminate late fees for children – a move recommended by librarians to prevent cutting off poor children from library services.
Councilman David Oh, the primary sponsor, said about $70,000 of the $400,000 in late fees collected last year came from children's books and material. He said individual librarians have the freedom to forgive late fees if they believe families cannot afford to pay – although a librarian who later testified disputed that she had that power.
"I do understand about poverty," Oh said. "But it seems to me the people who are paying this $70,000 are people like myself, who understand that when my daughter takes something out and it's late, we're going to pay."
Bob Warner
A coalition of bars, restaurants and other businesses with interests in the liquor industry is mobilizing against a proposed hike in Philadelphia's liquor-by-the drink tax, now 10 percent.
A group calling itself Hospitality United of Philadelphia scheduled a $25-a-head fundraiser Thursday night at the new Fraternal Order of Police headquarters, on Caroline Road in Northeast Philadelphia, to raise money for the effort.
The campaign director, William Miller V, said the group would include bar, tavern and restaurant owners, as well as suppliers, brewers and beer distributors, all opposed to Mayor Nutter's bid to raise the tax to 15 percent, to provide more money for the Philadelphia schools.
Troy Graham @troyjgraham
With a month remaining to pass a budget, City Council moved more bills through the legislative mill Wednesday, including Mayor Nutter's proposal to create a $2-a-pack cigarette tax to help fund the financially-struggling schools.
Council's Committee of the Whole had 20 bills on the agenda and passed six of them. Some bills were uncontroversial, such as the administration's capital budget bills. Others, such as a bill to set the Use and Occupancy business tax rate, have competing proposals and will have to be debated and resolved over the coming weeks.
The cigarette tax, as well as a mayoral proposal to raise the liquor-by-the-drink tax from 10 to 15 percent, requires permission from state lawmakers. Enabling legislation has not yet been introduced in Harrisburg, and some key state Republican lawmakers have expressed skepticism about giving those new taxing authorities to Philadelphia.
Bob Warner
Warren Bloom, who ran fourth and out of the money in the race for three seats on Philadelphia Traffic Court, wants election officials and criminal prosecutors to take a closer look at the results.
Unofficial returns based on voting machine totals show that all three Traffic Court seats went to the candidates endorsed by Democratic City Committee ­– Omar Sabir, Marnie Aument Loughery and Donna Derose ­– despite their relatively low ballot positions. Bloom had the top ballot spot but got only 9,420 votes, while Sabir got 23,010 votes, Derose 14,292 and Aument Loughery 12,736.
"The high numbers that these candidates received doesn't jibe with the low turnout," Bloom said. "I'm challenging the integrity of the count and I've contacted the district attorney." He said he was planning additional complaints to city and state election officials.
Troy Graham @troyjgraham
A bill introduced by three Council members Thursday would require the city's Office of Property Assessment to make available a full explanation of its methodology and post details of individual assessments on the city's website.
The bill's requirements are based partly on the practices of the property assessment agency in Washington, D.C. OPA's chief assessor, Richie McKeithen, came to Philadelphia in 2010 from Washington, where he led that city's property assessment office.
"It is important to give the taxpayers of Philadelphia confidence their assessments are fair, accurate and transparent," Council President Darrell L. Clarke said.
Troy Graham @troyjgraham
City Council introduced two bills Thursday on behalf of Mayor Nutter to increase the liquor-by-the-drink tax and establish a cigarette tax – bills part of the mayor's package to raise $60 million for the financially-struggling school district.
The city would need permission from the state institute those tax bills. No corresponding legislation has been introduced in the General Assembly, which returns to work in Harrisburg next week.
Nutter's plan would create a $2-a-pack tax on cigarettes. He initially had proposed spending a small portion of that money on a smoking cessation program, but Council President Darrell L. Clarke said all the money now would go toward the schools.
Troy Graham @troyjgraham
Council President Darrell L. Clarke introduced a bill Thursday that would shorten Mayor Nutter's vision of a five-year reduction in the wage tax to just two years.
Nutter has called for incremental cuts in the first two years of his plan, with bigger drops in the final three years. By 2018, the wage tax rate would have fallen from 3.928 percent to 3.7568 percent.
Clarke's bill only includes the much smaller reductions in the first two years. He said he introduced the bill in the "broader context" of the city's effort to correct the property tax assessment system, do a better job of collecting delinquent taxes and stabilize funding for the school district.