Archive: May, 2010
Miriam Hill
Mayor Nutter said he would like to have the Democratic National Convention here - but not in 2012. In a recent letter to Democratic National Committee Chairman Tim Kaine, Nutter said the city can't shoulder the costs of hosting the convention, including police overtime, in the midst of a budget crisis.
To read Nutter's letter to the DNC, click here: http://media.philly.com/documents/inq_Letter+oGovKaine.pdf
Click here for Philly.com's politics page.
Miriam Hill
Philadelphia is the only city of 13 studied by Pew Charitable Trusts that is enacting a broad tax hike for the second year in a row, according to a new report out today by the nonprofit giant.
All the cities that Pew followed have, however, sought other ways to plug budget holes with new revenues, including telecommunications fees and parking fines.
Jeff Shields and Patrick Kerksta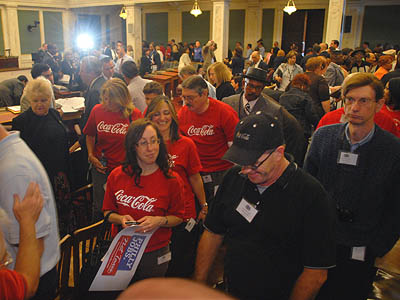 Mayor Nutter announced a series of cuts in response to the $3.9 billion budget passed by Council today, as he promised to do if Council did not provide additional revenue in the form of a sweet-drinks tax or other measure.
"Council is unfortunately proposing to spend money that is not really there," Nutter said as he announced the cuts.
A memo from budget director Steve Agostini to Nutter's chief of staff, Clay Armbrister, announced closures to two fire companies, the canceling of two classes of police recruits, and a cut in branch library hours to four days a week. The memo identifies $20 million in savings by cutting a total of 339 positions.
Gwendolyn Lewis and Jeff Shields
Democratic gubernatorial nominee Dan Onorato visited City Council Thursday morning seeking support for the November election, but also to let his local supporters show their political muscles.
Onorato, in town and fresh off his primary victory Tuesday, came onto the floor of Council and shook hands with Curtis Jones Jr., who along with Bill Green were the only members of Council who backed him. "This is called flexing," said one political operative in the room. While most other Democrats supported African-American candidate Anthony Williams, the state Senator from West Philadelphia, Onorato's appearance was a nod to local politicians that his Democratic support crosses racial lines.
Onorato was briefly recognized by Council President Anna C. Verna.
Patrick Kerkstra
Take a look below at Nutter's last best case for the sugary drinks tax, which seems to have failed.
May 20 2010 Budget Letter
Patrick Kerkstra and Jeff Shields
With the failure of his much lobbied for soda tax this morning, Mayor Nutter's budget and political clout are both in trouble.
Let's take the budget first. In a letter this morning to City Council, Nutter chief of staff Clay Armbrister warned that - without a soda tax or a bigger property tax hike - the mayor would be forced to trim an additional $20 million and 300 positions from the budget that Council has put together. Council leaders reject that view. They say the budget is balanced, with a $42 million fund balance. The Nutter administration considers that balance way too low, and warn that it does not "provide enough money to cover the cash flow requirements of the city nor meet the requirements of a prudent five year plan."
But council is not budging. There will be no vote on the soda tax today. The budget Council will vote on today includes a 9.9 percent property tax hike and a $300 annual trash fee for small businesses and multi-unit residences. There is no appetite on Council for any tax hikes on top of those.
Patrick Kerkstra
One of Mayor Nutter's most vocal critics, former Democratic candidate for City Controller Brett Mandel, leveled some explosive charges in a mass e-mail earlier this week. Here's a taste:
"Just before he introduced his budget and proposed balancing his spending plan with a new tax on sugary drinks and trash collections, Mayor Nutter made a series of remarkable campaign donations from his 'Nutter For Mayor' fund. Even though members of City Council are not up for re-election for another year, Nutter's campaign account donated $10,600 -- the maximum amount permissible by law -- to a number of Council members in the days leading up to his budget address. At best, this looks like an attempt to 'buy' votes."
Mandel is referring to two Nutter donations which showed up on recent campaign filings, one to Councilman Bill Greenlee on Feb. 25, and another to Marian Tasco on March 1. Both contributions were made shortly before Nutter's March 4 budget address.
Patrick Kerkstra
Mayor Nutter has just gained a valuable ally in his fight to get a tax on sugar sweetened beverages through City Council: AFSMCE District Council 33, the city's largest employee union representing about 9,400 blue collar municipal workers.
DC 33 is urging its workers to call council members Wilson Goode Jr. and Jim Kenney - two votes the Nutter administration has been courting - and ask them to vote for a tax on sugar sweetened beverages.
"We are at a crucial phase with the budget process. City Council will be voting on a budget that will have a direct impact on our contract - including job security and health care," a DC 33 flier reads (see below for the full flier).
DC 33 gets behind soda tax