Archive: February, 2013
Troy Graham @troyjgraham
For the second week in a row, Council members have introduced bills attempting to ameliorate the effects of Mayor Nutter's property tax reform effort, the Actual Value Initiative (AVI).
Today, three Council members introduced measures – District Council members Mark Squilla and Maria Quinones Sanchez, both Democrats, and Brian O'Neill, a Republican.
Squilla's bill would phase in over four years the changes in tax bills – both increases and decreases – that homeowners are facing from the citywide reassessment. Squilla repeatedly has raised concerns that the reassessment is full of inaccuracies.
Miriam Hill
John McDaniel, the former campaign manager for Blondell Reynolds Brown who recently plead guilty to stealing $103,000 from her campaign and from another political action committee, on Monday reached a settlement agreement with the Philadelphia Board of Ethics for mutliple violations of the city's election finance laws.
McDaniel agreed to pay $12,450 over the ethics charges, but his fine will be waived if he is sent to federal prison for his guilty plea. His sentencing is scheduled for May 14.
The Ethics Board settlement says McDaniel contributed $4,600 to Blondell in 2011, $2,000 more than allowed. He made the contributions so that Brown's campaign fund would have enough cash but did not inform the Councilwoman that his giving exceeded legal limits.
Miriam Hill
As the push to change Philadelphia's property-tax assessments moves forward, City Council on Thursday introduced two bills on the subject, one that would provide tax relief to people who can't afford to pay big hikes and another that would tax nonprofits on any properties used for commercial purposes.
The new system, known as the Actual Value Initiative, or AVI, aims to align assessed values with market values. Under AVI, some people will see their tax bills fall, while others will pay much more.
Councilman Kenyatta Johnson, whose district includes Graduate Hospital and other areas where tax bills are expected to soar in 2014, introduced a bill that would limit increases for households whose income does not exceed 160 percent of area median income.
BOB WARNER
Lawyers representing close to a million Pennsylvania ­ workers – including virtually all unionized government employees in the state, from sanitation workers to teachers -- have joined AFSCME District 33, Philadelphia's largest municipal union, fighting the Nutter administration's bid to impose contract terms after a four-year standoff.
In filings Tuesday with the state Supreme Court, the unions said it was premature for the court to take jurisdiction in the case.
The city filed suit Feb. 1 in Philadelphia's Common Pleas Court, seeking permission to impose its most recent offer on some 6,800 city workers. The package includes reduced pensions for new employees, the right to furlough employees up to three weeks a year and new work rules to cut overtime, coupled with pay raises of 4.5 percent over the next two years.
Troy Graham @troyjgraham
State Rep. Rosita Youngblood said today that she wants to examine whether casino revenue now earmarked to reduce the city's wage tax should be used instead to bring down taxes for homeowners under Mayor Nutter's property tax reform effort.
Every county in the state other than Philadelphia uses casino funds – paid into the Property Tax Relief Fund – to reduce property taxes for homeowners. At the time casino gaming was legalized in Pennsylvania, Youngblood said, financial analysts said Philadelphia residents paid less in property taxes and more in wage taxes than most state residents – and city residents would be better served with a reduction in wage taxes.
Youngblood, a Philadelphia Democrat, said the formula needs to be examined again with the implementation of Nutter's Actual Value Initiative (AVI), which is meant to base taxes on the market value of properties, correcting decades of bad assessments.
BOB WARNER
The city's Board of Ethics decided Wednesday that foundations can fund projects at the request of city agencies without triggering the city's lobbying ordinance, which would require them to register and make quarterly financial disclosures.
Mayor Nutter had asked for the ruling last week, after the William Penn Foundation informed the city that it was suspending new grants to city agencies until the issue was clarified.
Nutter had cited ­­two typical grant proposals -- a request to the William Penn Foundation to help fund design work for a new trail on the west side of the Schuylkill, and potential applications to the Bloomberg Philanthropy's Mayors Challenge, which helps finance creative solutions to urban problems.
Troy Graham @troyjgraham
Mayor Nutter plans to give his budget address on March 14.
With the recent unveiling of the numbers from a citywide reassessment and with unresolved labor contracts for three of the four major municipal unions, the speech could be the most interesting and raucous in years.
Last year, city workers packed the upper galleries in Council chambers, repeatedly shouting, heckling and interrupting the mayor during his address.
Miriam Hill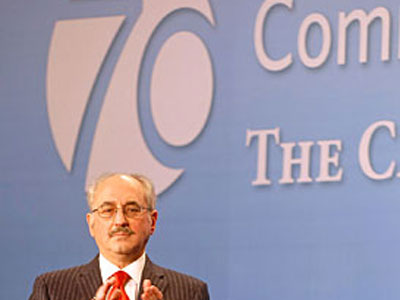 The Committee of Seventy has found a way to make sure this year's city budget debate gets off to a lively start. The voter watchdog group is recommending that City Council "focus on the complicated and contentious issues surrounding property assessments and real estate taxes at the start of its annual hearings on the city's budget."
In a news release, Seventy's President and CEO Zack Stalberg, argued that getting answers on the initiative early would help keep AVI questions from creeping into spending discussions with city department heads over several weeks of public budget hearings, which normally begin in late March.
"Taxpayers need to know how much revenue new property taxes will bring in, what their share will be and which measures Council has in mind to ease their pain," Stalberg said. "Spreading out the debate over the six or seven weeks of budget hearings will only intensify their confusion and fears."