Archive: October, 2012
Miriam Hill
As Mayor Nutter watched more rain fall on Philadelphia late Tuesday, he was proud that his city had survived Hurricane Sandy, weary from lack of sleep, and a little surprised at his growing expertise in emergency management.
He's steered Philadelphia through multiple snowstorms, an earthquake, Hurricane Irene and now, Sandy.
It's experience no one wants, and as he headed out to PECO's regional operations center in Plymouth Meeting Tuesday evening, Nutter said he has worked hard to figure out how best to get the public to understand the risks of natural disasters.
Miriam Hill
City Hall was evacuated just after 1 p.m. Thursday for small fire in a fourth-floor women's bathroom. Water poured down elevator shafts and down the outside of the building from the sprinkler system. Fire Department is on the scene but the fire appears to be a minor one that has been extinguished.
Click here for Philly.com's politics page.
Miriam Hill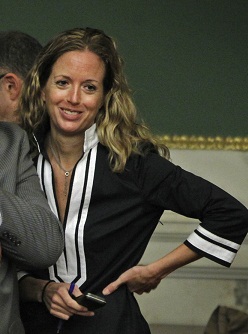 Sophie Bryan is the go-to person for almost anyone with a question about City Council. Need help understanding the complexities of the city tax code? Call Sophie. Confused by the obscure lingo on a particular Council bill? Call Sophie.
If she's not a household name, it's because the Harvard Law School graduate has mostly served behind the scenes as Councilman Bill Green's chief of staff. She has been such a great resource that Green was not the only person to refer to her as "the 18th Council member."
Heard in the Hall is both saddened and encouraged at the news that Sophie Bryan will be leaving Green's office to work for the School District, first in its charter office and then directing one of its strategic initiatives.
BOB WARNER
Fresh off the story today on the city mailing inaccurate information on voter ID to 34,000 city workers, Inquirer readers alerted us to a similar, but far more significant problem ­– PECO sending bad Voter ID information to 1.3 million customers in seven Pennsylvania counties.
Like the city's mailing, PECO's "energy@HOME" newsletter advises voters that they'll have to present a valid photo ID before they'll be allowed to vote in the general election Nov. 6. In fact, Commonwealth Court Judge Robert E. Simpson Jr. suspended the photo ID requirement in a ruling on October 2 – right around the time that PECO's newsletter began arriving in customer mailboxes, stuffed into their latest bills. On Election Day, Pennsylvania voters will be asked to show photo ID, but they'll be allowed to vote whether they have it or not.
Cathy Engel Menendez, a PECO spokeswoman, said the newsletter wording was finalized in August and PECO began printing them around Sept. 12 ­ ­-- a week before the state Supreme Court sent the case back to Simpson and told him he should tolerate no voter disenfranchisement.
Miriam Hill
Someone forgot to tell Supreme Court Justice Antonin Scalia to park in the middle of the street. Instead, his driver parked in a loading zone during a visit to the Union League Monday, and the ever-efficient Philadelphila Parking Authority quickly issued tickets for the Supreme Court cars.
Parking Authority executive director Vincent Fenerty is a Republican, but he showed no mercy Tuesday for Scalia, the court's conservative standard bearer.
"The vehicle was ticketed and the ticket is valid," said Fenerty, not long after hearing news of the Scalia violation from a reporter. Two cars were ticketed at a cost of $31 each.
Troy Graham @troyjgraham
City Controller Alan Butkovitz released a report today blasting developers in North Philadelphia, near Temple University's campus, for a variety of sins, including illegal dumping of construction debris, closing streets without a permit and allowing dust and runoff to pollute the neighborhood.
Butkovitz said five city agencies - Licenses and Inspections, the Water Department, Streets, Public Health and the police - failed to properly monitor and enforce the city's rules for construction sites. He said the under-staffed departments often didn't understand which was supposed to police certain activities.
He said investigators from his office visited 19 sites this spring and summer, many of them residential projects for Temple students between Girard Avenue and West York Street, and Broad Street and North 19th Street.
Miriam Hill
Apparently, I am not the only one bothered by trash in LOVE Park.
Dan Dillon, founder of CleanItSupply.com, an on line janitorial supply company, put together a flash mob of 50 people to clean up the park.
Watch video of the cleanup here. And ready my story here on the dedicated city employee who does his best nearly every day to pick up the mess left every day by people who don't seem to understand the purpose of trash cans.
Miriam Hill and Aubrey Whelan
Aida Guzman, her lower lip still blackened by a blow from a Philadelphia police officer, received a face-to-face apology from Mayor Nutter Friday at City Hall.
Guzman held the hand of her lawyer Enrique Latoison as they left City Hall, where a group of protesters had gathered to speak out against the incident.
The Mayor "said he was sorry about everything," Latoison said, adding that his client was satisfied with the apology.