Archive: July, 2010
Marcia Gelbart
Last week, it was BigBelly trash containers that City Controller Alan Butkovitz went after. This week, it's Elliot Shelkrot, former head of the Free Library of Philadelphia.
In a new departmental audit, Butkovitz reveals that Shelkot received two "bonus" payments during a two year period totaling $65,000. Further work by City Solicitor Shelley Smith revealed that Shelkrot in fact received $171,535 more in bonuses since 2001 - in addition to his annual salary of about $120,000. According to Smith, all the bonus payments were improper under the City Charter.
The bonuses were paid by the Board of Trustees of the Free Library of Philadelphia, which is an independent entity created under the City Charter and appoints the library president. "Consequently, the Board believed and Mr. Shelkrot understood that it was authorized to set the President's compensation and to use its own funds towards that level of compensation," current library President Siobhan A. Reardon wrote in response to the controller's report.
Marcia Gelbart
Someone's stirring the election pot 10 months before the mayoral primary.
A reliable Democratic voter - the type who votes in each and every election and is targeted by polling firms - said he received a call last week from a pollster interested in potential challengers to Mayor Nutter.
On the list: former City Controller Jonathan Saidel, who lost his recent bid for lieutenant governor; State Sen. Anthony Williams, who lost his race for governor but is running for state auditor general; City Councilman Bill Green; millionaire Tom Knox, who ran for mayor in 2007; and businessman Sam Katz, who ran for mayor in 1991, 1999, and 2003.
Jeff Shields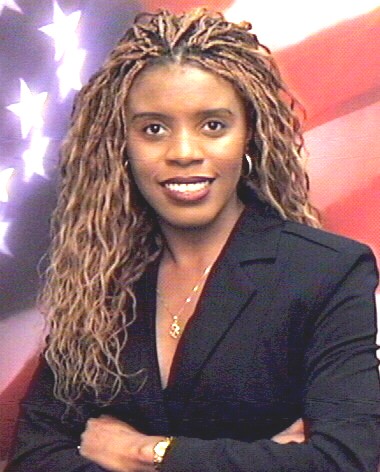 Look out City Council contenders, here comes Latrice!
With talk beginning to simmer about who's in and who's out for City Council in 2011, City Council's most recognizable staff member, Latrice Bryant, is considering a run for Councilwoman Donna Reed Miller's 8th District seat in 2011.
Bryant comes from a political family with deep ties to the Democratic City Committee, and she challenged State Rep. Rosita Youngblood in the 198th House District in 2004. But it was in 2008 that Bryant gained local notoriety by virtue of an unflattering television news investigation into her work hours and an apparent romantic link with her boss, City Councilman W. Wilson Goode Jr.
Marcia Gelbart
Good news for the Free Library of Philadelphia: Branch schedules will not be reduced from five days to four, and more than 50 jobs will not be eliminated.
Mayor Nutter today axed his earlier proposal to cut the library budget by $2.5 million.
The surprise restoration of funds was one of many changes in the fiscal 2011 budget and five-year plan that the administration submitted a few hours ago to the Pennsylvania Intergovernmental Cooperation Authority, the state agency that monitors city spending.
Jeff Shields
Philly has a new parking-ticket czar following the hasty retirement of the former head of the Bureau of Administrative Adjudication in a ticket-fixing mini-scandal that came to light in June.
Mayor Nutter on Wednesday appointed former Philadelphia Parking Authority official Jeremiah J. Connors as Bureau Director of the Board of Administrative Adjudication, the city-run appeals board for the independent Philadelphia Parking Authority. Connors' job will be to oversee the staff of 10 hearing examiners who conduct parking ticket appeal hearings.
Nutter called Connors "an individual of integrity and proven managerial talents" and added "I am confident that he will demand a high level of professionalism and comprehensive oversight at the BAA."
Jeff Shields
Funding for a popular program to "clean-and-green" vacant lots could be severely reduced or eliminated under budget cuts expected to be announced Wednesday, program officials fretted Tuesday.
The Community Land Care program, run by the Pennsylvania Horticultural Society, has been funded by the city since 2000 as a natural companion to Mayor John F. Street's Neighborhood Transformation Initiative, which demolished derelict properties. Often, the newly created lots became targets of illegal dumping .
The program, operating with $2.4 million from the city in 2009-2010, has cleared 5,000 lots totaling 280 acres, said Alan Jaffe, spokesman for the PHS. Since the end of the fiscal year June 30, PHS has received no funding for Community Land Care, and officials are not optimistic that the program will be funded fully -- or possibly at all -- when Nutter administration officials submit their five-year plan to the Pennsylvania Intergovernmental Cooperation Authority Wednesday.
Miriam Hill
Philadelphia's tax amnesty program brought in $40 million for the city and $20 million for the school district, Mayor Nutter said Tuesday, warning that he plans to get more people and businesses to pay by working with the district attorney to prosecute delinquent taxpayers.
More than 27,000 delinquent taxpayers participated in the 54-day amnesty program, which ended June 25 and allowed people and businesses to waive penalties and charge only half of accrued interest if they paid their overdue bills.
At a Tuesday morning news conference, Mayor Nutter said the city was done playing nice to those who fail to pay on time.
Jeff Shields
The Schuylkill Navy, the umbrella organization for rowing in Philadelphia, will announce a new effort on Wednesday to unify and attract sponsors to 22 regattas held each year on the Delaware River.
"We are thrilled to bring all of these regattas together to form an outstanding season-long series," Clete Graham, chair of the Philadelphia Classic Regatta Series advisory committee and past commodore of Schuylkill Navy, said on the Schuylkill Navy's website. "This series presents a unique opportunity for area companies to put their name on not just one, but 22 races over 9 months, reaching 50,000 spectators and fans."
Mayor Nutter will join Graham at Vesper Boat Club on Boathouse Row for a 2 p.m. press conference on Wednesday. The largest regatta, the Dad Vail, is not included in the sponsorship drive.